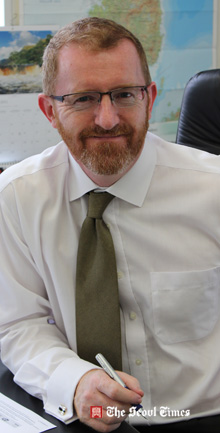 Irish Ambassador to South Korea Eamonn McKee
Dear Editor!On Friday last, I attended the Asia Pacific Irish Business Forum at the Croke Park Convention Centre (www.apibf.com). The idea of hosting the event in Dublin was one of the conclusions of the Hong Kong Forum last year to "bring Asia to Ireland."A collaboration between the GAA and the APIBF, the Dublin Forum's theme was "New Asian Realities for Irish Business". The event was an outstanding success, far exceeding our expectations.Some 300 business people registered for it. Under the able direction of RTE's Margaret Ward as Conference Chair, the atmosphere was buzzing with energy and enthusiasm.The President of the GAA, Mr Christy Cooney in his opening remarks underlined the GAA's commitment to promoting Irish business abroad and announced that the GAA/APIBF collaboration would continue with another Dublin Forum next year.The Tánaiste and Minister for Foreign Affairs and Trade, Eamon Gilmore TD, gave the key note address (which has been posted on the Embassy's website at www.embassyofireland.or.kr). I am delighted to report that in his speech he said that he hoped to attend the APIBF in Seoul on Oct. 14 next.All of the speakers were uniformly excellent and inspiring, from their analysis of the importance of Asia and how to do business there to their stories of successful Irish business ventures in the region. Because the Asia Irish Chamber of Commerce in Seoul (www.aicck.com) is hosting the next forum, we had a plenary session devoted to Korea. I gave an outline of Irish Korea connections while Tom Coyner (www.softlandingkorea.com) and Peter Underwood (www.ircltd.com) mined their business experience in Korea to promote and advise on business opportunities there and how best to approach them.Hank Morris (www.tripleapartners.net) , a financial markets expert long resident in Seoul and a member of the Seoul Finance Forum, addressed one of the breakout sessions on the potential business opportunities for Irish financial services in Korea. We had a very positive response to the story of Korea, often the Cinderella to Japan and China; many of the attendees were learning for the first time from Tom, Peter and Hank about the scale of the Korean 'miracle on the Han' and what an economic powerhouse Korea has become.That the Korean economy is bigger than the ASEAN economies combined tells its own story. My colleagues from the Trade Promotion Division of the Department of Foreign Affairs and Trade were well represented throughout the day.I was delighted to see Ambassador Kim and his staff from the Korean Embassy at the event, as well as representatives from the London office of KOTRA. Representatives from other regional embassies also manned booths with information on doing business in Vietnam, Thailand, Malaysia and Cambodia.Representatives from Irish universities and the education sector engaged in Asian studies also attended. Dr Tom Hardiman was honoured for his life-long and pioneering devotion to Irish Asian links. At the closing reception Kevin O'Rourke entertained us with his wit and wisdom.All-in-all, it was a great day for Irish Korea business links; the event had real traction and proved the demand in Ireland to learn more about Asia.The commitment to host a Dublin Forum next year provides a focus for enhancing the level of cooperation and coordination of the AIPBF as a vital arm of Irish business engagement in Asia.Best wishes,
Eamonn McKee
Irish Ambassador to South Korea
Irish Economy — Highlights
Virtually all analysts expect the economy to expand this year. The IMF, OECD, EU Commission expect GDP growth of 0.5 percent-1 percent.
In Q1 2011 tax revenue was 3.7 percent above Q1 2010; income tax returns grew by 9% while corporation tax grew by a massive 78%. This demonstrates In 2010 exports grew by 9.4 percent. Goods exports grew by 7.7 percent while services exports grew by 11.5 percent. All losses made in 2008 and 2009 have been recovered in 2010; in fact exports grew to their highest ever level; 4.1% above the previous peak in 2007.Manufacturing exports to the US grew by 14 percent in 2010. Irish exporters also increased sales to Germany by 21 percent. Exports to Brazil, Russia, India and China rose by 12 percent and are expected to continue to underpin growth and new opportunities for Irish exporters. (note this is based only on manufacturing exports; data for services exports by destination will not be available until Oct 2011) Government policy has aided in this competitiveness adjustment – public sector wages have been reduced by an average of nearly 15 percent.
Ireland:10th largest investor in the US, over 220 Irish companies employ more than 80,000 people across 2,630 US locations. 5th largest exporter of beef in the world 15 percent of world's baby infant formula is made in Ireland 7 of the world's top 10 aircraft leasing companies are head quartered or have a significant presence in Ireland. Indeed it is estimated that 50 percent of the world's leased aircraft are managed from Ireland. According to the World Competitiveness Report 2010 - Ireland is, 1st for corporate taxes 4th for availability of skilled labour
4th for having a culture that is open to new ideas
6th for labour productivity
7th for the availability of financial skills
7th for flexibility and adaptability of people
Inquiries can be made by reaching
heejeong.Kim@dfa.ie