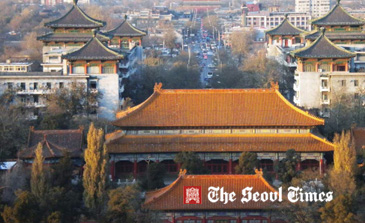 Beijing: Competing for Economic Centrality in Asia
A world-shaping strategic competition is under way in Asia. It is one that recognizes that economics is power. Whoever sets and drives the agenda will eventually establish the rules for regional behavior from security and political affairs to trade and investment.There are many actors in this competition, but the most focused and proactive has been China. Unsurprisingly, the Middle Kingdom believes that a Sino-centric model in Asia is inevitable. It defines Asia more narrowly as a zone of infl uence and prioritizes East Asia in that context. China is pursuing tactics that constitute a strategy for consolidating power on this basis. Priority structures for China are ASEAN + 3 (the ten ASEAN countries, plus China, Japan, and Korea) and bilateral relations with its neighbors.The competing model is the evolving regional trade
and security architecture based on ASEAN's centrality. The ASEAN approach envisions a broader definition of the Asia-Pacifi c region including global powers like India and the United States along with regional players such as Australia and New Zealand. The United States has promoted and embraced this latter model, making a bet that ASEAN will be capable of serving as the "fulcrum," as Secretary of State Hillary Clinton called it, of an enduring regional architecture.When it comes to trade and investment architecture,
ASEAN centrality is less clear largely due to the issues of Burma/Myanmar and the wide range of development levels among the ASEAN member countries. Burma's appalling human rights and governance record over the last several decades has prevented the United States and Europe from fully engaging ASEAN in formal economic agreements
such as free trade agreements, and the lesser developed ASEAN countries have sought derogations and protection from western style, high-level, legally binding trade and investment agreements.Current economic models which engage parts of ASEAN include the Transpacific Partnership (TPP) which is currently a nine-country negotiation designed to create a world-class and legally binding trade and investment pact. Once established, other Asia-Pacifi c countries can join the partnership when they are prepared and capable of implementing the required commitments.Another consensus-based model is the trade
facilitation track within the Asia Pacifi c Economic
Cooperation (APEC) forum. APEC includes 21 economies, but has been of less interest to the private sector because its provisions are non-binding. Additionally, APEC currently excludes three ASEAN countries, namely Burma, Cambodia and Laos.The East Asia Summit (EAS) has an economic track called the Closer Economic Partnership for East Asia (CEPEA) which has potential but as of yet has not received serious focus from the United States — which prefers to focus on TPP and APEC or China — which prefers to focus on the ASEAN + 3, China-ASEAN and bilateral relationships. Understanding the strategic nature of competition for these models in Asia is vital for advancing long-term American interests in the region.Traditionally, U.S. foreign policy has sought to use
membership or inclusion in regional groupings
as leverage to try to encourage improvements
in human rights and governance issues. The effectiveness of that approach has decreased due to China's robust engagement in the region and its positing of an alternative approach.Specifi cally, China has changed the paradigm by embracing any country within its selfdefi ned zone of infl uence through a strategic and even mercantilist lens. Engagement with neighbors like North Korea and Burma is defi ned as strategic for China. While the United States has been focused on the global War on Terror and fi ghting wars in Iraq, Afghanistan and now Libya, China, by enhancing its ties with these countries and the rest of Southeast Asia, has retained and expanded its strategic engagement in Asia. It is not hard to imagine that Chinese policymakers have welcomed the new wave of instability in the Middle East and North Africa.They hope that these events will keep the United States focused on other parts of the world as the Chinese seek to consolidate their role in Asia, the world's current and future economic engine.The challenge for the United States is to follow through on the rhetoric of President Obama, who has defined himself with genealogical credibility as the "first Pacific president of the United States," and the outstanding leadership demonstrated by Secretary of State Hillary Clinton who clearly has a strategic view of the importance of Asia and the fundamental imperative to ensure that ASEAN's centrality, not China's, is the structure upon which Asia develops its political, security and economic norms for the 21st century. The United States understands clearly that an ASEAN-based model can only be viable and enduring if it is supported by rock-solid alliances and strategic partnerships with other important countries in the Asia-Pacific region.The test for whether the United States is prepared
to legitimately and strategically engage in this
competition to shape Asia is whether President
Obama and his successors in the White House
can communicate the importance of Asia to the
American people. This paradigm shift may be one
of the most important historical challenges of the
century for the United States.Asia is foundational to America's long-term national
and economic security. The region is and will be
the source of economic dynamism that creates
high-value jobs in the United States. Furthermore,
Asia is a source of an enormous wealth of people-based power with strong links to America that will
fuel future innovation and meet global challenges
such as climate change, global health requirements,
humanitarian assistance and disaster relief and
non-proliferation.Only after making the case for strategic engagement
in Asia will the U.S. government be able to make the case for broadening its engagement in Asia and making hard decisions such as passing existing trade agreements with Korea, moving aggressively to conclude the TPP negotiations, tabling the prospect of a US-ASEAN free trade agreement in the future based on clear criteria related to Burma's governance, addressing the development gap among member countries, and strengthening ASEAN's institutions.At the pivot point at which the United States clearly
defi nes and consolidates its long-term interests
in Asia, decisions such as bringing the additional
three ASEAN countries into APEC, normalizing
military-to-military relations with Indonesia and Vietnam, and ratifying the UN Convention on the Law of the Sea (UNCLOS) will become self-evident.The Obama Administration deserves real credit for following through on the hunt for Osama bin Laden. It has retained a high degree of continuity in the Asia policy of the United States and has taken engagement in Southeast Asia to a new level. A legacy shift of focus is now available to the president and his team, namely to wind down wars in the Middle East while increasing America's strategic focus on Asia.The United States is engaged in a strategic competition to help shape the future of Asia. An ASEAN-centered model can help acculturate China to regionally acceptable rules and guidelines while giving the country room to grow, prosper and expand its peaceful infl uence. A China-based model will inevitably create anxieties and could exacerbate regional confl icts among the Southeast Asian countries, as well as with Japan, Korea and India. A stable, predictable and prosperous Asia is a necessary precondition for global security.The rest of Asia has an enormous stake in helping to bring the United States into the newly developing regional architecture. ASEAN in particular must step up its game and ensure that relatively nascent forums such as the EAS are high value and enhance interaction between leaders as well as address the substantive issues of the day, including for instance maritime security when the leaders meet later this year in Bali, Indonesia.The United States has a unique opportunity to follow through on its pivot towards Asia and strategically embrace a competition for models and ideas that will be good for Asia, support global growth and peace, and staunchly support American interests well into the future.
The above article is from CSIS Global Forecast 2011.