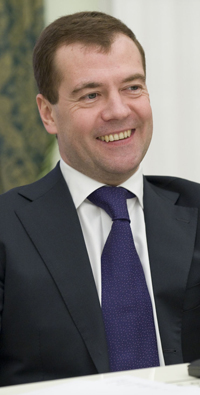 Russian President
Dmitry Medvedev
Russia is seeking the ways to become more tech-savvy in nanotechnology field. There are two major steps done by the Russian government and state-run corporations to ensure that nanotechnologies are improving. A promising deal was signed between Russia, South Korea and Singapore in St. Petersburg during the International Economic Forum that establishes an Asian nanotechnology Fund. Russian President Dmitry Medvedev said in his budget speech last week that modernization of the economy is a priority number one for Russia, as it's high time to stop relying on petrodollars. President Medvedev also visited the Russky Island in the Far East of Russia last week, where the construction works for the APEC summit are taking place. The buildings under construction will then be given to The Far East Federal University, which is thought to become Russia's nanotechnology hub with the connections in Asia.
Nanotech gets paid well
A deal between Russia, Korea and Singapore on funding of the promising nanotechnology projects and companies was timely and convenient. Two weeks after the deal between Russian RUSNANO CEO Anatoly Chubais, KIAT Vice President Yeong Cheol Seok, 360ip President and CEO Glenn Kline and SGI President & CEO Taesoo Yang on the establishment of Asian Nanotechnology Fund was signed, the experts say all three countries can add to the development of nanotechnologies and research in the field. "Capital/Funding can help companies grow in different phases of course. But capital is not enough. They need value add investors who not only provide capital but also need help in business direction, management and market penetration," Lerwen Liu, PhD Managing Director NanoGlobe Pte Ltd told The Seoul Times. According to Irina Shabanova, spokeswoman for RUSNANO, countries such as Korea, Singapore, China, Japan and Taiwan are becoming increasingly important n industries related to electronics (printed electronics, IT hardware, RFID, etc.), new materials, energy efficiency (lighting LED and OLED,Storage energy). "All these industries have been associated with nanotechnology and relevance to development in Russia," Shabanova said. Lerwen Liu of NanoGlobe is convinced that all three countries can help one another mutually – " South Korea has world class R&D capability and strong industry for adopting nanotechnology. Singapore has world class R&D too but without industry customers to adopt nanotechnology. Russia, on the other hand has research capability, but relatively poor industry for nanotech adoption." Therefore, with the strong investment and understanding between the partners, all three can benefit. Shabanova also expressed a view that as the Asian technology market by the dynamics of development, industry-focus is of a great interest for venture capitalists from around the world. "RUSNANO is no exception that is why Asian Nanotechnology Foundation is one of the first initiatives RUSNANO to enter the Asian market of high technologies," she added. According to Shabanova, the Fund will invest into nanotech firms at an early stage of their development – "Round A and B that have obvious commercial prospects in Russia and around the world." Russia still is trying to pull the blanket on its side, as for RUSNANO it is an important detail that each of the possible funded firms deals on one hundred percent with nanotechnologies and has connections with Russia. The Fund will primarily work with the companies in the clean tech, energy efficiency, electronics, new materials (advanced materials) that are most profitable. "All these industries have been associated with nanotechnology and relevance to development in Russia," Shabanova said. Lerwen Liu said that it is indeed a big support from Russia and that it could help Russian technology to be transferred to Korea industries – "especially in the areas of electronics, materials and chemical industries."
Nanotechnology research
Russia has also started another project which supports nanotech research at the universities. Despite of the talks that Russia's famous Skolkovo project is a new nanotech hub, there other universities and scientific labs that will be working on nanotech-research. One of them is The Far East Federal University, which was established in 2009 with the president's decree. The Far East Federal University is keen on becoming Russia's largest nanotech hub in the Far East. "Nanotechnology is the priority of the university's development," Liya Khabarova, spokeswoman for the university, told The Seoul Times. The university has tight connections with similar nanotechnology centers in South Korea, Japan, China, Germany and the UK. "We want to do research in nanotechnologies, but also train people so that they then can teach nanotech in the future," Khabarova said. The main research in nanotechnology, the University carries out in its thin-film technology laboratory. "Applied research is done in the new class of materials and basic elements for magnetic nano-electronics — spintronics," Khabarova said. Korean electronics giant Samsung cooperates with the laboratory on the research in this field.