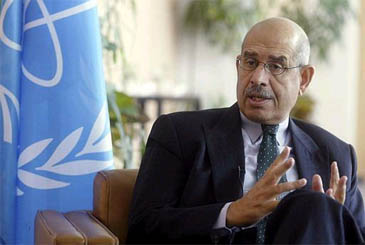 IAEA Director General Mohamed ElBarandei
The chief U.N. nuclear inspector said South Korea's undeclared nuclear experiments is a matter of serious concern and that the South's cases have not been singled out."We just wanted to make sure that these were experiments and that there was nothing more than experiments, and we want to make sure that these experiments will not be repeated again without being declared to the organization," Mohamed ElBaradei, director general of the International Atomic Energy Agency said on Sunday upon arrival at Incheon International Airport.The IAEA chief also said "I'm pleased with the cooperation we are getting from the Korean government. They have been quite transparent and are actively cooperating with us in resolving this issue."ElBaradei is in Seoul for a four-day visit primarily to attend an international disarmament and peace conference hosted by the Pugwash Conference on Science and World Affairs, where he will give a speech about the nonproliferation of weapons of mass destruction, which is scheduled from Oct. 5-8.
| | |
| --- | --- |
| | Mohamed El Baradei (left), director general of the International Atomic Energy Agency (IAEA), shakes hands with South Korean Foreign Minister Ban Ki-Moon prior to their official talks at Shilla Hotel in Seoul on Oct. 3, 2004. Courtesy YNA |
While in town he will also talk with top security officials about the nuclear experiments carried out by South Korean scientists in 1982 and 2000 which led to the production of small amounts of plutonium and enriched uranium — the two main ingredients for building nuclear bombs.Experiments that scientists and a South Korean parliamentary delegation vigorously defended claiming they were for purely academic purposes and had nothing to do with any nuclear weapons program. The incident still raised suspicions with many media operations around the world.ElBaradei's trip comes as South Korea awaits a verdict from the IAEA on its controversial experiments which the IAEA is scheduled to make a final decision in November on whether to refer S. Korea to the U.N. Security Council for failing to report the experiments to the agency."I do not know what we are going to report to the board, but it will be up to the board whether they want to report to the Security Councilor or not," he said. "We cannot speculate on this issue before we know and have comprehensive report on these experiments."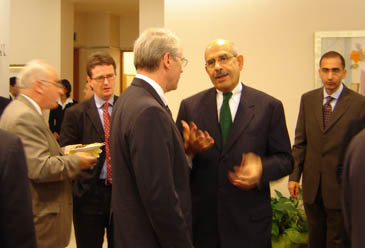 IAEA Dir. Gen. Mohamed ElBarandei (second from right) gesticulates while talking with US Amb. Christopher R. Hill at a reception Egyptian Amb. M. K. Helmy threw for him at his residence in Hannam-dong in Seoul on Oct. 5, 2004. Mr. Hatem Yousri (right), third secretary of Egyptian Embassy in Seoul looks on. Photo by Kim Sun-Young.
He also reiterated the need for the international community to bring a peaceful conclusion to North Korea's nuclear standoff while urging N. Korea to help resolve the nuclear issue and normalize relations with its neighbors.The North has been using the nuclear case in South Korea to deflect attention about its own nuclear weapons program. Recently, the North warned that inter-Korean relations will not progress until after the South's nuclear program has been fully accounted for. They claimed the experiments were just the "tip of the iceberg."In recent months, the six-party nuclear talks which involves the United States, the two Koreas, China, Japan and Russia stalled because of tension between the U.S and N. Korea, as well as Pyongyang's criticism of Seoul's nuclear experiments.
Who is Dr. Mohamed Elbaradei?
Dr. Mohamed ElBaradei's career with the IAEA has been outlined by their website as a diplomat, international civil servant and scholar.
IAEA Dir. Gen. Mohamed ElBarandei
Dr. Mohamed ElBarandei, director general of International Atomic Energy Agency (IAEA), talks with South Korean journalists in a reception Egyptian Amb. M. K. Helmy held for him at his residence in Hannam-dong in Seoul on Oct. 5, 2004. Photo by Kim Sun-Young.
He is a former Egyptian diplomat who has headed the International Atomic Energy Agency since December of 1997 after Hans Blix left. He joined the organization in 1984 and held a series of high-level policy positions, including the agency's legal adviser and assistant director general for external relations.As head of the IAEA, ElBaradei has joined chief U.N. weapons inspector Hans Blix in the medial spotlight and has also been nominated for the 2004 Nobel Peace Prize. Dr. ElBaradei was born in Egypt in 1942; he began his career in the Egyptian Ministry of Foreign Affairs in 1964 and worked in Egypt's permanent mission to the U.N. in New York and in Geneva. He studied law at the University of Cairo and holds a doctorate in international law from New York University's law school and in 1980 he became a senior fellow in charge of the International Law Program at the U.N.'s Institute for Training and Research. The U.N. established the agency in 1957, which is headquartered in Vienna Austria to oversee the development of atomic energy for peaceful purposes. Recently, the IAEA's mandate has expanded to include controlling the development of nuclear arms.