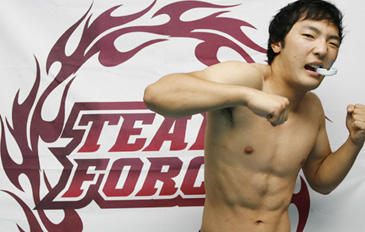 S. Korean fighter Kim Soo-Chul
A Korean teenager is set to star at Asia's biggest ever mixed martial arts (MMA) event. Kim Soo-Chul is only 19 but is unbeaten in his MMA career with a perfect record of 3-0. He is one of the most exciting prospects in the entire country but will be in for the fight of his life at ONE Fighting Championship in Singapore on September 3rd.The event is being held at the 12,000 capacity Singapore Indoor Stadium, which is virtually sold out, and will be being broadcast on domestic TV in Singapore and televised all over Asia. It will also be being streamed live on the internet meaning that people in Korea will be able to watch the fight live.
Kim's opponent will be Brazilian Leandro Issa who is far more experienced and has an impressive 8-2 professional record. Issa is also a Brazilian Jiu Jitsu world champion who has submitted each of his last five opponents.
Kim, from Wonju in Gangwondo province, has been preparing for this moment since he first took up martial arts at the age of 15 and believes he will be totally ready come September 3rd,
"I train at Team Force which led by the former national kickboxing champion and the owner of ROAD FC, Mun Hong Jung.I have been lucky to train with elite fighters such as Seung Hwan Bang, the former DEEP lightweight champ, and Dae Won Kim, used to be one of the top Korean middleweights and former elite judoka, Young Bok Kil, the former wrestling champion. I have the best training partners and I know I am in fantastic shape," he said.
ONE Fighting Championship has been described as 'the biggest mixed martial arts event in Asian history' and the viewing audience has been estimated at a staggering 500 million. This is largely due to deals with major television networks Media Corp and ESPN Star Sports and the decision to stream the entire event totally free of charge on leading MMA website Sherdog.
Kim's fight with Issa is one of the most eagerly awaited because both him and his opponent will carry a lot of momentum into it. Issa is on a five win streak and Kim has won all three of his professional contests. The Brazilian has been based at Evolve MMA in Singapore for several years and is widely regarded as one of the best bantamweights in the region.
If Kim, who holds a title with the Rising On promotion, can make it four out of four with a win at ONE Fighting Championship he would really announce himself on the international scene and September 3rd will be a date with destiny for this prodigiously talented young fighter,
'I am really excited to be fighting for One FC because it is being broadcast all over Asia and I know a lot of people will be watching. It is a huge opportunity for me and it will be the biggest fight of my career and I am proud to be representing Korea and ROAD FC in an international competition for the first time. I know my opponent is a world champion in BJJ but I want to be world champion and I am ready to test myself against the best fighters in the world," he said.
A number of world class mixed martial artists have already emerged from Korea and Kim looks to be the latest. He is already the most exciting young fighter in the country, if he could win at Asia's biggest ever MMA event he would go a long way towards establishing himself as one of the best in the continent.
For more information about ONE Fighting Championship visit: www.onefc.com.
James Goyder
Journalist
+ 66 (0) 848 497 750 (Thailand)
+ 65 845 12791 (Singapore)
www.jamesgoyder.com
www.twitter.com/jamesgoyder