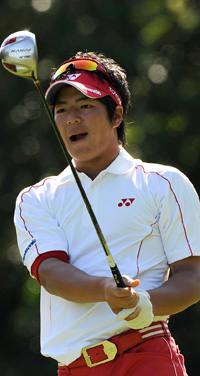 Ryo Ishikawa, golfing star of Japan
Ryo Ishikawa is a major golfing star in Japan and this likeable golfer is on the brink of making a major breakthrough in America. After the first three days at the Bridgestone Invitational in America he shares second place with Jason Day from Australia at -11 and only one shot behind Adam Scott from Australia, who currently leads the tournament at -12.
The leaderboard is very tight because Keegan Bradley (USA) and Martin Laird (Scotland) are -10 and Luke Donald (England), Fredrik Jacobson (Sweden) and Rickie Fowler (USA), are one shot behind at -9. Zach Johnson (USA) is -8 and Rory McIlroy (Northern Ireland) and Steve Stricker (USA) are one shot behind.
It is most unlikely that the winner will come from further behind despite it being possible because with so many quality players in the leading group then surely the door is shut on the rest of the field. Of course it is feasible that someone from the lower order may post a great score and enter the top five but it will be a great shock if they can win the tournament.
Ryo Ishikawa stated through an interpreter that "I think it's a little too early to think about winning this whole thing as of now…..But I do feel that I was able to play at a pretty good level, pretty high level today. Actually I am a little bit surprised of how I performed out there."
"There were times where I had to do some trouble shots, hitting out from the woods, but when I was able to make those recovery shots, there were some really warm claps and all from the fans. So I was very happy to be out there today."
Like usual Ryo Ishikawa was very modest and clearly he knows full well that his form is up and down this year. Therefore, he stated that "I think the golf that I'm playing right now is unstable in a sense……And so considering that, I'm not really sure as to how I will perform tomorrow to be honest with you."
After the 2011 U.S. Open it appeared that Ryo Ishikawa was a little dejected because he commented that "I came to painfully realize just how big of a gap there is between me and the best in the world." He continued by stating with regards to Rory McIlroy that "He's close to me in age so it's been incredibly motivating. I hope I can get to that level myself one day."
In my article about Ryo Ishikawa after the 2011 U.S. Open I stated that "Firstly, it must be remembered that Rory McIlroy who comes from Northern Ireland is a rare talent and one that only emerges every decade or so. Not only did he blow Ishikawa away but he destroyed the entire field and Tiger Woods in his glory days could not surpass the score that McIlroy achieved at the same tournament."
In the past on the American tour it is clear that Ryo Ishikawa often struggled and this can be seen by his one top ten finish out of 24 tournaments in America. However, it is obvious that he does have great potential and while the gap is big between the Japanese tour and America tour, it does not mean that he can't hone his remarkable skills.
The old guard of Tiger Woods and Phil Mickelson who both come from America are way behind on +1. Obviously, Tiger Woods is returning from injury but in recent times his form is in decline and Phil Mickelson is also struggling to reach former heights. However, while both are written off in this tournament it is clear that sooner or later one if not both will rebound and challenge once more.
Turning back to Ryo Ishikawa it is hoped that he will make a serious charge on the last day and take his maiden tournament win on the USA PGA Golf Tour. If he can pick up a coveted tour win in America then clearly all the great potential will be witnessed by golf lovers from all over the world and a new Ryo Ishikawa will emerge.
However, even the worse-case scenario whereby Ryo Ishikawa struggles on the last day will not alter the facts of the first three days. Therefore, for the first time it is clear that Ryo Ishikawa can compete at the highest level and irrespective if he finishes first, tenth or wherever, it isn't important because now he knows he can win in America and beat the best golf players in the world.
My heart is hoping that Ryo Ishikawa will win because he is a great ambassador for Japanese golf.
However, with so many great players at the top of the leaderboard it isn't going to be easy but at least he is in a great position to challenge. Irrespective of the final day and where Ryo Ishikawa finishes, this tournament is where he came of age and showed the real talent that he is blessed with.
The above story is from the Modern Tokyo Timers.
http://moderntokyotimes.com