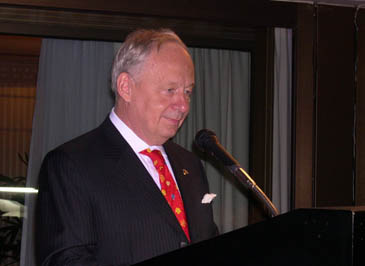 Amb. Michael Geier of Germany delivers a speech.
Amb. Michael Geier of Germany held a reception on Oct. 8, 2004 at his ambassadorial residence in Seongbuk-dong in Seoul to mark its 14th anniversary of the "Day of Unity" which fell on Oct. 3, 2004.In the reception held at his spacious garden, Amb. Geier mentioned the meaning of the Day of Unity and emphasized the importance of bilateral relations between Germany and South Korea.About 500 high-profile guests — foreign and locals — were present at the standing dinner party during which hundreds of different food and drinks served. There was many foods from Germany such as knockwurst and sauerkraut and staples from Korea such as kimchi. The reception which started at 6:00 p.m., lasted late into the evening.Foreign ambassadors and diplomats included US Amb. Christopher Robert Hill, Polish Amb. Tadeusz Chomicki, Saudi Arabian Amb. Saleh Bin Mansour Al-Rajhy, and Mr. Stefanos Voudouris, commercial counsellor of Greek Embassy.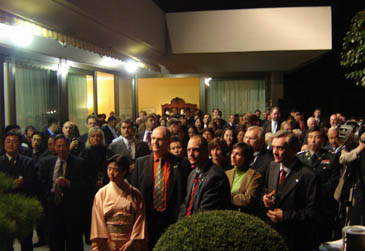 Hundreds of guests listen to German Amb. M. Geier's speech.
Some 200 Korean guests included top politicians — the opposition Millennium Democratic Party's Chairman Han Hwa-Kap, Minister Huh Sung-Kwan of Ministry of Government Administration & Home Affairs, Minister Kim Guen-Tae of Ministry of Health & Welfare, Vice Speaker Kim Duk-Kyu of the National Assembly, and former Prime Minister Lee Hong-Koo.The roughly 50 guests that represented the business circles were Cho Yang-Ho, chairman of Hanjin Business Group which owns Korean Air, Mr. Hartmut Koschyk, chairman of the German-Korean Friendship Parliamentary Group. Mr. Koschyk is a member of German Bundestag.Guests from academic and other social fields included Dr. Martin Hemmert, professor of International Business at Korea University's Business School, Ms. Ra, Eun-Jong, deputy director of Education Ministry's International Education Cooperation Division, Park Chyun-Kyu, executive director of the Korean National Tourism Organization's Inter-Korea Tourism Development Committee, President Kwon Won-Sik of Lotte Hotel, and Mr. Lee Sang-Seok, managing editor & editor in chief of Korea Times.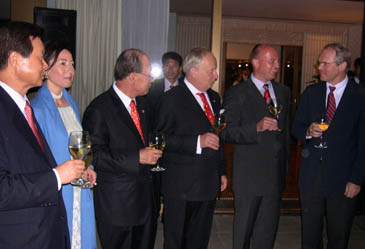 German Amb. M. Geier (third from right) talks with US Amb. Christopher Robert Hill (right) while Millennium Democratic Party's Chairman Han Hwa-Kap (left), South African Amb. Sydney Bafana Kubheka, Mrs. Geier and other dignitaries look on.
For more information or photos of the party participants call
the German Embassy
at 02-748-4114 or The Seoul Times office at 02-555-6188.