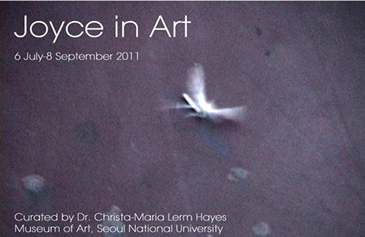 "Joyce in Art — Visual Art Inspired by James Joyce" will be held at Seoul National University on July-6-8, 2011. It will be curated by Dr. Christa-Maria Lerm Hayes of University of Ulster.
Over nearly 100 years, visual artists have returned to James Joyce for his conceptual and formal innovations, his thinking, his Irish background, his fate as an exile and the affirmative attitude and social engagement that can be gleaned from his works. The resulting artworks far transcend illustration and portraiture, or merely opportunistic references to a canonical figure. Joyce's thinking can be established as a driving force underlying developments in visual art at many of its junctures during the last century. Conceptuality is indeed something that Joyce himself took into the realm of visual art by publishing Fluviana photographs in the visual and literary avant-garde magazine transition in 1929.Although these remained unrecognised, Joyce's ways of thinking informed artists who led the rediscovery of Marcel Duchamp's work in the 1960s. In several such ways – when artists negotiated formalism and (socially committed) content, materiality, identity and language in visual works – without Joyce, the history of art would have run a different course.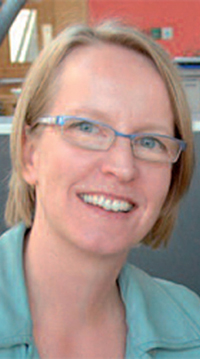 Dr. Christa-Maria Lerm Hayes of University of Ulster
The larger exhibition, from which the works shown here were taken, was visual centre-piece of Dublin's celebrations of the centenary of Bloomsday, the day on which Joyce's Ulysses is set in his home city. It presented for the first time the breadth, diversity and internationality of Joyce-inspired artwork. It also marked a new departure in that part of the world concerning how the fields of visual art, literature and exhibitions are brought together. It brought Joyce's very global reputation home.The current exhibition takes the material outwards from Ireland again.There were artists like Man Ray (whose portrait of Joyce is shown), Constantin Brancusi and Henri Matisse who created early responses to Joyce in direct contact with the writer.However, the main focus of this exhibition are artists like Joseph Beuys, John Cage, William Anastasi and Brian O'Doherty, as well as Royden Rabinowitch, Jürgen Partenheimer, Ivan Ladislav Galeta and Miroslaw Balka, who encountered Joyce's complete writings during their formative years. Here, the inspiration goes far deeper and extends further than motifs into the realms of procedures and materials.These artists share with the creators of the more recent exhibits presented here a complex and often obsessively "Joycean" outlook on life and art.The resulting works are all valid attempts to carry the scope and ambition of Joyce's works into visual art practice, thus generating bold, engaged works that sustain enquiry: there is much to discover.Further discussion of these and many more issues and works relating to Joyce-inspired visual art can be taken from the book that accompanies this exhibition: Christa-Maria Lerm Hayes, Joyce in Art: Visual Art Inspired by James Joyce, Fritz Senn (introduction), James Elkins (envoi), Ecke Bonk (design), The Lilliput Press, Dublin, June 2004, 420 pages, 187 images, mostly in colour. This book is available for €40 (£35) from m.lermhayes@ulster.ac.uk. Stock is limited.
Dr. Lerm Hayes
can be contacted also for interviews, queries and information. She will be in Korea from 6-10 September.MoA and the curator would like to acknowledge the kind and generous support of Culture Ireland, which has made the project possible, as well as that of the Irish Embassy in Seoul, which will host a lecture by the curator on 7 September 2011.
Announcement by Embassy of Ireland in Seoul
A special presentation of "Joyce in Art - Visual Art Inspired by James Joyce" will be made by Dr. Christa-Maria Lerm Hayes of University of Ulster at 7 p.m. on Sept. 7, 2011at the Irish Ambassador Eamonn McKee's residence in Seoul's Sungbuk-dong area.Please join them for this talk and buffet reception, which marks the end of the "Joyce in Art" exhibition at the Museum of Art at Seoul National University. As space is limited, invitations will be issued on a first-come-first served basis. R.S.V.P.
Tel: 774-6455~7
Fax: 774-6458
Email: heejeong.kim@dfa.ie