National
Kenyans Make History in Marathon Sweep
By Benson Kamary
Associate Editor & Writer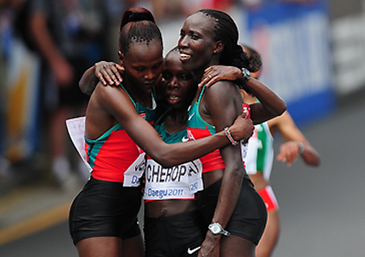 Edna Kiplagat (right), gold medal winner of the 13th running of the IAAF World Championships Marathon being held in Daegue embraces her fellow Kenyan compatriots — Prisca Cheptoo (left), winner of silver medal, and Sharon Cherop, winner of the bronze medal on August 27, 2011 after they swept the marathon.
Edna Kiplagat of Kenya won gold medal in the women marathon leading a clear medals sweep alongside her compatriots Prisca Cheptoo and Sharon Cherop who won silver and bronze medals, respectively.This was a great early motivation for the Kenyan team in Daegu. Kenyans living in South Korea arrived just in time to sing their national anthem - three times! Kiplagat won in 2 hrs 28 mins 43 seconds. Kiplagat has tumbled with seven kilometers to go but recovered ending up the winner. Led by the Kenyan ambassador in Korea, Mr Ngovi Kitau, Kenyans in Korea sung in praise of their country. Also at the finish line were Athletics Kenya officials. The proud Kenya ululated at the finish point catching the attention of the world media. Maintaining their dominance in long distance running, Kenya also won the best team award. The women marathon was the first event of the 2011 Daegu IAAF Championships. Though Ethiopians are usually a real threat to Kenyan supremacy in marathon, they could not match today's performance in Daegu.

Related Articles
Welcome to Africa Madam President!
My Take on "Hell Joseon" Narrative
Kenya Community Holds Historical Retreat in ...
World Education Forum Could Enrich ...
Revamp Media's Perspective of Foreigners
Terrorists Came to Maim Kenyans But Instead ...
Madam President, Please Don't Snub Africa
Big Task Awaits New African Union Leader
Korean Air's Apology Timely
World Bank Presidency and Moral Aspiration
College Entry Exams and Inconsolable Desire
World Should Back Kenya's Mission in Somalia
South Korean Experience Inspires Foreigners to ...
S. Korea Can Still Attract More Foreign ...
Wangari Maathai: Audacious Woman of Her Time
Zambia: Slow But Sure, New Sunrise Goes Up
Nairobi Fire Tragedy: A Call for Urgent Safety ...
IAAF False Start Rule Rips Athletes of Their ...
Record Holder David Rudisha Gives Kenya a Gold ...
Kenyans Awed by Daegu Ahead of IAAF World ...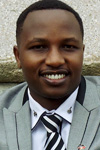 Benson Kamary, professor of Bukyong National University in Pusan, serves as an Associate Editor & Writer for The Seoul Times. Based in Busan, South Korea, the Kenyan professor also serves as chairman of Kenya Community in Korea (KCK). He can be reached at bkamary@yahoo.com