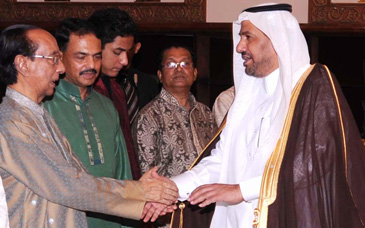 Bangladesh President Zillur Rahman (left) receives a guest during a reception held in Bangladesh on the occasion of its biggest religious festival Eid-ul-Fitr on August 31, 2011
DHAKA, Bangladesh — Ending abstinence of the holy month of Ramadan, the Muslims of Bangladesh across the country on August 31, 2011 are celebrating their biggest religious festival Eid-ul-Fitr amid due fervor and solemnity.
The main Eid jamaat (congregation) was held on the National Eidgah Maidan adjacent to the High Court building in the capital at 8:30 this morning amid pleasant weather and well-managed preparations.Khatib of Baitul Mokarram National Mosque Prof Maulana Mohammad Salah Uddin conducted the Eid prayers attended by thousands of people from all walks of life. President Mohammad Zillur Rahman offered his Eid-ul- Fitr prayers on the National Eidgah Maidan and exchanged Eid greetings with the devotees. Chief Justice of Bangladesh Justice Md Mozzammel Hossain, ministers , advisers to the Prime Minister, state ministers judges of the Supreme Court, senior political leaders, diplomats of different Muslim countries and high civil and military officials also offered prayers on the maidan. A special munajat was held seeking divine blessings for peace and development of the country, welfare of the people and greater unity and integrity of the Muslim Ummah.The Eid Jamaat was held under the auspices of Dhaka City Corporation (DCC). Special arrangements were also made for women and foreign diplomats to offer their Eid prayers at the venue. Besides, five massive Eid jamaats were held at Baitul Mukarram National Mosque with one-hour interval from 7:00 a.m. to 12:00 noon.Other Eid jamaats were held at Jatiya Sangsad (JS) Bhaban, Dhaka University Central Mosque, Gulshan Central Mosque and Eidgah, Lalbagh Mosque, Shyamoli SOS Shishu Palli Jame Mosque, Dewanbagh Babe Rahmat, Sayedabad Darbarsharif Baro Jame Mosque, Masjide Gausul Azam Abdul Quader Jilani, Dakkhin Goran Banosri Jame Mosque and Dania Jame Mosque.Under the auspice of the DCC, Eid congregations were also held at all eidghas and important mosques in all the 90 wards of Dhaka metropolis. Meanwhile, Dhaka Metropolitan Police (DMP) and the anti-crime elite force RAB provided a foolproof security to the areas around the National Eidgah and all other Eid jamaat venues and their vicinity. However, no untoward incidents were reported from anywhere during the Eid congregations.