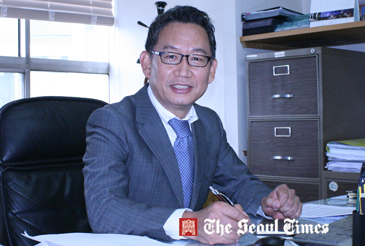 Mr. Scott Kwon, director of Hong Kong Tourism Board in Korea
Hong Kong has always been a fascinating destination for Korean people. Middle-aged or older Koreans grew up listening to the phrase: "I go to Hong Kong," the expression they used when they were extremely happy.Used to be called Asia¡¯s shopping paradise for young ladies and financial hub for businesspeople, the port city now emerges as a travel destination with multi-faceted images and functions.Now bridging Hong Kong with South Korea is the travel expert Mr. Scott Kwon, director of Hong Kong Tourism Board in Korea. As an authority on the port city Mr. Kwon has spent over 30 years in the tour and travel industry.He has a humble dream of becoming a tour escort when he retires from the current position. Recently The Seoul Times met with him to find out more about Hong Kong as well as him.The following is the questions and answers.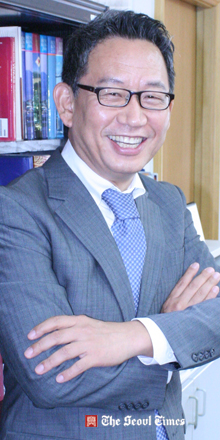 Mr. Scott Kwon, director of Hong Kong Tourism Board in Korea
Q1: First, I would like to thank you for this interview opportunity. I believe that your linguistic ability and international experience has been a great success for your successful operation in the Korean market for your tourism board. So far, what are your main achievements?
A1:
In year 2010 alone a total of 900,000 Koreans visited Hong Kong, making Hong Kong No. 4 market for South Korean travelers only after China, Japan, and the United States.I believe this is quite an achievement, considering that Hong Kong is only a city or city state.As a matter of fact, Hong Kong used to be known as a shopping destination to South Koreans, particularly attractive place for young office ladies.But, we have been expanding Hong Kong brand image into a city of festivals, events, and culture. We are now turning Hong Kong into a popular family travel destination for Koreans who want to spend their weekend.I am glad that Hong Kong is now emerging as a free independent destination for most Koreans.
Q2: How important is South Korean market to Hong Kong? What are the major objectives of your Hong Kong Tourism Board for the South Korean market?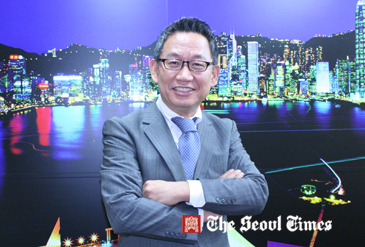 Mr. Scott Kwon, director of Hong Kong Tourism Board in Korea
A2:
To Hong Kong South Korea is listed as No. 5 market only after China, Taiwan, Japan, and America. South Korea is now rated as ¡°key growth market¡± in Hong Kong¡¯s inbound market.Now, Hong Kong¡¯s industries of hotels and theme parks are actively supportive of the Korean market.Also I am trying to bolster our cooperation with the local Korean travel agents for them to produce attractive travel products.
Q3: Please tell me about your plans to further promote your tourism among the Korean people and in this Korean market? What will you do for the rest of your tenure here in Seoul?
A3:
First of all, we are aiming to attract 1 million Korean visitors to Hong Kong. For this goal, we are trying our efforts to develop various but unique travel programs including luxury tour and special interest tour.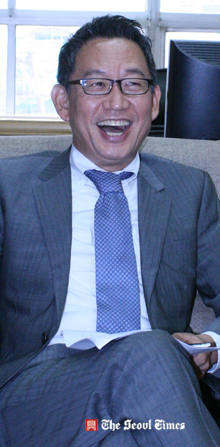 Mr. Scott Kwon, director of Hong Kong Tourism Board in Korea
Luckily, Hong Kong has emerged as the Mecca for the modern art. With a harmonious combination of Eastern and Western culture the duty-free port city is the ideal venue for reasonable and free transactions.Being Asia¡¯s financial hub Hong Kong has also a great accessibility to the gigantic capital of mainland China. The port city boasts of the well-equipped infrastructure including top-of-the-line hotels.With these environments Hong Kong is emerging as a center for art exchanges. Hong Kong hosts lots of big-scare arts fairs including Asia Top Gallery Hotel Art Fair (AHAF) and Hong Kong Art Fair.Second, I would like to mention ¡°wine & dine tour¡± in Hong Kong. Hong Kong has emerged as world¡¯s second largest wine market only after the US market in terms of wine auction. This might be a bit surprising to you when there is no single vineyard in Hong Kong.Actually, Hong Kong government lifted import tax on the wine three years ago. People in the port enjoy a variety of wine from all over the world with all kinds of delicacies.Literally, Hong Kong is growing as Asia¡¯s wine hub. ¡°Wine and Dine Festival 2011¡± will kick off in Hong Kong on Oct. 27, 2011 for a three-day run.Now, we have to say we go to Hong Kong to drink wine.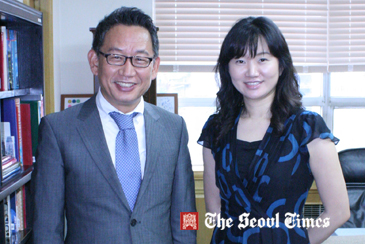 Mr. Scott Kwon (left) , director of Hong Kong Tourism Board in Korea, poses with Ms. Olivia Lee, PR & Communictions manage.
Third, but not necessarily the least, I would like to explain about the trekking programs including ¡°the Great Outdoor HK.¡±It is a hidden fact that most parts of Hong Kong island are covered by forest and Hong Kong is composed of some 260 islands. Even half of the Hong Kong¡¯s urban area behind its skyscrapers is covered by forests which have many trail courses. Among them is ¡°Dragon¡¯s Back Trail,¡± which I believe is the best.Located within the range of 20-minute bus drive from the center of Hong Kong city the Dragon¡¯s Back Trail is perfect for those who seek to enjoy trailing in the morning and enjoy shopping in the afternoon.Around the Trail travelers can enjoy the scenic beauty spread over coastal seas below. The beauty of ¡°Shek O Village¡± beach and the Fairway golf course flanked by pine trees, the majestic residences of Hong Hong¡¯s rich people never fail to amaze visitors and tourists.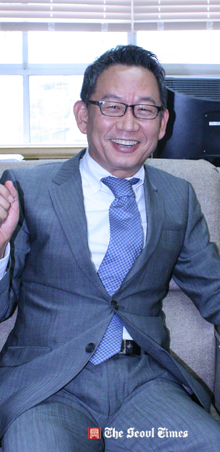 Mr. Scott Kwon, director of Hong Kong Tourism Board in Korea
Dragon¡¯s Back Trail was declared as the Best Urban Hike in Asia by Time magazine in its Nov. 22, 2004 issue.Hong Kong also offers various sports and cultural events all year round, including Halloween Party in October, HK Tennis Classics in January, HK Salsa festivals in February, HK Marathon Tour in February, and HK Open in December, you name it.
Q4: What are the motives of South Korean tourists who want to visit Hong Kong? What, do you think, are the fascinations of Hong Kong, which attract Koreans to Hong Kong?
A4:
First, I would point out convenience. Hong Kong can be reached from Korea within three hours with 110 air flight services per week. Hong Kong¡¯s professional service and safe security create business-friendly environment for the visitors.Second, I would like to comment on ¡°establishment of outstanding tourism branding.¡± Cultural meeting point of the East and West, a financial and trade hub of the world, a romantic winter city, a paradise of food and shopping are some of the multifaceted images of Hong Kong.Last, As Hong Kong¡¯s landmarks I would pinpoint such attractions as Symphony of Lights, Victoria Harbor, Double-deck bus, Tram, HK Oceana Park, HK Disney Land, and Star Ferry.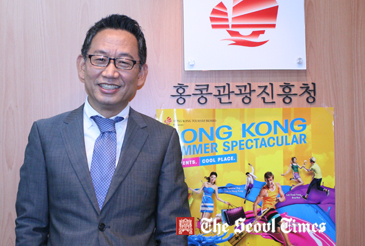 Mr. Scott Kwon, director of Hong Kong Tourism Board in Korea
Q5: What, do you think, is needed for the South Korean tourism industry to be further promoted or developed? Do you have any suggestions or recommendations for the South Korean government or its people?
A5:
I believe that the success of tourism in one country or a city requires a long-term and well thought-out plan that needs a helicopter view.It¡¯s important to study how to package a city as a quality tourism product. It is a government action to the long pondered and well planned ideas on how to design the city in terms of artistic beautification and uniqueness.For this, HK government developed world famous ¡°A Symphony of Lights.¡± The performances by ¡°A Symphony of Lights¡± with a backdrop of Hong Kong¡¯s beautiful skylines is a good example made artificially with private companies.HK Peak is similar to ¡°N Seoul Tower¡± on Seoul¡¯s Namsan Mountain. They are definitely different each in terms of operation and management. HK Peak, which is a must-see spot in Hong Kong, is being operated in a way that is friendlier to its visitors than N Seoul Tower.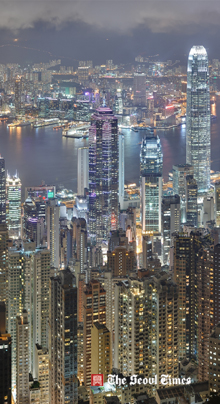 Skyline of Hong Kong
HK Peak is normally packed with so many foreigners and HK residents day and night. Conveniently accessible HK Peak offers not only splendid view and but also so many activities on the peak during day or night time.On the other hand, N Seoul Tower looks rather isolated even if it is located in the center of Seoul. I think that Seoul City Administration has to reconsider its accessibility and convenience to make it as Seoul¡¯s landmark and a must-see spot for the foreign visitors and Seoul residents.I also believe that South Korean tourism authorities should double their efforts to make the on-going festivals truly international and popular ones for the foreign tourists. For this they need to make and concentrate on a few significant ones. They should take a thorough aftercare for them.Let me give you an example. Hong Kong Tourism Board developed ¡°HK Wine & Dine Festival¡± in 2009 and only one year later ¡°2010 HK Wine & Dine Festival¡± was participated by 110,000 people.
Q6: Could you tell us about your professional background? When did you enter into tourism field and on what occasion?
A6:
I joined Korea National Tourism Organization (KNTO) in 1981. Back then the world did not know about Korea. I started my work in tourism field with a firm conviction that I will promote Korea as a civilian diplomat until people the world over knows very well about my country.I did my duty as a tourism official in KNTO¡¯s offices in New York, Chicago, and Hong Kong.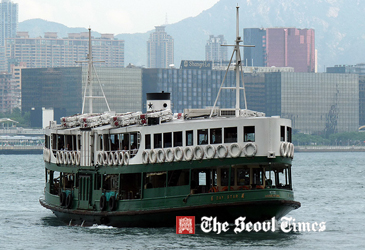 "The Star Ferry" in Hong Kong

Q7: I guess that you have many foreign friends including those from Hong Kong? How do you rub shoulders with them? Tell me your secrets of making good friends with them?
A7:
I normally keep warm and friendly ties with my foreign friends. Being honest to them is of course important.I always try to cherish myself as a valuable person in my relations with them. And they tend to treat me as a valuable person.I do care about how my feature is presented to them. I do my best to be smart-looking and fashionable.
Q8: Could you tell me about your future plans? You have been performing your duty as a director quite successfully. What is your next step as a tourism expert?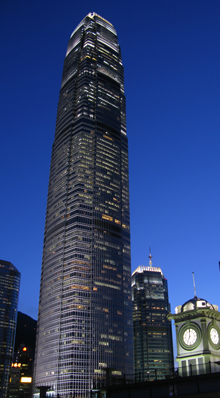 International Finance Centre (ÏĞğ·ÑÑë×ñéãı: IFC) in Hong Kong: Hong Kong (úÅùû) is China's one of two special administrative regions (SARs). The other one is Macau. The port city, which literally means "fragrant harbor" in Chinese, is nicknamed "Pearl of the Orient" by Westerners. The 1104-square-killo-meter city-state, famous for its skyline and deep natural harbor, has a population of 7 million. Hong Kong's sovereignty returned to China in 1997 from Britain which cononized it after the First Opium War (1839–42). Under the principle of "one country, two systems," Hong Kong has independent judiciary functions. As one of the world's leading international financial centers, the capitalist economy boasts of low taxation and free trade. And its currency, Hong Kong dollar, is the world's 9th most traded currency.
A8:
I have been involved in tourism industry for the last 30 years, particularly in its marketing area. The vocation I hold now is very meaningful to me. This profession is the line of business I like the most and I can do very well.If given a chance, I would like to work as a tour escort in the twilight of my life. I would like to take a bunch of senior tourists to America or Europe as a tour escort after I retire from my position.
Q9: Please tell me about your hobbies? How do you spend your leisure time? Do you exercise for health?
A9:
I love nature. I visited nearly all the major national parks in North America. Yellow Stone National Park, Yosemite National Park, Glacier National Park, Grand Canyon National Park, Smoky National Park, Shenandoah National Park, Banff National Park, and so on and on. You name it.As for my exercise, I make it a rule to practice some 20 minutes every day. I do push-ups 100 times, 50 times of sits-up, and a short yoga during the weekdays.On the weekends, I go mountain hiking with my wife. I also enjoy occasional golf.
Q10: Would you introduce your family? What do they do for a living?
A10:
I was born into a Christian family. Now, I serve as an elder for my church. My wife also is a devout Christian. My daughter, who is a medical student, is planning to go on an overseas medical mission. My son, a design major at university, is now serving in the army.My life¡¯s motto is ¡°Do my utmost to be the best.¡± I always try to live a truthful life and I always try to improve my life. After all, life is important to me.
About the Hong Kong Tourism Board (HKTB)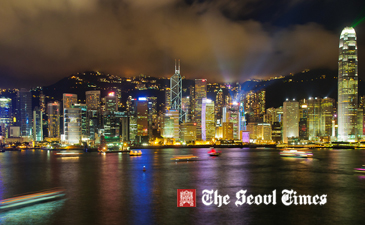 Hong Kong nightly view

The Hong Kong Tourism Board (HKTB), a Government-subvented body, was founded on April 1, 2001 under the HKTB Ordinance. It was reconstituted from the Hong Kong Tourist Association (HKTA), which was established by Government Ordinance in 1957.Unlike the HKTA, which was an association of members, the HKTB has no affiliation to any specific sector or organization within the industry and is able to support the interests of Hong Kong's tourism in its entirety.The six objectives of the HKTB, as defined under the HKTB Ordinance 2001, are:to endeavor to increase the contribution of tourism to Hong Kong; to promote Hong Kong globally as a leading international city in Asia and a world-class tourist destination; to promote the improvement of facilities for visitors; to support the Government in promoting to the community the importance of tourism; to support, as appropriate, the activities of persons providing services for visitors to Hong Kong; and to make recommendations to and advise the Chief Executive (of the Hong Kong SAR) in relation to any measures which may be taken to further any of the foregoing matters. In fulfilling its objectives, the HKTB works in partnership with relevant Government departments and organizations, the travel-related sectors, and other entities directly or indirectly related to tourism. The co-operation also takes the form of regular consultation with stakeholders, and participation in a number of strategy groups and forums. The HKTB conducts extensive research into visitor profiles and preferences. This research data, along with information on the latest tourism trends and patterns, as well as analyses and projections by international organizations, is used for mapping out the HKTB¡¯s marketing strategies for different visitor source markets and segments. The HKTB has adopted ¡®Hong Kong. Asia¡¯s World City¡¯ as the theme of its marketing platform, highlighting Hong Kong¡¯s vibrant and cosmopolitan lifestyle, its cultural fusion and diversity, as well as its versatile tourism strengths. These include shopping, dining, signature attractions, festivals, culture and heritage, as well as the emerging strengths of arts and performances, hiking and outdoors.In order to communicate these strengths to travel trade, media and consumers worldwide, the HKTB makes use of different channels, and organizes comprehensive campaigns and a year-round program of mega events, which also serve to enrich visitors¡¯ experiences and provide a business platform for the travel-related sectors.
For details or inquiries about Hong Kong Tourism Board please call its Seoul Office at 778-4643.