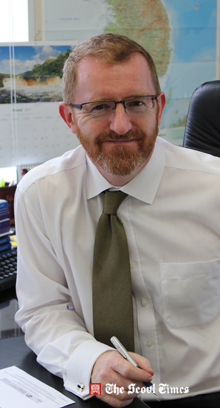 Irish Ambassador to Seoul
Eamonn McKee

Dear Joseph! With the holidays well behind us, I thought you might find the following updates useful. They cover a range of different issues.On the economic front, you may have noticed some positive reviews of Ireland's economic performance (notably in the Financial Times on July). While unemployment and our debt overhang remain high, our export performance means that our balance of trade is expected to be positive this year (i.e. exports to exceed imports, as it did for the second half of 2010).Most significantly, the Economic and Social Research Institute now reckons that our public debt will peak a year earlier than expected. According to their estimates, gross debt will peak in 2012 at 113% of GDP and fall back to 106% by the end of 2015. With our primary balance expected to be positive by 2014, this would ensure our debt as "stable". Helpful developments like the reduction in ECB loan rate and less negative requirements from the banks are major contributory factors.Of course, Ireland is exposed to any large exogenous shocks and the continued uncertainties about the Eurozone and global economy can and will affect us. However, the improved prospects of our fiscal situation are to be welcomed, creating a positive horizon sooner than expected. A return of domestic demand – dramatically suppressed by private de-leveraging, credit restriction and delayed purchasing – would significantly boost growth and employment projections.In terms of Embassy news, our friend, colleague and deputy Head of Mission, Frank O'Donoghue returned to Headquarters in early August having completed his three-year assignment here.One could not have asked for a more generous, diligent and courteous colleague. He will be missed by his many friends and colleagues. Frank has been assigned to Trade and Promotion Division where his expertise on Asia/Pacific (having served also in China, Japan and Australia) will be put to good use. His replacement is Ruth Parkin who we will be delighted to welcome to Seoul shortly, along with her husband and child.We are also delighted to have on board Andrew Brennan as Marketing Advisor, Bord Bia (Irish Food Board), Korea & Japan. Andrew is part of the Bord Bia Marketing Fellowship 2011-2012 at the UCD Michael Smurfit Business School. It is a yearlong programme combining a postgraduate qualification and hands-on experience promoting a number of Ireland's leading food and beverage companies in the marketplace. He has been in Korea for six years and his knowledge of Korea mores and command of hangul will greatly assist him in marketing select Irish produce here.The Irish Association of Korea, in association with the Embassy, is hosting another of their very popular Céilís, an Irish Festival of music and dance, on 25th September. Details below: I hope to see you there.As you know, the Rugby World Cup gets underway this weekend. The Irish team has been training in Queenstown, New Zealand. The Grand Hyatt Hotel here in Seoul will be showing all of the games in the tournament. If you are aware of other venues showing in particular the Irish games, please let us know so we can post the information.Congratulations to the Irish team who showed their commitment by breaking two Irish records during the Daegu World Athletics Championships. Deirdre Ryan came 6th in the high jump with a new Irish record. Ciarán O Lionaird came 10th in the 1500m, only the second Irishman to qualify for a final. Alistair Cragg performed valiantly in the 5000m, his first final appearance. Unfortunately star athlete Deirdre O'Rourke had to withdraw from the 100m hurtle semi-final with a calf injury. A combination of events conspired to thwart Irish ambitions in the walking competitions where we normally perform well.The women's 4x400m team produced a new Irish record but it fell short of what was needed to qualify for the final. Kevin Ankrom, Athletics Ireland High Performance Director summed up the situation: "It was a championship of mixed performances. We had some disappointments but we will work with these athletes to get them back to where they need to be, we also had some real highlights with a new crop of athletes making significant breakthroughs".Finally, preparations are ongoing for the Asian Gaelic Games in Suwon and the Asia Pacific Irish Business Forum in mid-October. I will be in touch in greater detail about these shortly.Best wishes,
Eamonn McKee
Ambassador,
Seoul 2011 IAK Autumn Festival:
Irish Traditional Music and Dance Festival
Date / Time: Sept. 25, 1.00 p.m. to 5.00 p.m.
Venue: D–Cube Plaza Theater (outdoors) at Shindorim Metro Station,
Exit1; line 1&2.
Sponsored by IAK (Irish Association of Korea) and The Irish Embassy Korea.
Come one, come all and bring friends.
Contact: Sean: 010 5895 6430