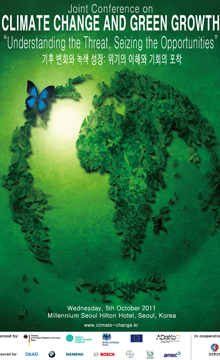 Poster of Joint Conference on Impacts of Climate Change
The Joint Conference on Climate Change and Green Growth, organised by the German Embassy, the Global Green Growth Institute (GGGI), the British Embassy, the Delegation of the European Union and the Alumni Network Germany-Korea (ADeko), will bring together a broad array of international experts, especially from Germany and the UK, to discuss ways to deal with the growing threats and opportunities of climate change.The one-day conference will convene at the Millennium Seoul Hilton on 5 October 2011 at 9 a.m. and feature over thirty well-known speakers and panelists from Korea and other countries. Policymakers see the need for a new economic growth model where prosperity supports rather than undermines environmental sustainability. This conference is designed to explore and discuss policies and tools to build such a growth model and shift away from the resource-intensive, high carbon economic growth models that have predominated since the 19th century. This new evolving model has been broadly termed green growth. The conference comprises five sessions. Session one will address energy. Specifically, it will attempt to identify areas in increasing energy efficiency, ensuring the security of diverse and reliable sources of energy, as well as explore opportunities for collaboration related to green growth policies.Session two will consider the latest scientific and economic research on how climate change is likely to impact Korea. Session three will consider specific policy measures designed to mitigate climate change, such as emission trading systems and carbon pricing. Session four will discuss research and development on the renewable energy front and session five will address the role the media has in shaping environmental discourse and policies.The conference will conclude with a closing plenary session that will feature the highlights of the day and discuss how best to implement the ideas and initiatives presented. Speakers and panelists include Dr. Han Seung-soo, Chairman of the Board of Directors, Global Green Growth Institute, Sir John Beddington, Chief Scientific Advisor of the United Kingdom, Professor Dr. Matthias Kleiner, President of the German Research Foundation DFG, Professor Dr. Jörg Hacker, Member of the German Academy of Science, and Professor Dr. Eicke R. Weber, Director of the Fraunhofer Institute for Solar Energy Systems. For a full list of participants and more information on the Joint Conference on Climate Change and Green Growth, please visit the website at: http://www.climate-change.kr/
Background Information: All SessionsGlobal Green Growth Institute (GGGI)
Panel Session 1: Energy and Climate Change for Green Growth The primary causes of climate change have been attributed to the negative impacts of human activities. Many countries seek to improve their energy efficiency as it is an important strategy for mitigating climate change. Korea saw an urgent need to improve its energy efficiency after experiencing significant challenges to its energy security as well as the effects of climate change and economic globalisation. Thus, Korea has recently placed a greater emphasis on energy security and conservation due to limitations and vulnerabilities related to its energy supply.Among the topics to be discussed by speakers in "Session 1 - Energy and Climate Change for Green Growth" are: how to increase energy efficiency, the importance of using reliable sources of energy, the development of energy-related research and technology, and how a low-carbon economy can create jobs and bring overall economic growth.This session will consider ways to bring together the business community, policymakers and stakeholders to create new partnerships in energy efficiency and climate change as well as to come up with concrete measures to ensure energy security and efficiency.At this session, speakers from the Global Green Growth Institute (GGGI), the Asian Development Bank (ADB) and the German Development Institute will share their insights on areas including sustainable energy policies, energy cooperation and security, green energy and climate change.
British Embassy
Panel Session 2: Domestic and International Climate Change Impacts Climate change affects our daily lives. From higher global temperatures to an increase in natural disasters, climate change not only affects weather patterns but also our economies and state policies.This session will consider the scientific and economic case for action on climate change. It is an issue which deeply affects Korea and its economy: on current trends, Korean average temperatures are set to rise by 4 degrees Celsius by 2100. Furthermore, local sea levels will rise by 35cm, rice crops will decrease by 15% and natural disasters will become more frequent - their number has already tripled over the past decade.However, taking initiatives to tackle climate change at this stage will help protect us from these risks. Under the status-quo, the damage caused by climatic change is estimated to be about 2800 trillion KRW to the Korean economy. Now is the time to encourage investment by injecting 200 trillion KRW needed today to bring the country onto the low carbon path. In the long run, taking action now will ultimately help the Korean economy to save 800 trillion KRW.At this session, speakers from the UK, Korea and Japan will share their insights on these themes, namely the economic, scientific, international impacts of climate change.
EU Delegation
Panel Session 3: Policy Measures: Emission Trading Systems, Carbon Pricing There are many policies to reduce greenhouse gas emissions and opportunities to simultaneously achieve green or smart and sustainable economic growth. The European Union is using a mix of policies from command and control to market instruments, and in various sectors - from large power plants under the Emissions Trading Scheme (ETS) to emission standards for cars or building codes. The EU's experience has shown that the GDP continues to increase even in the manufacturing sector while GHG emissions have been reduced considerably. A crucial issue is putting a price on carbon and to make investments in energy efficiency or new technologies worthwhile and predictable for the industry. One of the key instruments the EU has developed is the Emissions Trading System (ETS) which applies only to major emitters (not SMEs). It is a market-based instrument that reduces emissions and stimulates technological innovation.At this session, speakers will discuss the rationales behind the existing EU and Korea's proposed emission trading systems as market-based instruments fitting into a green growth strategy, rather than a command and control instruments traditionally used to combat "public bads".Cost-effectiveness and environmental integrity are at the heart of the strategy that aims to achieve "de-coupling" greenhouse gas (GHG) emissions from economic growth. The EU has already organised four workshops with the Korean government, hosted Korean delegations, and has conducted high-level visits including Commissioner Hedegaard to Korea in order to share the experience the EU has had with the design and implementation of its ETS. This underlines the value of the Korea-EU strategic partnership sealed at last year's summit.The panel during this session includes a business perspective on this experience. This is particularly important given that business is the main stakeholder in this government-created market for emission allowances.Uwe Wissenbach, EU Delegation in Korea will moderate the session and give an introduction on the EU ETS.
German Embassy
Panel Session 4: R&D for Renewables Energies Recently many countries have put in enormous efforts to solve global climate change problems and we have witnessed significant and positive outcomes. For example, in the first half of 2011, Germany met more than 20% of its whole electric power demand (about 57,3 Bill KWH) using clean energies, such as wind power (7.5%), bio mass (3.5%), photovoltaics (3.5%) and hydroelectric power (3.3%), while at the same time the price of solar power is falling rapidly. It can be expected that in 5 years the price for solar energies will fall below gas power prices which would mean that grid parity for PV can be achieved in 2016 leading to an increase in power conversion efficiency compared to the overall PV cost. Therefore, this session will not only consider the current R&D status but also the future aspects of those renewable energies, such as solar and wind power in particular.This panel, which will be moderated by Prof. Chan Im, Director of Konkuk University-Fraunhofer ISE will focus on Part 1: Current R&D status of renewable energy (Solar & wind energies as important renewable energy sources, Current leading PV technology, Si-solar cell R&D status in Korea, Alternative solar energy technology, Difference between solar and wind energy, Advantage for dye sensitized solar cells and organic PV and Current acceptance degree of renewable energy by industry) and Part 2: Challenges of R&D for sustainable future (Possibility of grid parity for solar power, Application oriented R&D of PV as building component, Integration into smart grid – suitable infra, storage, inverters etc., Hurdles by integration from the view point of industry, Political aspects for solar R&D – difference between EU & Korea, Technical goals of renewable energy R&D and Social consideration of renewable energy R&D community).
ADeKo
Panel Session 5: The Role of Media Regarding Climate Change and Environmental Issues "Climate change" and "Green growth" are one of the most pressing challenges faced in the world today. The one-day conference will be held in line with an effort to raise the public awareness of the importance of preparing to deal with the impacts of climate change. Thus, there needs to be more opportunities to hold scientific conferences and seminars in a larger group enabling participants to engage in in-depth discussions. Entitled "The Role of Media Regarding Climate Change and Environmental Issues," this session will consider the impact of media in transferring information about climate change to the broader public. At this session, speakers will discuss the media's role in presenting climate change, the role of new and social media and whether there are differences between the way in which the traditional media (newspapers, magazines, radio and TV) and the new media (the Internet, Youtube, social media e.g. Facebook, Twitter) transmit information about issues surrounding climate change. There will also be a discussion on how the media's role differs from country to country. The speakers will compare between Europe (Germany), the United States and Korea.Speakers from Germany and Korea will share their insights on the differences between the old and new media, the impact of the media on disseminating climate change-related information and the role played by governments in influencing the media.
Or for further information contact:
Hee Kyung Son (Ms. Son) Michael Sullivan
T +82 70 7117 9957 T +82 70 7117 9965
M +82 10 9530 9957 M +82 10 9530 9965
h.son@gggi.org m.sullivan@gggi.org