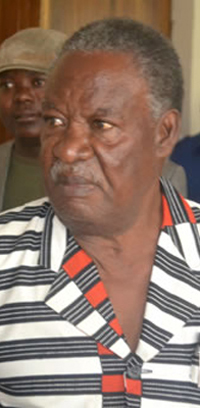 Michael Chilufya Sata (born 1937[2]) is a Zambian politician who has been the President of Zambia since 23 September 2011.
A new political sunrise in sub-Saharan Africa is finally licking away outdated regimes and leaving aroma of democracy. But this is not to say that democracy is the redeemer of Africa. Not yet. Like any other political system impacted by a corrupted world, democracy can be abused, and seriously so. Even in the West where democracy is hailed as an assuring pragmatic system, it has severally been turned into the 'tyranny of the majority' with persecuting claws on the minority and their feeble voice. Well, at least in the savannah land, the 'jasmine revolution' of a kind has just arrived if the recent polls in Zambia are anything to count on. But unlike the mass action and street battles witnessed in the Arabic Northern regions, sub-Saharan Africa is getting new governments with a reduced violence. Optimistically, minimal or no rigging allegations in the near future is a clear-cut future desire. Michael Chilufya Sata, nicknamed "King Cobra" for his lethal words against political failures in Zambia, has just been sworn in as the country's fifth President since independence. The country was colonized by the British until 1964. Interestingly, most Africans countries attained independence around the same period nonetheless a few of them have seen more than two transition of power Zambia being one of them. President Sata succeeds Rupiah Banda who gentlemanly conceded defeat – a rare gesture in some previous regimes. Zambia's first democratic transition in 1991 saw the founding President Kenneth Kaunda hand over power to Fredrick Chiluba. Will the sun of change keep shining across the savannah? Ask any African young man and woman and they will tell you how much they crave for political soberness in Africa. Authentic change is what they dream of. They desire for leaders who will deliver justice, economic equity and liberty. Presidents who will turn their campaign promises into practice. For instance, young people from East Africa particularly Kenya are tired of tribal-based divisive politics. Other neighbouring nations are pissed off with suspicious electoral commissions. They long for the sunshine of change with abated breath; no wonder fear of rigging due to snail-speed vote counting caused a handful of violence in some parts of capital, Lusaka. Remember Kenya after vote counting in 2007? It may be an understatement to say that no man, woman and child would like to see a repeat tribal clashes that occurred in Kenya, previously one of the most stable nations in Africa. Not even a cow, a goat and chicken is spared. Violence respects no life. This is why the beautiful sunrise must keep on wiping the sediments of corrupt incumbents, their cronies and electoral bodies across the savannah land. Mr. Sata's election has carry some significant symbolism vis-à-vis continuous ambition in Africa. Like Mwai Kibaki of Kenya and his Narc party in 2002, the new Zambian leader has ended a domination of a political party that ruled since independence. Movement for Multiparty Democracy (MMD) which ruled Zambia for 20 years finally bowed out of power. In the case of the two countries and some of their neighbours, like Tanzania, independent parties were perceived as obsolete apparatus. They outlived their mandates. In fact second and third generation political parties were welcomed with unwavering hope. They represented a refreshed mandate – others have called it second or third generation depending of their chronology. Few of the serious regimes are either amending or promulgating new constitutions - a sign that the continent's political journey is getting a navigator, finally. Perhaps a route-finder that will beat new political trails away from coup-de-tats, genocides and bloody tribal clashes of the past.Also, Sata's election sends a message that though it may tarry, change will surely come. That Mama Africa's aspiration for change lives on with her spirit now rekindling. No mistake, her economic potential remains undisputed. President Lee Myung Bak of Korea, while on tour of Africa, predicted that, "Africa is the hope for the future of this planet". The continent should no longer be tagged with labels of poverty and disease – her potential is just enormous. In fact, since 2000, six of the 10 nations with the highest economic growth are African nations. The IMF thinks that by 2015, Africa's growth rate will supersede that of Asia. Did someone hear that?But there is a long way to go if these predictions are to be realized. Political willpower is not option for Africa regarding her socio-economic transformation. African Union must be challenged to rejuvenate itself and become uncompromising prefect on some political shame still lingering in the continent. For emphasis, such rebirth must begin with AU itself. With a sign of democracy sunrise of change, will savannah land see lesser political tensions in election years? From Nigeria to Ivory Coast, Kenya to Zimbabwe, Tanzania to Congo; may the sun of justice, impartiality and peace shine. Yes, may it shine across the rivers of Uganda, the hills or Burundi and the shrubs of Angola. Let it shine!
The above story was written by by Benson Kamary and Patriciah Njambi.