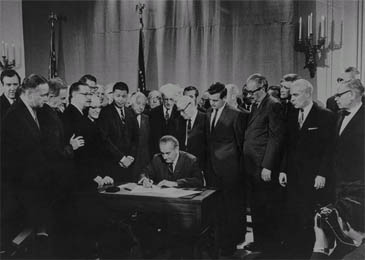 LBJ signs the Voting Rights Act on Aug. 6, 1965. Courtsy USNews
San Diego County violated the Federal Voting Rights Act because it did not offer enough support to voters with limited English skills. The County agreed to do better and promised to hire 900 Spanish-speaking poll workers for the November 2nd election. As of this writing, they have only been able to find half of the people they need.When we think of voting, we immediately imagine citizenship and we assume fluency in the English language. Why should bilingual services be provided? Why translate voting materials?Translation would not be required except for the fact that some naturalized citizens do not understand English very well. Although the citizenship test covers both the English language and government of the U.S., its content may vary with the applicant's background.When I took my citizenship test, more than 20 years ago, the examiner had certain expectations of me as a graduate of an American college. My mother took hers as a 60-year-old Italian immigrant and failed it several times. Eventually, the examiner, having realized my mother's determination to become a citizen, gave her a test that she managed to pass. Yet, her knowledge of the English language remains very limited.My mother is not the only US citizen who would have a lot of trouble with the English ballot and would require help at the polls. It was with these people in mind that Congress passed The Voting Rights Act. Section 203 of this legislation says that if more than 5 percent or 10,000 voting-age citizens in a county don't speak English "very well," according the US Census figures, and are fluent in another language, election materials need to be translated.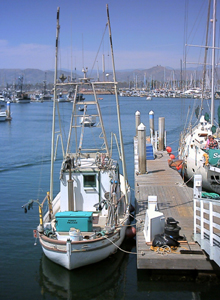 Ventura Harbor in Ventura County
The law applies to Spanish, Asian, American Indian and Alaskan native languages because their speakers were recognized as having suffered discrimination and exclusion. African and European languages were left out of the law although a new proposal in the US Senate would include these languages as well.Although cost is a definite concern, some people have additional reservations. Some object to the very idea of ballots in languages other than English. Some people fear that voting in Spanish, Vietnamese, Chinese, or whatever second language the law might require, will result in the beginning of a slippery rope which will Balkanize the country and lead it the same path as Canada into a possible break up.These fears are unfounded since no such danger really exists. Ballots and services in languages other than English help recipients of these services to become full-fledged Americans.The ability to vote in Spanish or some other language makes people more American not less. Voting is a right for legal citizens whether they are born in the US or naturalized. There is no literacy test. If there were such a test, a significant number of native-born Americans would probably fail it.Indeed, in the history of our country, literacy tests have been used to prevent people from voting. Complaints about being unable to vote even occurred in the last presidential election in Florida. Many Haitians and African Americans felt that barriers were put in their path as they attempted to vote. We want all legal citizens — whether born in the U.S. or naturalized — to be able to vote. And steps are taken to eliminate barriers. For example, we send absentee ballots to those who find it inconvenient or difficult to get to the polling places. We provide access to people with disabilities and assistance is given to enable them to vote. Translating ballots as required by law is just another step to make sure people's voices are heard.
Ventura County in California
The Board of Supervisors of Ventura County recently adopted a plan which would have bilingual county employees work at the polls on election day instead of doing their regular duties. In addition to their standard salary, these individuals would also receive a $90.00 supplement. San Diego and other counties may wish to follow Ventura County's example to make sure that every vote counts.