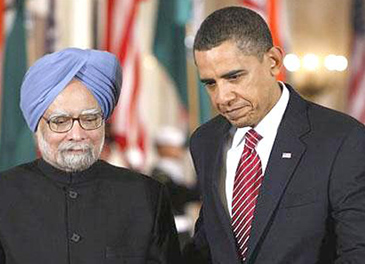 Indian Prime Minister Manmohan Singh (left) meets with US President Barack Obama.
The Center for Strategic & International Studies (CSIS) announces the launch of a new project on US-India Defense and Security Cooperation. U.S.-India defense ties have made substantial progress since the signing of the New Framework for Defense Cooperation in 2005.India now conducts more military exercises with the U.S. than any other country has purchased US defense equipment worth billions of dollars, and both sides recently established a U.S.-India Homeland Security Dialogue."The US-India defense relationship has grown to become a key component of the overall bilateral partnership," said Ambassador Karl F. Inderfurth, Senior Advisor and Wadhwani Chair-holder in US-India Policy Studies. "Close defense and security ties with India can address common strategic interests such as the security of trade and energy corridors across the Indian Ocean, countering terrorism, enhancing Indian coastal security, and addressing humanitarian and natural disasters."The CSIS project will focus on examining the key challenges and future opportunities for optimizing bilateral defense and security cooperation and will consist of three components: — Bilateral defense trade: How can the US and India work together to make bilateral defense trade more seamless or transparent?— Military-to-military cooperation: How can the US and India transition current military-to-military engagement to become more operationally relevant?— Homeland security cooperation: How can the US and India best cooperate to support India's efforts at securing its homeland?While progress has been notable, significant challenges still remain to realizing the full potential of the US-India security and defense relationship. On the US side, there are still concerns about a lack of transparency within India's defense bureaucracy and whether India is willing to transition defense ties to more operational cooperation. On the Indian side, questions still linger about US reliability as a defense partner as well as concerns that overly close defense relations with the US might limit India's strategic autonomy.This project will be directed by Visiting Fellow, Dr. S. Amer Latif, who previously served as the director for South Asian affairs in the Office of the Secretary of Defense from 2007-2011. Each component of the project will advance policy recommendations for the three main areas of study mentioned above through published reports, senior roundtables, and events taking place in the US and India.
The Center for Strategic and International Studies (CSIS) is a bipartisan, non-profit organization that seeks to advance global security and prosperity by providing strategic insights and practical policy solutions to decision-makers.
H. Andrew SchwartzCSIS
www.csis.com