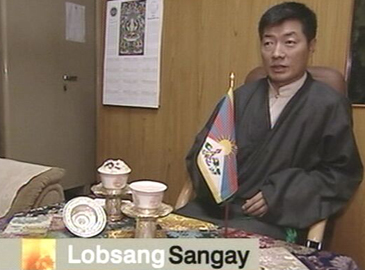 Tibetan Exile Leader Lobsang Sangay on CNN's Talk Asia
Airtimes:HK, Kuala Lumpur, Manila, Singapore, Taipei
Saturday: October 8 at 1600
Sunday: October 9 at 0000 and 1630
Monday: October 10 at 1000 and 1530
Seoul and Tokyo
Saturday: October 8 at 1700
Sunday: October 9 at 0100 and 1730
Monday: October 10 at 1100 and 1630 Lobsang Sangay is the Dalai Lama's successor and first elected Prime Minister of the Tibetan government-in-exile. This week Talk Asia travels to Dharamsala in Northern India to meet the Harvard grad to find out how he plans to continue the Dalai Lama's vision for Tibet's future.
Elected by delegates of Tibetan exiles living outside Tibet, the new Kalon Tripa (Prime Minister) admits feeling enormous pressure following in the footsteps of the charismatic figure who has represented exiled Tibetans for more than half a century. "I think I should not even try to follow his footsteps. Rather my responsibility and expectation is to fulfill his vision."
Sangay advocates a "middle way" policy, seeking true autonomy, rather than independence, for Tibetan people within China. He vows to be more forthright and frank about the realities in Tibet, which he describes as "a tragedy". "There's no socialism. There is colonialism. There is no paradise. There is a tragedy. Tibetans are suffering on a daily basis and the Chinese government knows it very well…their hard-line policies is definitely not working."
Motivated by a belief that the head of Tibetan government-in-exile should be democratically selected, the Dalai Lama stepped down from the post in August 2011. Beijing does not recognize the Tibetan government-in-exile and has accused the Dalai Lama of pushing for Tibetan independence.
Although he has never even stepped foot in Tibet, the new Prime Minister says that he has clear evidence of Tibetans being suppressed by the Communist Party in their homeland. "One evidence they cannot deny is every year hundreds of Tibetans cross the Himalayan Mountains and come to Dharamsala. Why would anyone do that? Why would parents send their six or ten or twelve year old kid to India to a strange place with no one else? Why? Because Tibetans are not happy in Tibet."
He also refutes Beijing's claims that the presence of the Han Chinese has brought economic growth and prosperity to the Tibetan people. "The question is – who is the primary beneficiary? For example, it is reported by NGOs that 70% of private sector jobs…are owned or run by Chinese in Tibet. Around 40% of Tibetans with high school or college degrees are unemployed. That is why there are bound to be protests…"
The new political leader is optimistic that Tibetan-Chinese conflicts can be solved through dialogue, despite half a century of futile attempts by his predecessor. "There are so many successful non-violent models that we follow and believe…Our Tibetan spirit is very very strong and it's rooted in Buddhism which is now 2600 plus years old. Communism is just 100 some years old. So philosophically speaking, we will definitely last a lot longer than communism and the communist party."
The Harvard-trained legal scholar believes that it is also in Beijing's interest to have a peaceful resolution. "They (China) have money power and military power but no moral power. China will not be respected if they continue to repress Tibetan people. If they want respect, they have to earn it…performing an act which is based on universal freedom and human right for Tibetan people."
The 43-year-old also discusses living away from his wife and daughter who are back in the U.S. "In some way, even my wife and daughter are contributing their bit for the cause, so in the long run I hope my daughter will understand."
Highlights of Lobsang Sangay's interview with TALK ASIA will be available online at www.cnn.com/talkasia after the first airing.
For more information, please visit www.cnnasiapacific.com
Related links:
Talk Asia official site
Talk Asia Facebook page