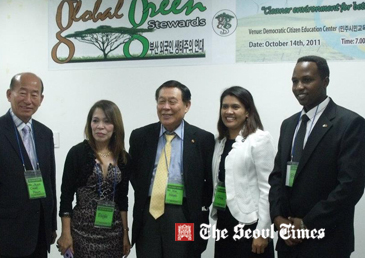 Mr. Benson Kamary (right) poses with other participants. Mr. Kamary serves as an associate editor for The Seoul Times.
There is a common phrase said by travellers or by people who have lived in a different country for a while. They would often say, "…we went, we saw and we came back."But in Busan, a group of foreign students and workers with profound interest in environmental issues have decided that traveling and living abroad is not just about going, seeing and coming back. It is also about learning new things, leaving a footprint and going back home with a seed of inspiration to change their own situations. About a week ago a group ofabout 30 foreigners launched what may be the first foreigners-initiated group related toenvironment and renewable energy issues. The group, Global Green Stewards (GGS), is aimed at assisting foreigners particularly from developing nations to learn from their experiences in Korea so that they may be agents of change and development when they return to their countries. Though the idea first sparked in February this year, the group was officially launched last week in a ceremony attended by among others, Busan city officials and representative of various environmental and alternative energy NGO's, teachers, journalists and students.Mr. Koo Ja Sang, the CEO of the Energy Natura Inc. and Ms Ok Seong Ae, the executive director of the People to Green Energy were guest speakers. They also assist the group with training and information.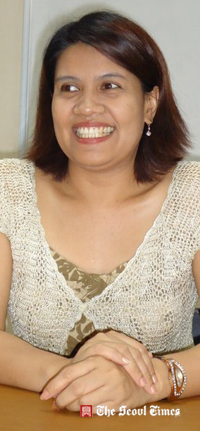 Ms. Grace Ga
Already, the group has attracted over 50 members from Africa (Kenya, Uganda, Burundi), Asia (Korea, Philippines), Oceania (Fiji) and the United States of America. These enthusiastic foreigners have already undergone serious lectures and projects evaluation regarding environmental protection and adoption of renewable energy technologies. The lectures are given voluntarily by experienced environmentalists in the city, leaders of non-governmental organizations such as Climate Change and Alternative Energy Center. They also attend conferences, seminars and workshops on the same. Perhaps what is striking among Korean citizens is the courage by which these foreigners, with no much resourcecan form a non-profit organization and craft vision and mission including raising awareness and conducting feasibility studies in Asia and Africa.They also intend to network with grass-root environmental NGOs and companies in their various countries for possible funding of local projects by Korean government agencies or established funding bodies. GGS works to identify viable projects that can sustain livelihoods to the benefiting communities. Later this year in December, a group of GGS members will be off to the Southern Philippines for their first feasibility study and networking mission. The Director of GGS, Benson Kamary, a Kenyan journalist and a PhD student in Busan was quoted saying that GGS is upbeat with its mission to learn, plan, network and execute. "Korea as a nation transformed from poverty to development and no doubt, among the G20 nations, it stands out as a model to many developing nations. Being in Korea now,therefore, offers us a chance to learn even more," added Mr. Kamary.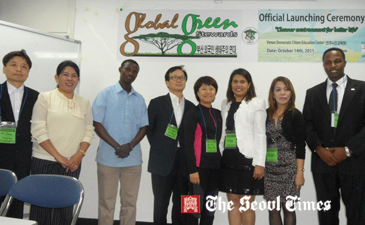 Mr. Benson Kamary (right) poses with other participants.
Indeed, Korea also considered environmental health and appropriate agricultural practices to achieve greater growth within a short-span. GGS is seemingly born out of conviction that socio economic development cannot be separated from environmental health. Environmental protection and use of cleaner energy have become serious subjects among individuals, communities and countries across the globe. Following a global concern over environmental issues and climate change, everyone ought to be inspired to be asteward or caretakers of the earth's resources because a healthy ecology is fundamental for a healthy economy. While at the launching ceremony, attended by not less than 40 guests, I wondered how best a group like GGS can change the world unless the change begun from the individual! This led to my experience at an energy saving family camp at ChangNyeong, about three weeks ago. The camp was organized by a Busan based NGO, Climate Change and Alternative Energy Centre in collaboration with the city government. While at the camp with members of GGS, we were trained on, among other skills, how to save energy as individuals and as a family. For instance, we were required to brush teeth using a cup and not running water. We were even supposed to generate electricity by cycling a bicycle fitted with motor, never to serve more food that one could finish and so on. Many families which have gone through the camping experience with their children have professed a certain degree of transformation. This, I suppose is one of the best learning experiences a family can ever have. At some point, each family was asked to bring their electricity, water and gas bills and was shown how to evaluate energy use, waste and saving. This equips the entire family with stewardship skills on energy usage at home. As Busan foreign residents ponder beating new paths and sharpening one another constructively, may find encouragement amid pressures and challenges of being pioneers. And who knows? This small group of thoughtful, committed foreigners from in the coastal city of Busan can change the globe. After all as Arthur Koestler once said "The principle mark of genius is not perfection but originality, the opening of new frontiers."
The above story was co-written by Ms. Ma Lourdes Grace Ga, who is a staff at the Korean-Philippine Culture Centre in Busan. She is also is the Deputy Director of Global Green Stewards (GGS) and can be contacted at ggstewards@gmail.com