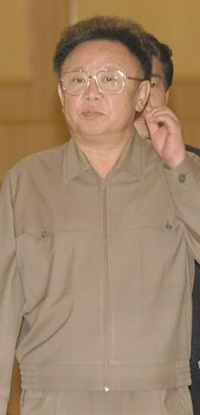 North Korean leader Kim Jong-Il
The United States will announce a return to dialogue with the Democratic People's Republic of Korea (DPRK). The next meeting will take place in Geneva. This follows a first round of dialogue between the Obama administration and the DPRK in late July 2011 in New York City. At the same time, the United States will announce that Special Envoy for North Korea Stephen Bosworth will step down and will be replaced by Glyn Davies.
Q1: What does the Obama administration want North Korea to do at this stage?
A1:
The administration has laid out a series of "pre-steps" it would like to see from the North before returning to the Six-Party Talks. These include a reaffirmation of North Korean support for the denuclearization pledges in the 2005 agreement; a freeze on all activities at the Yongbyon nuclear complex; a freeze and international inspection of the uranium enrichment facility; a nuclear and missile test moratorium; and a pledge not to attack South Korea again.
Q2: Why is the administration returning to dialogue?
A2:
Presumably to see whether the North is amenable to taking any of these steps. This is the second set of bilateral talks. The first was in July 2011 in New York. Outwardly, there is nothing that the North has done during the Obama administration to give the impression that it is committed to denuclearization. While the administration will deem these "exploratory talks," they will widely be seen as a return to negotiations. Moreover, holding out the Six-Party Talks as the main purpose of these preliminary discussions is a bit of a red herring—the North would prefer bilateral talks with the United States to Six-Party Talks always.
Q3: Why Geneva?
A3:
Geneva was the site of the Clinton administration's bilateral talks with the North that led to the 1994 denuclearization agreement. It was also the site of one set of the Bush administration's talks with North Korea in October 2007. The North Koreans like two sites in Europe: Geneva and Berlin, where they have better embassy support than at other embassies around the world.
Q4: What is the meaning of the change of team?
A4:
Both Glyn Davies and Ford Hart, the new special envoy for the Six-Party Talks, are State Department veterans and career diplomats. Putting these two in charge is probably aimed at depoliticizing the policy by avoiding outside appointments. While both are Asia specialists, they have no real previous experience in Korea and none whatsoever in North Korea. Yet both are quick studies, and it won't take them long to figure out that the North is not serious about denuclearization.
Q5: If denuclearization is not possible, then why engage? What is the objective here?
A5:
North Korea leaves you only with bad and worse options. Avoiding dialogue only promises a runaway nuclear program and more provocations. If these lead to South Korean retaliation, then you have a full-blown crisis on the peninsula. A CSIS study found that negotiations do reduce the DPRK potential to provoke. Thus, dialogue may not get denuclearization, but it does help to manage the situation, avert a crisis (in an election year), and possibly offer small victories in freezing elements of the program. It's not great, but it may be all we can hope for.
Victor D. Cha holds the Korea Chair at the Center for Strategic and International Studies (CSIS) in Washington, D.C.
Critical Questions
is produced by the Center for Strategic and International Studies (CSIS), a private, tax-exempt institution focusing on international public policy issues. Its research is nonpartisan and nonproprietary. CSIS does not take specific policy positions. Accordingly, all views, positions, and conclusions expressed in this publication should be understood to be solely those of the author(s).
For more information about Critical Questions or CSIS policy experts, please contact Andrew Schwartz, aschwartz@csis.org, (202) 775-3242 or Ryan Sickles, rsickles@csis.org, (202) 775-3140.