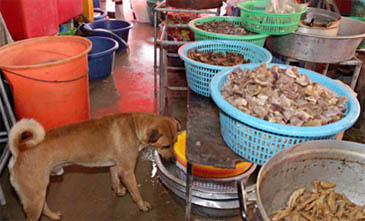 A market selling meat of dogs and other animals.
Courtesy Nocutnews
Pet dogs will be able to get better treatment in the near future as a new Animal Protection Law will be introduced in a nation where eating dog meat lingers as a popular cuisine.Under the newly revised Animal Protection Law released Oct. 5, 2004 by the Agricultural Ministry, anybody who abuses dogs will be punished with heavy fine or even lengthy jail terms. The new law will come into force in 2006.For examples, slaughtering dogs in public for meat or caning canines in public can lead to up to six months in jail or a two-million won fine. Dog fighting or dog racing will also be banned under the new law. Currently, the heaviest punishment related to animal abuse is a fine of 200,000 won.
Increasing number of South Koreans are adopting dogs for pet while some Koreans still enjoy dog meat or soup for either delicacies or medicinal effects. The number of pet lovers in South Korea is now estimated at nearly 3 million and a total market value of 1.7 trillion won (almost 1.5 billion US dollars)
Photo caption by
Kim Sun-Young.
Courtesy SegyeIlbo
Pet owners will also have more responsibilities. They will have to walk their dogs using a leash, and have also to carry a plastic bag for their pet's droppings.Also, pet owners with dogs and cats will be required to have an identification card at the time of their adoption. All the basic information about a pet — species, age, owners address and phone number, vaccination dates — will be contained in the form of a electronic chip. They have to get the ID cards from the local government.Funeral directors for animals will be officially issued a license to operate a business that discards the dead bodies of pets. They too will be severely punished in case they do not comply with the news laws.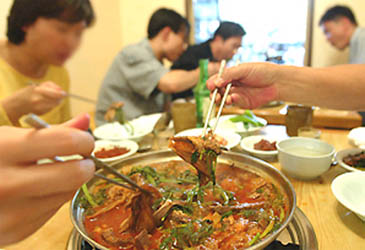 South Koreans are enjoying dog meat soups in a Seoul restaurant. Still dog meat or dog soup is very popular among South Koreans particularly during hot summer days.
Pet shops should issue a vaccination certificate to the ones who adopt pets. The Agricultural Ministry also announced that it would encourage people to use a term "accompanying animal" instead of pet in its effort to improve animal rights.The new law also stipulates cities with a populace of over half a million should secure animal shelters for lost or abandoned pets. Currently, 25,000 dogs and cats are abandoned around the country annually.Earlier in August 2004, South Korea's Environmental Ministry announced that a new Wild Animal Protection Law will be enforced in February, 2005.Not only catching wild frogs and snakes but also eating them will be publishable under the new law. Also, anybody who hunts or eats dear or wild boar meat will be subject to punishment.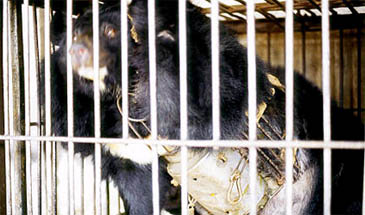 A bear is strapped with a metal device for extracting its gall. The bear is one of scores of bears caged in squalid facilities in Seoul Korea. Bear gall and other organs and parts of endangered species are very popular for their medicinal effects in South Korea and and other Asian countries.
The ministry increased the number of endangered species from the current 194 to 229 in its much-bolstered regulations for protecting wild animals. But, experts argue that wild and animal protection laws have some problems with exceptional regulations much eased than originally.For example, animal farmers will still be allowed to slaughter domesticated bears older than 10 years.
Related Photos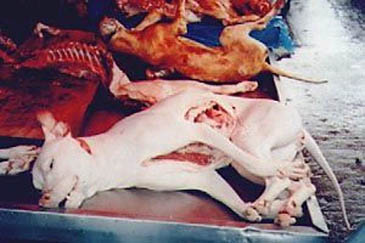 Dead bodies of dogs are piled up at a South Korean market. Tens of thousands dogs are slaughtered annually for meat and soup.
A dog is seen with a metal chip deep his head for a medical experiment. The dog's head is becoming deformed due to metal chip. Many animals are dying as a result of cruel medical experiment conducted by manufacturing companies for commercial purposes.
Photo caption by
Kim Sun-Young
Courtesy KAPCA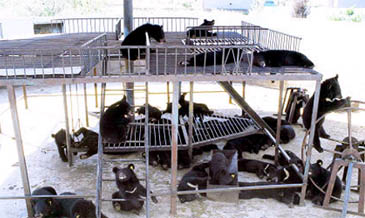 Scores of bears are raised in cages in a South Korean farm.
A bear is in a cage, waiting for a time for her gall to be extracted. Bear gall bladders and paws and other parts are in great demand for medicinal effects in many Asian countries.
Courtesy EPA