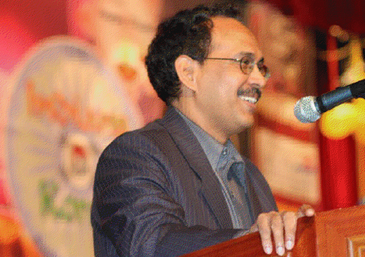 Minister Jeeva K. Sagar of the Embassy of India in Seoul addressing a lovely audience during IIK's "Diwali 2011"
Diwali or Deepawali, also known as "The Festival of Lights", is an important festival in India, Nepal, Sri Lanka, Myanmar, Mauritius, Guyana, Trinidad & Tobago, Suriname, Malaysia, Singapore, and Fiji. It is an official holiday in those countries. It celebrates the victory of good over evil, light over darkness, and knowledge over ignorance. All over India and the world it is enthusiastically enjoyed by people of every religion. More than 450 enthusiastic Indians, Koreans and non-Koreans were gathered to celebrate the auspicious Diwali at Catholic University Bucheon campus in Seoul on Oct 23rd. The get-together was organized by the Indians In Korea (IIK). The group IIK was started in 2002 when there were very few Indians. But now, all Indians coming to Korea have gotten to know each other as soon as they arrive once they join IIK. Group members help each other solving different problem by sharing bank, tax, pension, job, university admission, Indian food shops and many other kinds of information through the website, Yahoo groups and Facebook. At present, the IIK family has grown to over 2,000 members in every corner of Korea.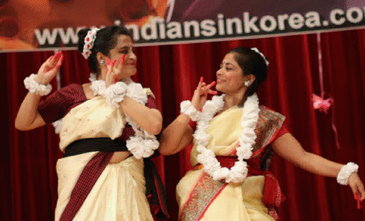 "IIK Diwali 2011"

Prof. Kyung- Ja Kim, Dean of International Affairs Catholic University called upon on stage for a welcoming speech to the festival by the only Indian professor at that university, Prof. Girish. Prof. Kyung Ja Kim already visited India and impressed on the hospitality of Indian culture, she also expects the relationship between India and Korea will be strengthened through cultural and educational exchanges. Prof. Kim is happy to welcome more talented Indian students at Catholic University, as only seven Indians students are already there. Prof. Girish was one of the coordinators of the whole program between the University and the Indian community.At the entrance of the Concert Hall of Catholic University, IIK volunteers welcomed the guests wearing tilaka (a mark worn on the forehead) — a traditional way to welcome guests in India. The three hour-long cultural celebration was highly entertaining thanks to popular both MCs Mr. Naveen and Ms. Swapna. They made the whole event excited, and introduce each performer with their unique way. The list of cultural performances included regional dances from Rajasthan, Punjabi, Marathi, Bengali and Bollywood dances, comedy skits on Ramayana; children's performances included fancy dress shows and cute dances to Bollywood songs. From the Indian Embassy in Korea, Deputy Chief of Mission and Minister to Korea Mr. Jeeva K. Sagar was the chief guest of the get-together. Mrs. Srilatha Sagar, wife of Mr. Sagar lightened up the Diwali lamp with her bright smile. The Marthi traditional dance by Mrathi troupe caught the heart of the audience, which shouted "once more" repeatedly. With each curtain call, the dancers performed again with the same passion. To give fun to the audience there was audience interaction problem with quiz from Imtiaz Ali with the gift coupon from Indian famous restaurants. People were interacted and laughed out loudly though the energetic quiz, reminding one of the famous movie –
Slumdog Millionaire
.Website - http://www.indiansinkorea.com/Yahoo group - http://groups.yahoo.com/group/indianscommunityinKorea/Facebook group - https://www.facebook.com/groups/IIK2002 People were overwhelmed by the Korean Jazz Association when they performed music along with a hip-hop dance. Punjabi Bhangra dance group brought life to the audience again when they asked the everyone to stand up and learn their steps. Later performing with ebullience, the audience was spellbound. Each performer was given a gift as a token of appreciation. A vote of thanks was requested for Dr. Singh, president of the Indian Korean Business Forum and a specialist of Indian-Korean relations, by thanking each Indian living in Korea who took enough time out of their busy schedules and practiced every day even after working hours to give their best of best and the result was spectacular. After all the cultural program there was a DJ Indian dance that changed the cultural event to the dancing floor where Indian, Korean, American, Brazilian, German held hands to share the joys of inner happiness. A traditional mouth-watering Indian buffet was waiting for the guests. Catered by the authentic Indian restaurant 'Namaste', the starters included famous Indian snack samosas. For the main course naan bread was prepared on spot to keep its freshness and crunchy taste followed by two varieties of sweets. One American guest George was eating with his hands to keep the Indian tradition. After a hefty dinner, everyone was waiting for lighting of the firecrackers, without which Diwali cannot be completed. It was like little India inside Korea, a fact that made everyone nostalgic. It was delightful to have met so many new people; some of them met their childhood friends after ten years of being apart. Everyone took some sweet memories home and hoped to be part of such IIK gatherings in the future.
The writer, S. Imtiaz Ali, PhD is from India and has been in Korea since Feb 2004. He works for LG Life Sciences in Seoul as a manager. He is head of IIK promotion team and can be contacted at skimtiazali@gmail.com. His personal Korean blog is at http://cafe.naver.com/aliandsara.