Middle East & Africa
World Should Back Kenya's Mission in Somalia
By Benson Kamary
Associate Editor & Writer

| | |
| --- | --- |
| | A group of "Al Shabab" militia fighters take part in a military drill on the outskirt of Mogadishu. Al Shabab is one of Africa's most fearsome militant Islamist groups. The organization controls much of southern Somalia, and has waged an insurgency against Somalia's transitional government and its Ethiopian supporters since 2006. |
Prior to the 2010 G20 Seoul Summit, I was privileged to be a delegate of the Y-20 Summit, a university students' version of the larger G-20. In one of my submissions as a representative of Africa, I robustly raised the issue of security in the Horn of Africa. The submission was taken rather reluctantly by fellow 'world leaders' as many of them were acutely engrossed in the economic recovery strategies following a global economic crisis. In overall though, the young minds adequately deliberated terrorism as a key global concern. The issue of peace and stability in the Horn of Africa, Somalia in particular, remains sensitive, complex and its impact real. It is a problem that can no longer be wished away neither can it be approached with panic. Kenya, arguably Somalia's most significant neighbor, is currently in an offensive military action against Alshabaab, a militia group inside Somalia and often linked to al-Qaida. Apparently, a question of whether or not the Kenya's military action within Somalia is justified has floated across local and international media channels. By all means, that is a genuine query to ask. Some analysts have been quick to point out that Kenya has had interest, economic or political, to invade Somali with instances of her high alerts issues between 2006 and 2010. The recent incursion is seen, therefore, as an execution of the said interest rather than a response to the recent tourists' abductions by what Kenya authorities believe was conducted by the Alshabaab. This school of thought however raises a question; as of what interest would Kenya invade Somalia except for when her sovereignty stood threatened? Another view submits that the head of Alshabaab is right in Nairobi while its tail wags in the semi-arid Somalia. They argue that Kenya's internal security structures have been lax for too long and is subsequently failing to intercept the movement of Alshabaab agents and their sympathizers into Eastleigh, Nairobi. Eastleigh is a suburb within the Kenyan capital often referred to as "Little Mogadishu" due to the fact that the area is largely populated by people of Somali origin or immigrants from Somalia. According to some residents, security analysts, and diplomats, Eastleigh was initially a paradise that attracted small and middle size investments but now the sprawling neighborhood is described as a hub of financing and recruiting for Somali fundamentalists. They have a point, but there is only so much a country can stomach. This view however suggests that Kenya's first grand military assault since independence may be misplaced. Nevertheless, perhaps Kenyans and friends of Kenyans including the people of Somalia who have borne the brunt of Alshabaab militia will appreciate the ongoing "Defend the Nation" operation by the Kenya military. Not surprising, a recent statement by Somalia's Transitional Federal Government President, Sheikh Sharif Sheikh Ahmed, opposing Kenya's military action in Somalia was met with regional protests including in his own homeland. That was quite telling for a government leader whose operations across the country are hugely limited by the Alshabaab and similar armed rebels. It will be hard to predict how Kenya and allies will react to the Somali President's pronouncement. What is obvious though, as many observers have commented, is that this development puts Kenya in an awkward position. In her quest for stability in the region, Kenya has carried the heaviest consequential burden of Somalia's instability. A few months ago, a large exodus of Somali refugees fleeing hunger ended up in Dadaab Refugee Camp in Kenya, increasing the numbers to over 380,000 exiles. Dadaab is the largest refugee camp in the world and the numbers therein must be swelling with the ongoing military offensive. Further, the recent abductions of foreign tourists within Kenyan soil, which became a trigger for the ongoing military incursion, has had a damaging impact on Kenya's most valued economic activity - tourism. Though the Alshabaab has since denied involvement, the militia's numerous threats to carry out attacks in Nairobi have never been withdrawn. Most Kenyan scholars of conflict and international relations quoted in Kenya's local media suggest that the Kenyan government has the right to defend her land. Kenyans in the Diaspora too, at least in Asia, have had interest in the ongoing operation by Kenyan military. From their social network discussions and weblogs, many have observed that Kenya has been aggrieved to a point warranting extra action beyond dialogues and warnings. The military action must therefore send a clear message that every act of aggression will be met with equal clout. In January this year, a Korean court sentenced a Somali man to life in prison for attacking a Korean ship and holding it for six days. The Busan District Court handed a life sentence to Mahomed Araye, charging him with attempted murder, robbery and for shooting and seriously injuring the ship's captain. The sentence against Araye was upheld but the three other pirates were given sentences of 13 to 15 years. The pirates seized the Korean ship, Samho Jewelry, on January 15 and held it for six days before a Korean naval commando recaptured the vessel in a shootout. In the same month of January, the Malaysian navy captured Somali pirates as they attempted to hijack a chemical tanker in the Gulf of Aden. They were charged in February in Asia's first case against Somali pirates. For most Asians, Somalia is better known for ship hijackings than any other reason. Asia's involvement with Somalia problem paints a picture that a lawless Somalia is a threat to international trade, particularly the ones involving sea transportation. And with many East Asian nations like China and Korea gaining interest in investing in Africa, Somalia's stability may as well be a priority. Reassuringly, the AU has backed Kenya's mission against the Alshabaab and hopefully the international community will join in more actively as a way of condemning any armed groups that infringe other people's right to life, justice and peace. The importance of regional and international support to neutralize terror groups cannot be over emphasized. God forbid, but a failure to Kenya's military operation may also mean that Kenya, once seen as a haven of peace, could be embroiled in an endless regional conflict. And it may not be Kenya alone. The world would have failed too. This is neither a warning nor a prediction, but a call to stand for a course of justice.

Related Articles
Welcome to Africa Madam President!
My Take on "Hell Joseon" Narrative
Kenya Community Holds Historical Retreat in ...
World Education Forum Could Enrich ...
Revamp Media's Perspective of Foreigners
Terrorists Came to Maim Kenyans But Instead ...
Madam President, Please Don't Snub Africa
Big Task Awaits New African Union Leader
Korean Air's Apology Timely
World Bank Presidency and Moral Aspiration
College Entry Exams and Inconsolable Desire
South Korean Experience Inspires Foreigners to ...
S. Korea Can Still Attract More Foreign ...
Wangari Maathai: Audacious Woman of Her Time
Zambia: Slow But Sure, New Sunrise Goes Up
Nairobi Fire Tragedy: A Call for Urgent Safety ...
IAAF False Start Rule Rips Athletes of Their ...
Record Holder David Rudisha Gives Kenya a Gold ...
Kenyans Make History in Marathon Sweep
Kenyans Awed by Daegu Ahead of IAAF World ...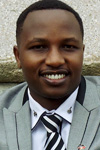 Benson Kamary, professor of Tongmyong University in Pusan, serves as an Associate Editor & Writer for The Seoul Times. Based in Busan, South Korea, the Kenyan professor also serves as chairman of Kenya Community in Korea (KCK). He can be reached at bkamary@yahoo.com