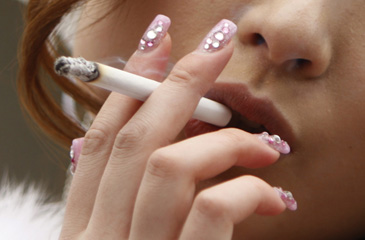 Puffing off the smoke

Sitting on a roof balcony as I wait for my next lecture to begin, one by one they streamed in, each pulling out a cigarette. Before I knew it I was seated amongst teens — all puffing off streams of smoke into the otherwise blue skies. I have seen similar scenes before, but today's scenario sends my mind into a wonderland; yes, I simply wondered why.Don't mistake me, I have nothing against anyone who smokes, but I yet to know why smoking is such an attractive addiction particularly to teens. Would it be fair to say I detest smoking but not smokers? But as they say, opinion is free and facts sacred. My sentiments on the subjects are likewise freely given. Back home in Africa where I was born and raised, a cigarette advert comes along with quite a stern warning: "Harmful to your health!" Who doesn't know that? I have a friend, a medical doctor but a chain smoker, who spares no chance to warn his sons against smoking. "You better do as I say and not as I do," he would often rumble. Hey, did you know they now say cancer is a deadlier than HIV/AIDS? I think this is where most of us would care to pause. Possibly pharmaceutical companies are more ready to fund a scientist who will be genius enough to discover the cure for cancer. And at rate we are going, we might not have a population to count on. Say you started puffing at 16. At 19, it should be dawning on you that a good early retirement plan with medical insurance is a near necessity. Well, before altering the topic, I'm told, and you can confirm this from the Smoking-Facts.Net, each day 3,000 children smoke their first cigarette — so at least three million adolescents are smokers today. Again, almost all beginners try before high school graduation. By the way, 20 percent of American teens smoke cigarettes, with roughly six million of them starting despite the knowledge that it is addictive and leads to ailment. Even scarier, however, is that of 3,000 teens who start smoking today, nearly 1,000 will eventually die as a result from smoking. Oh, and the Surgeon General says that teenagers who smoke are three times more likely to use alcohol, eight times more likely to smoke marijuana and 22 times more likely to use cocaine. At that point I say, oops!
Cosmetics and the pursuit of satisfaction
The other afternoon, I meet this lady in the lecture room. For some reason, I was sure she had either sewn her upper eyelids or put a stick in to create some sort of illusion. To be fair, she looked beautiful. But again, the thought of the procedures involved in plastic surgery thrashed my faculties of imagination into a spin.Why would I have my eyelid sewn up? Never mind, but both the smoking and the eyelid enhancement has quite a big following in the contemporary cultures. For a woman in most any culture, beauty is a priority. In the days we live in, they will go the extra mile to reach their satisfaction — but like Dalai Lama, I wonder when human beings will ever be satisfied. Asked what surprised him most about humanity, the Dalai Lama said, "Man. Because he sacrifices his health in order to make money. Then he sacrifices money to recuperate his health. And then he is so anxious about the future that he does not enjoy the present; the result being that he does not live in the present or the future; he lives as if he is never going to die, and then dies having never really lived." Should this be true, then as King Solomon of the ancient Hebrews remarked, it could all be "useless... like chasing the wind."Well, I do know of friends who would stop at nothing for self-improvement — but not the spiritual kind. Hip replacement, breast enlargement, Botox and other kinds of plastic surgery are so far the trademarks of "the way to beauty." It is believed that three-quarters of these are practiced by women primarily for self-gratification or other reasons best known to them. Upon my coming to East Asia, South Korea to be specific, the cosmetics industry and demand for plastic surgery have never ceased to startle me. I bet for every five shops in a youth dominated street, two are cosmetic shops! Could this be telling about a culture's perspective on beauty?Cosmetic surgery in Africa is still very much at a minimum; in most regions, it is practically non-existent. There are reasons for that. Surgery for aesthetic goals is pretty costly. In Africa too, there are more pressing challenges to focus on than things perceived as pursuit for leisure and pleasure. But this doesn't mean a Kenyan girl, for instance, cannot undergo the scalpel procedure. Some do, and no doubt many more desire to. A few are known to want a lighter skin pigment and do some 'bleaching'. However, the cases remain few and the demand is minimal compared to Korea, where beautifying surgery is more of personal preference than medical. One thing that seems sure is that the demand for cosmetic surgery rises with economic development. It could be culturally embedded, but largely human beings seem to be driven up a certain satisfaction ladder. You probably guessed right that Abraham Maslow's "hierarchy of needs" can be a reality. Maslow developed a visual aid in form of a pyramid to explain his theory depicting the levels of human needs, psychological and physical. He argued that when a human being ascends the steps of the pyramid he reaches self-actualization but first he has to satisfy his basic needs or physiological needs; food, water and sex.Did I mention that men too are falling into the cosmetics arena like never before? I doubt whether this is solely an East Asian thing. I used to think men had nearly similar worries worldwide but, boy, I am wrong. I have seen on countless occasions young Korean men looking apprehensive about their hair and faces. Some carry hand bags not so different from ladies' and in there are a pack of makeup and face powder. I see it so often right under my nose in lecture rooms. Back home, African men would worry more about their dress code than their hair. One's style of dress to an extent dictates friends, dating partners, and the kind of groups one may flock together with. If you met a typical African man applying make-up on his face, you'll probably have entered his hideout – possibly in the lavatory!