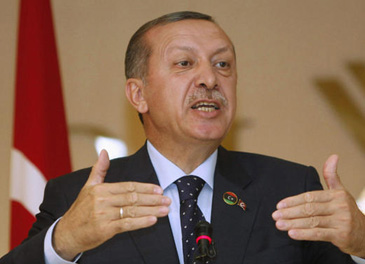 Turkey's Prime Minister Recep Erdoðan
Turkey's Prime Minister Recep Erdoðan, has been fostering his country's ambitions to become a leading political power in the Arab Muslim world. A visible and vocal tour of successful Arab spring revolutionary countries and crisis-stricken African neighbors has led Arab and Western scholars, as well as policy-makers, to champion the idea of Turkey as a model for aspiring young Arab democracies. With its booming economy, secular democracy, strong institutions of governance, its professional military, as well as its growing regional influence and power base, Ankara has become an inspiration to those in the region who seek to build modern, secular and pluralistic states.According to many, Turkey's foreign policy direction signifies a "shift in axis". While Western orientation became the linchpin of Turkish foreign policy following World War II, this pattern changed under the current Justice and Development (AKP) government. This shift in axis reflects the increasing primacy of the Middle East, the Arab States and North Africa in Turkish foreign policy in the face of declining Western influence politically and economically. Reflecting this, the past decade has seen a dramatic improvement in Ankara's relationships with capitals across the region, marked by numerous diplomatic visits, growing mutual trade and, with the exception of Israel, constructive dialogue.To Middle East observers, Turkey offers a successful democratic model that balances the country's conservative religious elements with its staunchly secular institutions. Since the rise of Ahmet Davutoðlu as foreign minister in 2009, the country has slowly started building relations with its neighbors with its "Zero Problems" approach to foreign policy. Fostering ties with its neighbors via actions such as normalization with Armenia and reducing tension between itself and Iraq by means of trade links, turned Turkey into a reliable partner for peace in the Middle East and a counterweight to Iran in the eyes of the West.Turkey's bid for membership of the European Union saw improvements in respect of human rights, such as the abolition of the death penalty; the removal of some of the barriers with regard to the cultural and language rights of minorities; an increased acceptance of responsibility for past abuses; as well as further opening of its economy by means of Free Economic Zones. However, with no progress taking place in their bid for membership of the EU, the AKP party has set its sights on becoming a medium-sized power in one of the world's most volatile regions. Furthermore, a strong economy and trade links with Europe actually provide Turkey with many of the benefits of membership of the European market, without complication of the volatility of the Euro.The crumbling of authoritarian regimes in the Middle East and North Africa, coupled with the collapse of the Eurozone, creates perfect circumstances for Turkey to assert itself as a regional leader. For the first time in modern history, Turkey is now providing high-profile international humanitarian aid to Somalia, Libya and other states in Africa, as well as technical assistance to Afghanistan. Although its military involvement via NATO is viewed with some internal skepticism, Turkey's expanding international role via the provision of aid, as well as with regard to economic trade and development, is at the heart of increasing national pride inside the country.
With its new-found confidence, Turkey is emerging as a key ally for its Arab neighbors, by presenting valuable economic opportunities, coupled with improved Turkish-Egyptian relations. More importantly, Turkey is rebalancing the region geo-politically, throwing its weight behind the issue of Palestinian statehood, against what they regard as Israeli intransigence.Turkey's model of secular parliamentary democracy, combined with the AKP's recent foreign policy activism in the Middle Eastern and North African region, however, is not a "best practice" that should be adopted by the fragile, politically unstable countries in the region. Turkish democratization is still a work in progress, rather than a model for emulation.All of this suggests that Turkey actually represents a cautionary tale, but also acts as a source of inspiration to the region. Ankara will be challenged intellectually to create an authentic political language and galvanize the Arab citizenry and leaders into finding their own unique paths towards liberal reform, while steadily developing a democracy.Hany Besada, Program Head and Senior Researcher at the North-South Institute (NSI), Jenny Becker, Researcher at NSI and Evren Tok, Research Assistant at NSI.