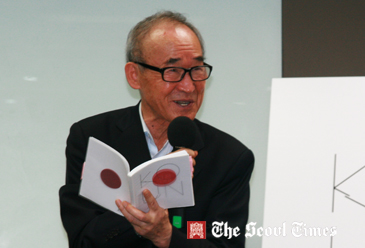 South Korean poet Ko Un recites his poem in Seoul.
"That is excitement, Tears flowing out of the gun barrel, That is roots of the underground that do not worry about leaves of the above ground. That is the sound of someone¡¯s young flute,¡± recited South Korea¡¯s most renowned poet Ko Un (ÍÔëÞ) with forceful intensity at a literary gathering in Seoul on Nov. 8, 2011.The 78-year-old poet, who represents South Korea¡¯s literary world, was invited to ¡°The Recitation Night of Korean and Czech Poems¡± arranged by the Department of Czech and Slovak Studies of the Hankuk University of Foreign Studies (HUFS).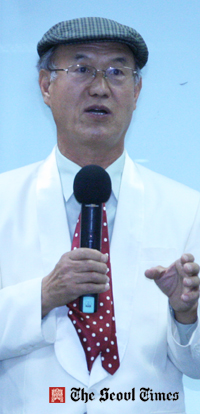 Prof. Kim Kyu-Chin of Department of Czech and Slovak Studies of the Hankuk University of Foreign Studies (HUFS).

The event was held to honor the Czech publication of Ko¡¯s recently published anthology ¡°That Is.¡± Ko is a Buddhist monk-turned poet and pro-democracy activist. He was persecuted under the past dictatorship.Several professors from the department came to the event. They include Dean Kim In-Chon of the department, Prof. Ivanna Bozdechova, Prof. Kwon Jae-Il and Prof. Kim Kyu-Chin, Czech Republic Ambassador to Korea Jaroslav Olsa Jr., a big fan of Korean literature and himself a writer, was also present.Traditional Korean verses or shijo were also recited. Shijos of 17th century poet Kim Cheon-Taek(ÑÑô¸÷Ê), mid-15th century geisha Hwang Jini (üÜòØì¥), and wandering poet Kim Sat-Gat(ÑÑܹæÐ: 1807-1863) were introduced.Contemporary poet Oh Se-Young was also invited to the event. He recited his own poem, titled "Stone." His other poems "Tears" and "Jewel" were also recited.Works of Czech poet Jaroslav Seifert, 1984 Nobel laureate, and Macha and Zezval were also introduced.Poet Ko Un went on to recite other poems of his, such as
"The Poet" (±× ½ÃÀÎ), "It's..." (±×°ÍÀº...), "Sorrowful" (ÀÏÀÎĪÀº ½½ÇÁ´Ù), "Mop" (°É·¹), "Silk Road" (½ÇÅ©·Îµå), "A Certain Joy" (¾î¶² ±â»Ý).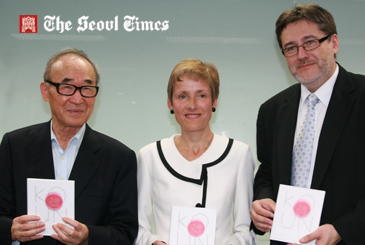 South Korean poet Ko Un (left) poses with Czech Ambassador to Korea Jaroslav Olsa Jr. (right), and Prof. Ivana Bozdechova.
During a brief interview Ko showed a keen interest in Prague. ¡°Everybody wants to remember Prague as an unforgettable place,¡± Ko said ¡°And I am one of them.¡±Ko has maintained intimate relations with the Czech Republic. Earlier this year Ko attended a literary event held in the Czech capital.Ko also showed a fond affection for Czech literature.¡°I like Prague-born Bohemian–Austrian poet Rainer Maria Rilke (1875-1926) and Czech¡¯s leading literary man Jan Neruda (1834-1891),¡± Ko added ¡°Czech is the place my literature loves.¡±
Who Is Ko Un (ÍÔëÞ)?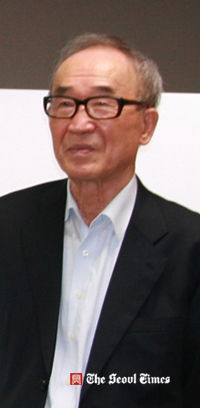 South Korean poet Ko Un
Ko Un was born in the port city of Gunsan in South Korea¡¯s North Jeolla Province on August 1, 1933. Ko served as a teacher at Gunsan Middle School when the fratricidal Korean War (1950-53) broke out.He was a witness to the devastation of the tragic Korean War. During the war he volunteered for the People's Army of North Korea, but was rejected because he was underweight.Ko was emotionally and physically traumatized by the war which killed many of his relatives and friends. Sickened by the earthly life during and the ensuing years of the war he decided to resort to the Buddhism. He became a Zen monk.But after a decade of monastic life he returned to secular life in 1962. He became a dedicated poet and actively involved in pro-democracy activism in the following years when South Korea was under military rule.The activist poet devoted himself to opposing the harsh and arbitrary rule of South Korea's President Park Chung-Hee, who seized power by military coup in 1961.From 1963 to 1966 he lived on the southernmost island of Jejudo, where he set up a charity school. Later he moved back to Seoul.On the surface, his life looked calm and placid but he attempted taking his own life twice in 1970s. The pro-democracy activist was tortured and imprisoned several times for his anti-Park Chung-Hee activities.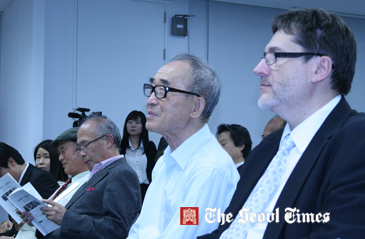 South Korean poet Ko Un (2nd from right) poses with Czech Ambassador to Korea Jaroslav Olsa Jr. (right).
On several occasions he was put under house arrest and his travel was banned.In spite of all his ordeals and hardships Ko kept writing poems prolifically even in imprisonment.A brief democratization after Park was assassinated by his own hand-picked CIA director did not last long.In May 1980 another military dictator trampled the budding seed of democratization. The coup d'etat led by Chun Doo-Hwan, a minion of Park, pushed Ko into the darkness again.Ko was accused of treason and sentenced to 20 years' imprisonment. He was set free in August 1982 as part of a general pardon.Ko was finally given a freedom. He resumed writing poems. He was allowed to travel to other countries. He went to America and made a spiritual journey to India, which gave him spiritual inspiration.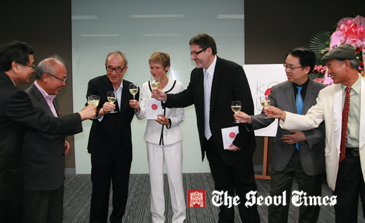 South Korea's most famous poet Ko Un (3rd from left) makes a toast with Czech Ambassador to Korea Jaroslav Olsa Jr. (3rd from right) and other VIP participatns in Seoul on Nov. 8, 2011.
He also started revising many of his previously published poems. Since 2007 Ko has been a visiting scholar at the prestigious Seoul National University where he teaches poetics and literature.Ko married Lee Sang-Hwa on May 5, 1983. He moved from Seoul to Anseong in Geyonggi Province, where he still reside. They had one daughter.Ko began publishing his poems in 1958. He has published a total of 135 volumes. His publications include many volumes of poetry, several works of fiction, particularly Buddhist fictions, autobiography, drama, essays, translations from classical Chinese, and travel books.Ko¡¯s numerous works have been translated into English. They include ¡°The Sound of My Waves,¡± ¡°Morning Dew,¡± ¡°Beyond Self,¡± ¡°Little Pilgrim,¡± ¡°The Three Way Tavern,¡± ¡°Flowers of a Moment,¡± ¡°Songs for Tomorrow,¡± and ¡°Himalaya.¡±His works have also been translated into other languages including Spanish, Italian, French, German, Japanese, Chinese, Vietnamese, Czech, Bulgarian, Swedish, and Danish.Ko is the recipient of a number of coveted literature awards including Korean Literature Prize (1974, 1987), Manhae Literary Prize (1989), Joongang Literary Prize (1991), Daesan Literary Prize (1994), Bj©ªrnson Prize Order for Literature(2005), Cikada Prize (Swedish literary prize for East Asian poets) (2006), and Griffin Poetry Prize Lifetime Recognition Award (2008).
An Elusive Prize
In addition to the aforementioned awards, Ko is frequently nominated as a recipient of the Nobel Prize in Literature — to such an extent that each October a crowd of both local and global journalists camp outside his house in anticipation of the annual announcement.However, Ko has yet to recieve the prestigious title of Nobel Laureate from the Swedish Academy.In recent years the Swedish Academy has come under criticism, even from Swedish media, for being overly Eurocentric in their choice of authors.The prize awarding institution is also percieved as leaning heavily toward novelists at the expense of poets and playwrights.In the past seven years, six Europeans and one Turk have received the prize. All were novelists except British playwright Harold Pinter, who won in 2005, and Swedish poet Tomas Transtromer, this year's winner.Between 1901 and 2011, The Nobel Prize in Literature has been awarded 104 times to 108 Nobel Laureates.
For details or inquiries contact Prof. Kim Kyu-Chin of Department of Czech and Slovak Studies of the Hankuk University of Foreign Studies (HUFS) at 010-4399-4309 or at kyuchin@hotmail.com