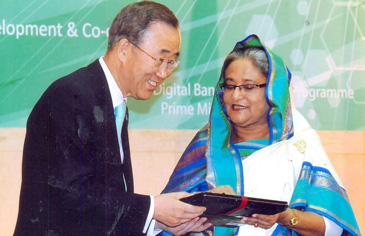 UN Secretary General Ban Ki-Moon (left) with Prime Minister Sheikh Hasina
DHAKA — UN Secretary General Ban Ki-Moon today (Nov. 14, 2011) highly praised Bangladesh for becoming a world leader in disaster preparedness and combating climate change.
He urged the leaders of developed countries to find a way to mobilize resources up to US$ 100 billion dollars per annum to help developing countries like Bangladesh to fight climate change.Ban Ki-moon was addressing the Climate Vulnerable Forum (CVF) at Sonargaon Hotel here today."An empty shell is not sufficient... the Climate Green Fund needs to be launched in Durban," he said. Prime Minister Sheikh Hasina attended the function as the chief guest and inaugurated the two-day programme of the CVF, a global partnership of governments from Africa, the Americas,Asia, and the Pacific mostly vulnerable to climate change. Ban said, "Governments must find ways — now — to mobilize resources up to the $100 billion per annum from public and private sources that we pledged for 2020." Referring to Bangladesh's achievements across all the Millennium Development Goals, he said the successes are a source of national pride and the envy of many nations. "Some 40,000 volunteers with bullhorns and bicycles helped move more than 3 million people out of harm's way during cyclonic storm Sidr," he explained, also saying that four thousand people perished, but tens of thousands of lives were saved, thanks to the Bangladesh Cyclone Preparedness Programme.Because of its adaptation and preparedness, people of Bangladesh are much safer today, Ban said, adding there are many cost-effective remedies that communities and countries can take to reduce the impact of extreme weather events.Referring to the Bangladesh Premier's speech in the UN General Assembly last September, Ban said, Bangladesh is on the front line of climate change and a one-metre rise in sea level could displace its 30 million people.He said, "It requires urgent efforts on the part of every country- both in the global negotiations, and through scaled-up national actions on the ground." Bangladesh has taken lead of a pro-development and low carbon path through establishing Climate Change Trust Fund and Resilience Fund.Ban also praised low-lying nations such as the Maldives, Costa Rica and Samoa for committing to be carbon neutral and said these countries should be an"inspiration" to rich nations on how to reduce their emissions.He said it was unfair, however, to ask the poorest and most vulnerable to bear the brunt of the impact of climate change alone.Ban hoped that the Climate Vulnerable Forum would take a strong position at the Durban conference to be attended by more than 190 countries at the end of this month.Mentioning the IPCC and International Energy Agency (IEA) reports, the UN secretary general said carbon emissions in 2010 were the highest in history and the world is close to a point of no return for staying under two degrees temperature rise."If we keep adding fossil fuel-based infrastructure, we will forever lose the chance to avoid dangerous climate change," he said.Returning to the point of Durban climate conference next month, he said,"We must complete what was agreed last year in Cancun... and the government must ensure that the Adaptation Framework and TechnologyTransfer mechanisms are up and running as soon as possible.""Durban also must advance a work programme on loss and damage to respond to the needs of countries like Bangladesh that are particularly afflicted by extreme climate events," he said."In Durban, I expect governments to find a compromise on the Kyoto Protocol so we can maintain important institutions and make a broader comprehensive climate agreement possible in the future," the UN secretary general hoped.