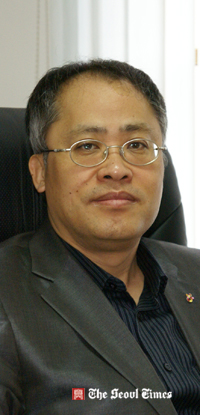 Mr. Chung Jae-Sun of KNTO's Moscow Office
Unfolding financial crisis may influence the market of medical tourism worldwide, placing some countries higher above others in terms of quality, prices and availability of health care for foreigners. Among such countries is South Korea, where the estimated amount of medical tourists this year will reach 200,000 visitors, according to the Korean National Tourism Organization (KNTO)."This year, the amount of medical tourists will be around 200,000. Until 2020 we want to have as many as 1,000,000 people visiting Korea for medical reasons," Chung Jae Sun, the director of the Moscow branch of the KNTO, told The Seoul Times. Mr. Chung of the KNTO's branch in Moscow said that most importantly, they expect more Russians to be travelling to South Korea seeking medical treatment in the country's finest hospitals and clinics in the upcoming years.
Korea is a growing medical tourism destination
Just a few years back it was impossible for any foreigner to receive a medical treatment in South Korea as it was forbidden by law. "A couple of years back, the Korean government approved a bill on medical tourism, which suits the needs of the foreign citizens for medical care. Before that it was forbidden by law to give any medical care to the foreigners," Mr. Chung said. For such purposes, the Korean government introduced a new type of visa in 2009, which allows a foreign citizen to stay in the country and undergo a treatment in a fully registered and licensed hospital. "Therefore, the responsibility before the immigration bureau falls on the medical institution that takes a patient for a treatment," Mr. Chung noted. According to Mr. Chung, the documents required for a medical visa are the same as for the visitors, only the invitation is done by the hospital. However, for a special situation when the hospitalization is required immediately, the visa process is expedited and takes only one working day.
Russian medical tourists
The KNTO is keen on abolishing visas for Russians and Koreans, which will allow more people to visit Korea both for tourism and medical tourism purposes. "At the moment we are discussing whether it's possible to have visa-free travel to several cities both in Russia and Korea, or alternatively have a group-visa issued for medical tourists, or tourists on the whole," Mr. Chung said. When asked, if Korean medical care differs by regions or provinces, Mr. Chung said that it differs by hospitals. There are the state-run hospitals and privates ones in Korea. Both, according to KNTO, are worth a try. "Both private and state clinics are good quality, but they vary in the specialization." Mr. Chung pointed out. For example, there are so-called "health factories" — hospitals which work on the grounds of universities, meaning they have hundreds of doctors. On the other hand, there are clinics that specialize in one particular type of medical care. There are no exact figures on which regions Russians tend to visit most in Korea. "It's possible to say that the estimated proportion of the Far East residents and the European part is 60 percent to 40 percent now", the president of Korea National Tourism Organization Lee Charm said, when he was in Moscow during his last visit. The Korean medical tourism sphere boasts its prices, which are often many times less than those of China, Singapore or the US. "Korean medical care is way cheaper than in neighboring countries — a standard check-up package will cost you around $450, plus a fare," Mr. Chung said. In the KNTO's branch in Vladivostok, it's possible to consult with doctors based in South Korea via Internet-calls. "There is always a translator there. Anyone can go for a consultation there. It has become quite popular since its opening in February this year," Mr. Chung said. The Korean medical tourism package is "all inclusive", which means one doesn't have to pay for additional services like a translator or a transfer from the airport to the hotel.
Mixing east and west
South Korea, being a country technologically more advanced than others, can offer better quality health care not only for its own citizens but also for foreigners. "Most of the medical gadgets are made in Korea by Samsung and Hyundai. The doctors very often study or have internships in the US. Yet, they use a lot of traditional treatment methods such as acupuncture," Mr. Chung of KNTO said. According to Mr. Chung, all the doctors that work with foreigners in Korea must hold a PhD in medicine in Korea. "Doctors spend sometimes over 15 years to study and practice medicine here," Mr. Chung said. There is an interesting fact about the surgeons in Korea — they can carry out some very difficult surgeries with the accuracy of a jeweler. "All of them have great hand movements thanks to the Koren tradition of eating with metal chopsticks," Mr. Chung added. Mr. Chung also pointed out that Korean doctors even learned to be better in using foreign medical gadgets. "The Da Vinci medical robot was created in the US, but it is Korean doctors that have managed to use it more efficiently than their colleagues in the States," Mr. Chung said. Mr. Chung has expressed his hope that medical tourism in Korea will not only boost the development of technology, but also bring more tourists too. "It's clear that coming for a medical treatment, people may stay for rehabilitation which means they will have a chance to see Korea's sights and tourist destinations."