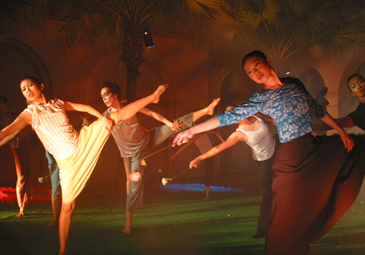 Odyssey Dance Theatre (ODT)
"The 6th Xposition 'O' Contemporary Dance Fiesta" by home-grown dance company Odyssey Dance Theatre (ODT) took its global flight under the title of "Global Dance in Unison" in Seoul on Nov. 22 , 2011 for the six-day run.This year's festival sets a unique and bold strategic shift in ODT's orchestration of the biennial event. The dance fiesta took place in Ewha Centennial Memorial Hall of Ewha Girls' High School in Jeong-dong, Jung-gu, Seoul from 6 to 8 p.m.The dance fiesta was attended by around close to 100 guests. Among the participants were Singaporean Ambassador to Seoul Peter Tan Hai Chuan, Swiss Ambassador to Seoul Thomas Kupfer, and Second Secretary Dang Quoc Binh of Vietnam Embassy in Seoul.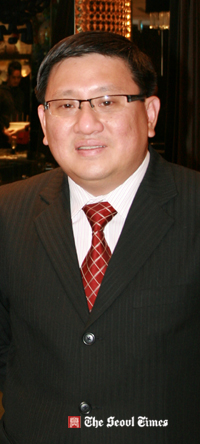 Singaporean Ambassador to Seoul Peter Tan Hai Chuan
Others in attendance were Kim Bock-Hee, president of the Dance Association of Korea; Kok Sauk Keow, chairman of the Odyssey Dance Theatre Ltd; Robin Nam, representative of the ON STAGE Arts Management & Trade; and Dr. Danny Tan, founder and artistic director of Odyssey Dance Theatre.The festival is being held in partnership with South Korea's Onstage Art Management & Trade. The festival will present strong collaborations between artists and companies from Australia, Singapore, South Korea, and Japan.For the first time, the works have taken a tour to Seoul after performances in Singapore.The Singaporean envoy stated that the Xposition 'O' was a testament to ODT's effort at enhancing the bilateral cultural relations and exchanges between Singapore and the republic of Korea and his embassy was proud to lend their support.This touring festival serves as an important platform for artistic collaborations and promotion of ODT's creative journeys across Asia. Their programs include main-stage performances, youth expressions showcases, educational workshops, dance camps and outreach programmes that will suit all levels of audiences.ODT has had several cultural exchange and development programs with Korean artists and companies, over the last 10 years ODT has had eight performances in South Korea while Korea had around twenty four performances in Singapore.
For details or inquiries contact the Singaporean Embassy in Seoul at 774-2464.