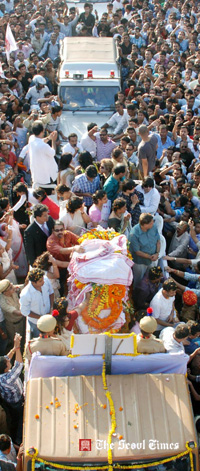 Funeral of Dr. Bhupen Hazarika

It was realized that the people of Assam and northeast India loved Dr Bhupen Hazarika, but the wave of condolence poured on the legendary singer was unique and seemingly never to be repeated in the next few centuries. Not only Assam, the entire eastern region with Bangladesh had shown their greatest farewell on Earth to the versatile genius.More to it, the news channels and newspapers of Assam had dedicated their precious space for full five days to the cultural icon, whom millions of his fans preferred to call Bhupenda.The news broke from Mumbai, where Bhupenda, 86, was undergoing treatment for some weeks, at around 4:37 pm of November 5, 2011. It was so shocking and heart breaking that the people of Assam couldnot consolidate themselves to realize the content of the news initially as the local television flashed in graphics (letter) Dr Bhupen Hazarika is no more.An official statement of Kokilaben Dhirubhai Ambani Hospital, Mumbai where he was undergoing treatment since June 29 with the complaint of breathlessness, said Bhupenda died of multiple-organ failure. Thus the life of this larger than life personality came to halt.The self-proclaimed Jajabor (wanderer or gypsy), who tried his hands in various field of creations as a poet, lyricist, singer, music composer, author, journalist and filmmaker, has been the most exposed, discussed and reported personality in Assam for the last six decades.With his immortal voice, the bard of Brahmaputra was equally popular in mainland India, and also in Bangladesh, Nepal and Pakistan. The Indian government had conferred upon him the titles of Padamshree (1977) and Padma Bhushan (2001). Moreover, the pioneering film maker was also honoured with the Dadasaheb Phalke Award (1992), the first and only one from northeast India to receive the prestigious award till today.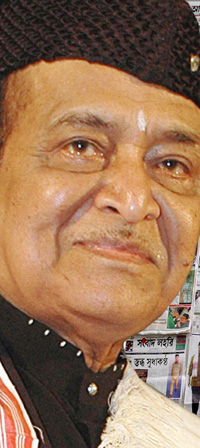 Bhupen Hazarika
Born on September 08, 1926 at Sadiya in eastern Assam (father Nilakanta Hazarika and mother Shantipriya Hazarika), Bhupen Hazarika had preliminary education in various parts of the state. After completing matriculation at Tezpur in 1940, Bhupenda came to Guwahati for his IA course from Cotton College (1942). Then he went to Banaras Hindu University and completed a BA and MA (1946) in Political Science.Later Bhupenda left for the USA to complete his PhD in Mass Communication from Columbia University, New York in 1952. Bhupenda returned to India and worked as a professor in Gauhati University for some time.Bhupenda also worked with the All India Radio Shillong station. The Scotland of the East had immensely influenced Bhupneda and many of his creations had its reflection. Later he shifted to Guwahati and continued his endless cultural voyage with editing two socio-cultural magazines named Amar Pratinidhi and Pratidhwani.The child prodigy sang and performed in Indramaloti, the second Assamese talkie film made by Jyotiprasad Agarwalla in 1939. It was in fact the birth of a marvel. Bhupenda has penned thousands of lyrics and rendered his crisp voice for nearly 1500 songs. He had composed music for 36 Assamese films, many Bengali (Jiban Trishna, Jonakir Alo,
Mahut Bandhure, Kari o Komal, Ekhane Pinjar, Dampati, Chameli Memsaab etc) and Hindi (Ek Pal, Rudaali, Papiha, Darmiyaan, Daman, Gajagamini etc ) Hindi films.As a director, some of Bhupenda's outstanding Assamese films include Era Batar Sur (1956), Mahut Bandhure (1958), Shakuntala (1960), Pratidhwani (1964), Lotighoti (1967), Chick Mick Bijuli (1970), Mon Projapati (1978), Siraj (1988) etc. The most prized Assamese won President of India's award for Shakuntala, Pratidhwani and Lotighoti as a film maker. He was awarded with best music director award for Chameli Memsaab in 1976. It was in fact the first national award in music direction for the Assamese film industry.The Assam government has already conferred two highest honours (Shrimanta Shankardev Award 1988 and Asam Ratna Award 2008) on Bhupenda. Asom Sahitya Sabha, the highest literary forum of Assam, offered the coveted post of President to Bhupenda in 1993. For a five year term Bhupenda was appointed as the Chairman of Sangeet Natak Akademi in 1999. Bhupenda even emerged as an independent MLA in Assam Legislative Assembly (1967-72).As the news spread about the demise of the legend, who is considered one of the most admired personality after Shrimanta Shankardev and Jyotiprasad Agarwalla in Assamese society, the households put earthen lamps in front of their houses. The well-wishers gathered at the residence of Bhupenda at Nizarapar in Guwahati. Similarly thousands thronged at the Dighalipukhuri park in the city, where the All Assam Students Union erected a life size statue of Bhupenda in 2009 to pay tribute to the mass communicator.The Assam Tribune, premier English daily of the region, published a front page editorial, where Bhupenda was described as 'as a musician he was a rare amalgam of lyricist, composer, vocalist and instrumentalist, at a time when music is getting compartmentalized, and displayed an astonishing ability to exhilarate his audience with joyous melodies even while conveying philosophic concepts'."The timeless elements of his lyrics, their innate poetic beauty, the mingling of the aesthetic and altruistic, places him in the tradition of poet-reformers like Shrimanta Shankardev, Rabindranath Tagore, Nazrul Islam, Jyotiprasad Agarwalla and Bishnuprasad Rabha. He was one of the few artists to have bridged the gap of generations and though he refused to conform to changing musical trends and retained his original lyrical and instrumental simplicity, yet the new generation remains fascinated by him," the editorial added.Indian President Pratibha Devisingh Patil and Prime Minister Dr Manmohan Singh condoled the demise of the legendary composer and singer terming Dr Bhupen Hazarika a creative genius 'whose deep baritone voice was instantly recognised by poetry and music lovers across the nation'. India's upper house of Parliament also condoled the demise of Bhupenda. Rajya Sabha on November 22 expressed grief at the loss of a most respected and versatile musician of our time with Padma Bhushan Bhupend Hazarika's final departure.The Bangladesh Prime Minister Sheikh Hasina and the opposition leader Khaleda Zia had expressed deep sorrow at the demise of Bhupen Hazarika, who was equally popular in the neighboring country. While the Awami League chief Hasina appreciated Bhupenda's songs (primarily Joi Joi Naba Jata Bangladesh) as an inspiration to the people of
Bangladesh during the Liberation War (1971), the Bangladesh Nationalist Party chief Khaleda stated that Bhupenda's 'songs against racial conflict, crime, injustice and oppression will inspire people all the time'.Dr Sunil Kothari, the eminent scholar, author, dance critic and historian described Bhupenda as a 'soft spoken, always smiling and immaculately dressed' gentleman. Terming Bhupenda as a global citizen who took the music of Brahmaputra to far away places, Padmashri Dr Kothari also wrote in a column, "one knew about his close working with Indian People's Theatre Association (IPTA), his contemporaries Salil Chowdhary, Harindranath Chattopadhyay and also at one point Pandit Ravi Shankar and other luminaries.An acclaimed Assamese author Arup Kumar Dutta while terming Bhupenda as a Renaissance man argued, "Although he was instrumental in bringing about a revival of Assam's music and cinema and showcasing the State's culture before the world, his far-reaching achievements meant that Assam could no longer claim him as its own. By the time he died, Bhupen had become the cultural icon of the whole of the north-eastern region of India and a jewel in the pan-Indian cultural crown.""The timeless elements of Bhupen's craft, its variety and vastness, the mingling of the aesthetic and the altruistic, place him in the tradition of poet-reformers such as (Shrimanta) Sankardev, Rabindranath Tagore, Nazrul Islam, Jyotiprasad (Agarwalla) and Bishnuprasad (Rabha)," Mr Dutta commented.Mitra Phukan, an admired columnist, portrays Bhupenda's voice as 'rich, highly emotive, beautifully timbered, sonorously resonant.' She also stated that 'in spite of being the great artiste that he is, (Bhupenda) has always been extremely accessible, especially to the people of his home state'."His stage performances are punctuated by chatty asides which has the audience eating out of his hand, making them feel that they are sharing some part of his life. Indeed, the way he is usually addressed, 'Bhupenda' shows the affection that people hold him in, as well as his own unassuming ways," Ms Phukan added.Dhiren Bezboruah, a senior most journalist of Assam, while revealing himself as an admirer (of Bhupen Hazarika) like millions of others, questioned, "Where on earth do you come across such a musical genius?Where on earth do you encounter someone who is a poet, an accomplished composer and a singer who tugged at the heartstrings of everyone even when they could not understand a word of what he was singing? ""There is never going to be another musician like Bhupenda—not in Assam, not in India and not in the world. But the bottom line is that he was such a warm, compassionate, kind and caring person. That is how
even those who did not know about his songs are going to remember him—as an incomparable human being," Bezboruah added.Since the news broke, the people cutting across age, ethnicity and political ideology started pouring their tributes to the most celebrated singer. Bhupenda's body was taken to Guwahati on November 7 amidst the tears of hundred thousands fans. Guwahati virtually wept to receive their most adorned icon in a coffin.For 36 hours Bhupenda's body was kept at Judges Field in the heart of the city for public viewing and tributes. And people from the whole region came to pay their last tribute to their beloved Bhupenda round the clock. It was amazing, how even the older age citizens gathered at the Judges field at midnight hours to have a last glimpse of their icon, who was sleeping in a glass covered coffin. The eternal voice of Bhupenda was vibrating in the air through out the State as everyone played his songs at home and their localities. They also mourned his demise lighting lamps in front of his photographs.The newspapers had dedicated entire pages for Bhupenda with the life-size photographs on the front pages. The FM radio and news channels continued life coverage of Bhupenda's last journey amidst public grief for five days. The previous and whole day of cremation on November 9 was covered live for 24 hours by all Guwahati based six
satellite news channels.While his son Tej Bhupen Hazarika, who arrived in Guwahati from his work place in New York, performed his last rites, nearly 50 thousand people including Assam Governor JB Pattanaik, Chief Minister Tarun Gogoi with other high profile political leaders witnessed the moment gathered at the Gauhati University campus. Millions of television viewers sobbed while paying their final farewell to the greatest son of the soil of recent time and took pledge to keep alive their uncrowned prince of music forever in their hearts.Similarly thousands attended at the Adyashraddha of the great humanist in Guwahati on November 15. All other district headquarters also witnessed all-faith prayer functions on the 10th day of his demise.Extending his gratitude to the people of Assam and the State government on behalf of Bhupenda's extended family from the dais of Adyashraddha, Tej Hazarika remained speechless for some moments and then said he was astonished to observe 'the amazing and profound outpouring of feeling, the love and condolence that came on a daily basis' to their family.