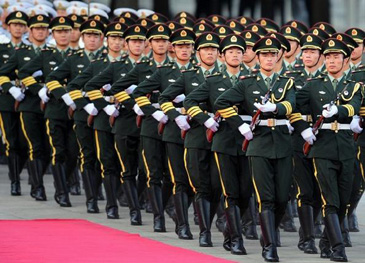 Members of PLA (People's Liberation Army) in China
Q1: What is the purpose of the U.S.-China Defense Consultative Talks (DCT)?A1: The DCT was first established in 1997 and has been held 11 times since its inception. The 12th meeting, scheduled for December 7 in Beijing, will be chaired by Under Secretary of Defense Michèle Flournoy and the deputy chief of the People's Liberation Army General Staff, General Ma Xiaotian. The DCT provides the U.S. and Chinese defense establishments an opportunity to discuss critical defense-related issues at a relatively high level. The talks are also intended to set the coming year's agenda of bilateral defense exchanges and provide a forum for candid dialogue that can reduce misunderstanding and the possibility of miscalculation between the two militaries. At the last DCT in December 2010, the U.S. and Chinese defense establishments discussed regional security concerns relating to Africa, North Korea, Afghanistan-Pakistan, and Iran. In addition, they exchanged views on the U.S. nuclear posture review and ballistic missile defense report.Q2: What is the importance of the timing of this meeting?A2: This DCT meeting is the first to be held since the Obama administration's announcement of a $5.85-billion arms sale to Taiwan in September. That weapons package included significant upgrades for Taiwan's existing fleet of F-16 A/B fighter jets, but not the new, more advanced F-16 C/D fighters requested by Taipei and strongly opposed by Beijing. At the time, China's Defense Ministry spokesman told the press, "In light of the serious damage resulting from the U.S. arms sale to Taiwan, planned China-U.S. military exchanges, including high-level visits and joint exercises, will definitely be impacted." The People's Liberation Army (PLA) subsequently postponed several bilateral exchanges, including a visit to China by the U.S. Army Band; a visit by PACOM Commander Admiral Robert Willard; joint U.S.-China antipiracy exercises; and a U.S.-China military medical exchange. The United States will be looking to reschedule these exchanges and make further progress in the military-to-military relationship.Q3: What topics and concerns are likely to be discussed?A3: The PLA is likely to again raise its "three obstacles" to better U.S.-China military relations: continued U.S. arms sales to Taiwan; the 2000 National Defense Authorization Act (NDAA), which limits bilateral military-to-military exchanges that could pose national security risks to the United States; and U.S. surveillance and reconnaissance operations in China's 200-mile Exclusive Economic Zone (EEZ). U.S. concerns likely to be on the agenda include the South China Sea, North Korea, Iran, maritime security, cyber security, nuclear weapons policy, and outer space. An important barometer of the bilateral military relationship will be whether the DCT produces an agreed-upon agenda of bilateral military exchanges for 2012 and how extensive that list is.Q4: What is the overall state of the U.S.-China bilateral military relationship?A4: Relations between the U.S. and Chinese militaries continues to lag behind the political and economic relationship. Military discussions on security issues, for example, are not as in-depth or as frank as those held between Secretary of State Hillary Clinton and State Councillor Dai Bingguo, who are two of the four cochairs of the U.S.-China Strategic and Economic Dialogue that means annually. An important new joint civil-military dialogue mechanism, the Strategic Security Dialogue, was established in May and will likely be held again in 2012. In recent years, there has been a pattern of China suspending bilateral military dialogues and exchanges for six to nine months after a U.S. arms sale to Taiwan, which has made it difficult to conduct more robust discussions and have interactions that promote greater predictability and understanding. The Obama administration has called for putting the relationship "on a more sustained and reliable and continuous footing." By not postponing this round of the DCT, it appears that Beijing (and the PLA in particular) has accepted that suspending overall bilateral military ties does not serve U.S. and Chinese interests. It remains to be seen, however, whether the Chinese military is prepared to resume fully all aspects of the U.S.-China military-to-military relationship.
Bonnie S. Glaser is a senior fellow with the Freeman Chair in China Studies at the Center for Strategic and International Studies (CSIS) in Washington, D.C. Brittany Billingsley is a research associate with the CSIS Freeman Chair in China Studies.
Critical Questions
is produced by the Center for Strategic and International Studies (CSIS), a private, tax-exempt institution focusing on international public policy issues. Its research is nonpartisan and nonproprietary. CSIS does not take specific policy positions. Accordingly, all views, positions, and conclusions expressed in this publication should be understood to be solely those of the author(s).