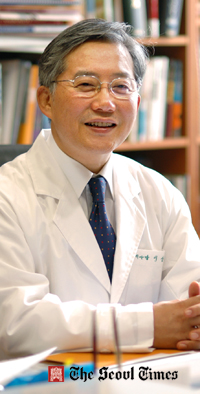 CEO MD Lee Sang-Ho
Thirty years ago, Mr. Lee Sang-Ho, a neurosurgical doctor from Seoul founded a new hospital that specializes primarily in spinal surgeries. Its name was Wooridul Hospital.Just three decades on, Wooridul hospital has become known world-wide as the world's best neuro-musculoskeletal diseases center with official branches in locations across the globe. Most of the spinal surgeries in Wooridul are performed using the new technology that allows doctors to operate on a patient with minimum risk – a patient recovers faster than before. The minimum invasive surgery hand technique, one of Wooridul's 13 principles of treatment, has made the hospital unique and famous to many. "The uniqueness of our method and hospital is that our CEO MD Lee Sang-Ho, when he decided to found this hospital 32 years ago, concentrated on finding the way to treat people and make surgeries as painless and quick as possible. Eventually he discovered the way for doing this. Thus, our hospital has become known not only in South Korea, but also abroad," Dr. Jang Jee-Soo, from Wooridul Hospital in Gangnam, Seoul, told The Seoul Times in an interview. Dr. Jang himself became interested in spinal surgery 15 years ago.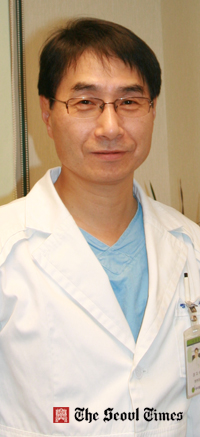 Dr. Jang Jee-Soo
"When I was graduating from my neurosurgery course at the university 15 years ago, I became quite interested in spinal surgeries and I studied the subject more intensely, went for internships abroad, and then joined Wooridul Hospital," he said. Shortly after the South Korean government allowed foreign nationals to come to the country to see a medical treatment in 2008, Wooridul Hospital was stormed by a growing amount of medical tourists from abroad.In 2009, according to Wooridul's figures, the top ten nations that visited the hospital in South Korea were from China, USA, Japan, Canada, France, Mongolia, New Zealand, Taiwan, Russia and Australia.But just two years later, Russia has jumped from the ninth place to the top three countries on the list, according to Miss Lee Hyun-Kyung, an assistant manager at Wooridul International Patients Center (WIPC) in Gangnam, Seoul."Our hospital has become popular among the foreign patients by word of mouth. Our doctors go to medical conferences abroad – there colleagues see them and listen to the new technologies and methods our doctors have created in spinal surgery, and then the foreign doctors simply recommend their own patients to come visit us," Miss Lee told The Seoul Times in an interview.However, it is a fact that there are no Chinese patients visiting Wooridul hospital."Chinese, on the other hand, prefer to have general surgeries done in China, and only plastic surgery attracts medical tourists from PRC to come to South Korea," Miss Lee said.
Since its launch in 1982, Wooridul hospital established its focus in spinal surgeries, and according to the doctors that work there, the main advantage of Wooridul over others is that it was the first one of its kind from the beginning."The main advantage of this hospital over others is that it's the first of its kind. It was established by our CEO (MD Lee Sang-Ho), when he decided that the spine treatment related area in medicine could become the South Korean medicine's next top medical service," Miss Lee said.
Wooridul hospital has changed and grown to offer more local patients and medical tourists excellent services and hospitability."You know, when I joined Wooridul in 2007, I just came back from studying hospitability and tourism abroad, and realized that the area of spinal surgery in medicine and medical tourism can work out as a good project that would benefit both the hospital and patients from abroad," Miss Lee said. Wooridul is closely working with the Korea National Tourism Organization on promoting and bringing more patients from other countries. Moreover, Wooridul, having five local spinal surgery centers (in Busan, Seoul and Daegu) has also opened its official branches abroad in Shangai, China, Barcelona, Spain, Dubai, UAE, Jakarta, Indonesia, and Istanbul, Turkey."There are scheduled launches in Sao Paolo, Brazil, Abu Dhabi, and UAE in 2012 too, and we hope that there will be later," Miss Lee said.Wooridul not only expands its boundaries by opening branches abroad, but helps the foreign spinal surgeons to come to their hospital for long and short-term internships."A foreign surgeon can come to Woodirul for practice and internship for a short term or a year. So far we have had foreign specialists from Malaysia, USA, China, Japan and Spain coming to visit our hospital for internship and experience exchange," Miss Lee said. Wooridul has also received 90 out of 100 points and was officially certified by Joint Commission International, a US based health care certifying organization that works closely the World Health Organization and over 80 health ministries across the world.
"Wooridul hospital is the seventh best hospital for foreign patients in Korea, according to JCI," Miss Lee said.
"Patients are our Guests"
Wooridul can proudly call itself a hospital that offers a VIP stay for its foreign patients."For us it's important to show that a patient is a unique client, moreover a guest. For better hospitality, we have special coordinators working with our foreign patients, who help the latter communicate with us through their own language, as well as they coordinate their arrival and stay here in Korea," Miss Lee said. According to Miss Lee, Wooridul hospital closely works with the four and five star hotels situated in the Gangnam area of Seoul."For accommodation options, our hospital has chosen the best hotels in the Gangnam area, but it's also possible to find cheaper accommodation. It's all up to our prospective patient to decide what he or she will pay for," Miss Lee of WIPC said.
An average price for a surgery at Wooridul is $10,000, which is, according to Miss Lee, much cheaper than in the US and Europe.
The Precision of a Jeweler
The foreign patients, as Miss Lee mentioned, are Wooridul's guests, and in case of a situation when it is impossible for a person to travel as far as Korea, the hospital offers video conferences with the patients abroad."We do have video conferences with other countries. That is when our doctors can give consultations to the patients abroad. Yet, we strongly recommend our prospective patients to come and have a full check-up here," Miss Lee noted. Miss Lee also pointed out that Korean surgeons, especially those that work in the sensitive field of spinal surgery, have more advantages over their Western counterparts."Korean surgeons have better hand movement. That is due to the fact that they have smaller hands than their counterparts from the West, making the surgeries more accurate and precise," Miss Lee said. It's a significant fact that Wooridul has almost no rival hospitals."Most of the hospitals in Korea accommodate a small amount of people, plus there are very few that have chosen a specific field of medicine and offers services in it – there are almost no spinal hospitals here. Thus, our hospital is very unique," Miss Lee concluded.