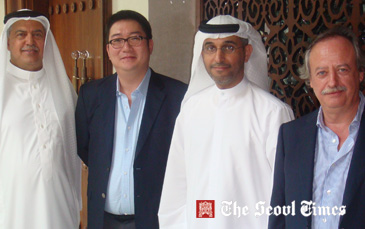 From left to right: Hamdan Al Hamdan - Director of Pan Gulf Holding Company, Jongho Park - Chairman and CEO of Songwon Industrial Group, Mohamed Al Muhairi - Founder and Managing Director of Polysys Industries, Maurizio Butti - COO of Songwon Industrial Group Photo: Songwon Industrial Co., Ltd.
Ulsan, S. Korea, Dec. 14, 2011 — Today, at the Annual GPCA forum 2011 in Dubai (UAE), Songwon Industrial Co., Ltd., Pan Gulf Holdings and Polysys Industries proudly announce their intention to form a global cooperation for the manufacturing and sale of Songnox® OPS. This follows the recent announcement of Songwon Industrial Group regarding the acquisition of Additives Technology Greiz GmbH (ATG), one of Europe's largest manufacturers of One Pack Systems (OPS) (Link to the press release). The three companies have signed a Memorandum of Understanding to establish a Joint Venture to be named Songwon Additive Technologies AG, which will become the parent company, having control over ATG, as well as a series of manufacturing and commercial JV's in the Middle East. The partners of Songwon Additive Technologies AG will consist of Songwon Industrial Group, Pan Gulf Holdings of Saudi Arabia and Polysys Industries of Abu Dhabi. Mr. Jongho Park, Chairman and CEO of Songwon Industrial Group, stated: "The Middle East market is the next logical step for Songnox® OPS and our partnership with Pan Gulf and Polysys puts us into an excellent position to capitalize on the growth potential in the region. We fully expect to have the first manufacturing JV in Saudi Arabia operational by the end of 2012 and we aim to have the second manufacturing JV up and running in early 2014 located in Abu Dhabi. As sales grow, we will establish a commercial entity to service the region." He added: "Attracting partners of this caliber to a global business venture is a compliment to Songwon's track record and demonstrates the trust we can demand through our ability to deliver what we say we are going to do." Mr. Hamdan Al Hamdan, Director of Pan Gulf Holding Company, added: "Pan Gulf is a large and diverse group providing quality products and efficient services to a wide variety of industries thoughout the Kingdom of Saudi Arabia. We pride ourselves on our commitment to excellence in everything we do, this includes the affiliations we establish and the partners we choose. We are proud to be associated with Songwon and Polysys as we share common values and goals and we are excited to further diversify our portfolio into the polymer industry."In conclusion, Mr. Mohamed Al Muhairy, Founder and Managing Director of Polysys Industries, commented: "The opportunity to join forces with key partners who are leaders in their field in an industrial venture is a natural fit with our business strategy. In the Middle East we have seen a significant growth in the production of polymers especially polyolefins, and our goal is to capitalize on this opportunity with a special focus on the fast growing petrochemical industry in Abu Dhabi."
About Songwon Industrial Co., Ltd.
Songwon Industrial Co., Ltd. is a leading producer of Songnox® Antioxidants, Songnox® One Pack Systems, Songlight® Hindered Amine Light Stabilizers, Songsorb® Ultraviolet Light Absorbers, Songstab™ Acid Scavengers, Songstab™ PVC Stabilizers, Songcat™ Tin Intermediates, Songbrite™ Optical Brighteners, Songcizer™ Plasticizers for the plastics industry, as well as lubricants, surface coating agents, polyurethane, alkyl phenols, biphenol, flocculants and other chemicals.The Songwon Group of Companies includes Songwon Industrial Co., Ltd., Songwon International AG, Songwon International – Americas Inc., Songwon China Ltd., Songwon Trading Co. Ltd., Songwon Chemicals Co. Ltd., Songwon International – India, and Songwon Japan KK. Songnox, Songsorb and Songlight are registered trade marks of Songwon Industrial Co., Ltd. Songcat, Songbrite, Songcizer and Songstab are trade marks of Songwon Industrial Co., Ltd.
About Pan Gulf Holding
Established in 1978, the Pan Gulf Group is a privately owned group of companies with business activities that covers manufacturing, services, and trading catering mainly to the oil, gas, petrochemical and chemical sectors in Saudi Arabia and GCC markets. The group manages its activities through 9 operating companies with 3000 total employees, and have been achieving high turnover growth rate over the last five years.It is a major regional steel fabricator, and a leader in designing, supplying, and installing complex fire protection and detection systems for oil and petrochemical industries. The group operates distribution and service centres for various well known international brands, and have formed successful manufacturing joint ventures with international companies from Asia, Europe and USA.
About Polysys Industries
Polysys is an Abu Dhabi based newly established entity which belongs to a leading business group in Abu Dhabi. Polysys main objective is to invest in and develop industries and businesses related to the chemical, petrochemical, polymer down streams industries in the Middle East. Its vision to become a leading industrial developer and investor in petrochemical and polymers related industries.Polysys focuses on identifying the right opportunities and the optimum technologies to provide the right products and services to its clients. To accomplish its vision, Polysys strategy is to seek for the right partnerships with leading international companies in the field and to add value to the joint ventures through its extensive understanding of local industries specific requirements.