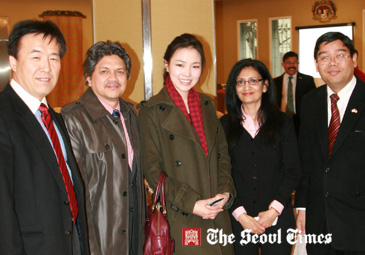 Minister Counsellor Abdullah Zawawi Tahir (right) of Malaysian Embassy in Seoul poses with Director David Oh (left) of The Seoul Times, A. Rashid Mohd Zain (2nd from left), trade commissioner of Malaysia External Trade Development Corporation, Journalist Yang Hyun-Jung (center) of SBS/CNBC, and Counsellor Sulochana K. Indran at its embassy on Dec. 21, 2011.
On behalf of Dato Ramlan Ibrahim, Malaysian Ambassador to Seoul, Minister Counsellor Abdullah Zawawi Tahir hosted a luncheon for local journalists at its embassy in Seoul's Hannam-dong on Dec. 21, 2011.Prior to the luncheon the deputy head of mission at the embassy delivered the speech of Amb. Ibrahim, who is now spending his vacation back in Malaysia.Scores of reporters and editors from the media were invited to the Malaysian-style luncheon. Among them were David Oh, marketing director of The Seoul Times; Joseph Joh, managing editor of The Seoul Times; Yoon Jae-Joon, general manager of the Financial News; Park Jang-Gyu, manager of EBS; and Yang Hyun-Jeong of SBS/CNBC.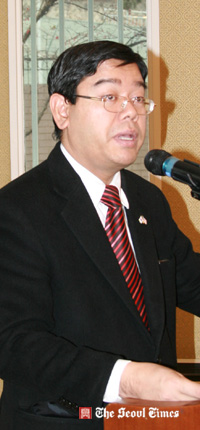 Minister Counsellor Abdullah Zawawi Tahir of Malaysian Embassy in Seoul speaks in front of the local media at its embassy .
Other participants from the Malaysian Embassy
were A. Rashid Mohd Zain, trade commissioner of Malaysia External Trade Development Corporation; Mohd Shukri B. HJ. Abdullah Sani, counsellor; Sulochana K. Indran, counsellor; Mohd Marzuki Mohd Amin, second secretary; and Col. Abdul Aziz Ahmad, defence attache.Several of the Korean staff from the embassy also took part in the luncheon.
The following is the full text of the Malaysian envoy's speech read by Minister Counsellor Abdullah Zawawi Tahir.Distinguished Members of the Media,
Honoured Guests,
Ladies and Gentleman
A very good afternoon to you! It gives me great pleasure to welcome you to the Embassy of Malaysia for this luncheon gathering as a mark of our appreciation to the members of the media here in Korea who have been major players in supporting our work at the Embassy to bring Malaysia and the Republic of Korea closer together. I am confident our luncheon will also allow us to get to know each other better and further enhance our working relationship. 2. In fact, media practitioners and diplomats have many things in common. Essentially, both are engaged in communication aimed at building relations, smoothing tensions and fostering understanding. I am very much aware of the importance of the media and its relation to work of the Embassy.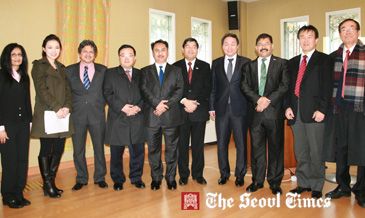 Minister Counsellor Abdullah Zawawi Tahir (5th from right) of Malaysian Embassy in Seoul poses with local journalists and other guests at its embassy on Dec. 21, 2011.
3. As the cliché goes "the pen is mightier than the sword" so what you write or broadcast has the power to move, change, stimulate and provoke your audience. Media reports – be they print or broadcast - in the form of features, political and economic analyses, or human interest stories have a major influence in shaping perceptions of a country and its image abroad. And we are counting on your responsible journalism to positively guide the relations between our two countries. 4. The year 2011 will go on record for making indelible imprints on the world's social, political, economic and environmental landscapes. But closer to home, the year too is significant in terms of reinforcing Malaysia's and the Republic of Korea's longstanding bilateral relations. Two high level visits to the Republic of Korea – by Prime Minister Dato' Sri Mohd Najib Tun Haji Abdul Razak in April, 2011 and the King of Malaysia in July, 2011 – is a clear indication of the value Malaysia places on its ties with the Republic of Korea. The momentum was already set when our Prime Minister attended the ASEAN-Korea Commemorative Summit in 2009 followed by President Lee Myung-bak's visit to Malaysia in December, 2010. 5. Since establishment of diplomatic relations in 1960, cooperation in the areas of trade and investment, education and training, science and technology and tourism have broadened. In tandem, cooperation at the regional level through ASEAN+3, East Asia Summit and ASEAN Regional Forum have helped to strengthen the relationship. Both countries also share many common stands at the UN, APEC and other forums. 6. We found a keen partner in development when Malaysia, through the Look East Policy in the 1980s, shifted its focus to emerging economies in Asia such as Korea and Japan. And we have been on the right track building up the momentum of our partnership. Our bilateral trade continues to grow despite the uncertain economic and financial environment since the past few years. From January to October, 2011, total trade amounted to USD13.9 billion a 6.3 per cent increase from the same period last year. In 2010, total trade increased by a remarkable 31.5 per cent compared to 2009 amounting to USD15.6 billion. Undoubtedly this burgeoning trade has also contributed to Korea surpassing USD1trillion in annual trade volume early this month. 7. In terms of investment, up to November this year Korean companies have invested USD800 million while in 2010 total investment amounted to USD1.4 billion, making Korea the seventh largest investor in Malaysia. Malaysian companies to see the potential in the Korean market, investing USD105.8 million in 2010. Malaysia is the second largest investor among ASEAN countries after Singapore. 8. Korea's excellent education system and the strong foundation in science and technology have resulted in many of our students pursuing science and engineering degrees in the country. There are 627 students in such prestigious institutions such as Dongyang Technical College, Hanyang University, Seoul National University, Korea University and others. Meanwhile, 3750 Korean students are pursuing English language courses in Malaysia. Our investment in a Korean education has resulted in almost all the students being snapped up by companies here or Korean companies in Malaysia. 9. While students can be considered as goodwill ambassadors for our respective countries building friendships and a better understanding of our cultures, the booming bilateral tourism has also served to enhance people to people exchanges. Korean tourist arrivals in Malaysia grew by an incredible 153 per cent from 2003 to 2010. From January to June, 2011, 117,124 Koreans visited Malaysia while 120,000 Malaysians arrived on Korea shores. Korean statistics have revealed that there was an increase of 44.9 per cent in Malaysian arrivals from January, 2011 to November, 2011. The Korean "Hallyu" may very well be the pull factor. 10. So we can see that there is a lot going for the close friendly relations between the two countries which you the media can highlight at every opportunity. We are confident that by working together in all channels, being approachable and engaging in open dialogue, you the media will open doors for us to reach out to the government and people of this country. 11. Indeed we are happy and grateful to note the present warm and cordial working relationship that we have established and are confident that we can further strengthen this bond to serve the mutual interests of Malaysia and Korea. Now may I welcome you to enjoy the authentic Malaysian fare we have prepared for this occasion. Embassy of Malaysia
Seoul
21 December 2011
Malaysia's Role in "Expo 2012 Yeosu Korea"
Expo 2012 Yeosu Korea brings the world together in May, 2012 to celebrate The Living Oceans & Coasts. Malaysia, as an official participating nation, has been allocated a space on the third floor of the International Pavilion. Malaysia will stand out with its theme "Malaysia's Biodiversity Heaven: A Gift from Nature." This theme captures Malaysia's rich biodiversity, both marine and terrestrial, and also its multicultural harmony, unique in the world. The Malaysia Pavilion takes the visitor through a conceptual journey from under the sea to the land above, matching, at every step along the way, Yeosu's needs with world-class answers from Malaysia. Answers like the world's best managed mangrove forest, the world's largest Chengal tree, a multicultural and multiracial harmony unrivalled in the world ... and many more. To present them, Malaysia Pavilion comprises: The Living Reef, Island of Dreams, Haven of Biodiversity, Legacy of Ages and Land of Harmony. A performance stage, souvenir and take-away counter complete the ground floor. Malaysia Pavilion will catch the attention even from afar, with an attention-grabbing front façade, a combination of a traditional fishing boat and coral lattice with pulsing lights, symbolising the harmonious connection of humankind and the ocean. More awaits inside, past the Continental Shelf map at the Reception which touches on Malaysia's geological past including its Gondwanaland roots. The Living Reef section begins with a Blue Ghost projection, a 3-D presentation which allows us to take a close look at a typical Malaysian reef. Then, inside an immense brain coral structure, the visitor will enjoy a spectacular, 180-degree undersea experience. The Aquatarium surrounds their senses of sight and sound, enveloping up to 80 visitors within its 1 massive wrap-around video. 83% of the world's coral ecosystems are found in Malaysian waters and, from the Aquatarium's sea-bed point-of-view, there's plenty of up-close evidence of that. The Island of Dreams section showcases Malaysia's many paradise islands. Malaysia boasts some of the world's top island destinations like Langkawi and Tioman. Malaysia's biodiversity makes great dive experiences so it is no wonder that Sipadan is one of the top 10 dive sites in the world. Beside the mock-up beach with virtual waves lapping at the shore, one part of this section covers the "5-star islands" aspect of luxurious resorts and sun, sea and fun like never before. Another part presents the communities of the islands – their lifestyles, their daily activities and more. A special highlight presents important work being done with poverty eradication programmes, efforts which may well prove interesting to coastal communities in other parts of the world.The next section, the Haven of Biodiversity, consists of a mangrove sub-section and rainforest sub-section. The visitor steps into the heart of a lush mangrove forest of animal, plant and bird populations that are among the most numerous and varied in the world. Discover Matang, the world's best-managed mangrove reserve. As they walk, the succession of Avicennia, Bruguiera and Rhizophora are visible through the glass they're walking on. They wind their way through biodiversity, from the sounds and smells of morning to the dancing fireflies of the night. At the rainforest sub-section, through a combination of replica rainforest, information panels and even a virtual hostess in traditional Sarawakian dress, the visitor learns what makes Malaysia's rainforests such natural wonders to behold. That it is among some of the oldest rainforests in the world. That more than 90% of Malaysia's freshwater comes from its rainforests. That it is home to unique flora and fauna such as the world's largest flower, the world's largest pitcher plant and even the world's largest Chengal tree. Malaysia's rainforests are truly treasure troves of biodiversity. At the Legacy of Ages section, the visitor can glimpse Malacca in its heyday, one of the world's busiest entreports of its day where Korean was one of 84 languages spoken. See the trade routes of old, the artefacts of the spice trade and the heritage preserved today in Malacca's UNESCO heritage streets. Indeed, Malaysia's heritage of maritime excellence is very much alive still, traced from the traditional boat-making skills of renowned master craftsmen like Pak Dollah through to events like Sabah's Regatta Lepa-Lepa right up to the present-day Monsoon Cup that brings some of the world's top racing yachts and their crews to the nation. Then, bask in the best of Malaysia at the Land of Harmony. Today's Malaysia is a fascinating tapestry of so many different cultures and traditions - some of them only found in Malaysia – all coexisting in harmony. On the large LED screen, the visitor will see vivid testimony of the special Malaysian blend. Every frame is an expression of harmony and celebration. Images of modern Malaysia showcasing its progress. Malaysians from all walks of life working hand-in-hand, living happily together. The joy of its national harmony, celebrated in music, spectacular dances, colourful weddings, fascinating festivals and traditions, the world's most exotic tastes and more. Malaysia is many cultures, many peoples. But all united as 1 in progress for the nation.At the take-away counter, chefs behind the mock-up boat serve a visual feast as well as great taste. Visitors will be amazed at how their food is prepared, before it gets to them. And at the souvenir shop, you can pick up an interesting souvenir. The visitor leaves the Pavilion on a high to colour, music and movement at the performance stage. 4 times a day, the performance stage will pulsate to glittering cultural performances, ending their visit in the most memorable way. During non-performance times, the stage will be used for handicraft demos. A visit to Malaysia Pavilion at Expo 2012 will be a truly memorable event and one that should not be missed.