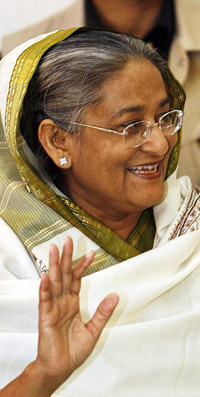 Prime Minister of Bangladesh Sheikh Hasina
DHAKA — The Prime Minister of Bangladesh Sheikh Hasina said that her government is making all efforts for a full implementation of the Chittagong Hill Tracts (CHT) Peace Treaty for stabilizing peace in the country's one ofthe most resourceful and scenic region."You will send the message everywhere in the CHT that implementation of the peace treaty is one of ourpriorities," she said while addressing the Awami League leaders of Bandarban district unit at her Gonobhaban residence on Thursday.She said the present government has constituted acommittee led by the Deputy Leader of the Jatiya Sangsad Sajeda Chowdhury to look into the socio-economic development of the CHT. We want to ensure that every people of the CHT will get benefit of our programmes. The Prime Minister invited the leaders of the unit to exchange views with them about development activities of their area as well as organizational matters and give them guidelines in this regards.Gradually, she will exchange views with the party leaders and workers of all districts. State Minister for CHT Affairs DipankarTalukder, local parliament member and presidents and general secretaries of different units of Bandarban district AL joined the programme. Awami League Presidium Member Syeda Sajeda Chowdhury, Abdul Latif Siddiqui andSahara Khatun, Acting General Secretary Mahbubul Ul Alam Hanif, Joint Secretary Dr Dipu Moni, Environment Affairs Secretary Dr Hasan Mahmud and senior partyleaders were present. Prime Minister Sheikh Hasina said her government has given constitutional recognition to all ethnic groups of the CHT through 15th Amendment to the Constitution.
She urged the party leaders and workers to devote them to public welfare andremain vigilant so that people can enjoy the benefits of the programmes taken by the government for development and welfare. "You should always keep inmind that our motto is not to enjoy the power, but serving people to materialize the dream of millions of martyrs to establish a happy and prosperous nation," she said.At this stage she urged the party workers to compare Awami League with BNP andsaid, "BNP comes to power to plunder public wealth, but our sacred duty is to serve people.""Bangladesh earned its independence under the leadership of Bangabandhu in 1971 as a peaceloving nation. But after the brutal killing of Bangabandhu and four national leaders, the journey of the nation was derailed.
During our tenure in 1996-2001 we introduced Banglades has a land of peace, but BNP and Jamaat alliance government in their five- yearrule identified Banglades has a harbour of corruption, terrorists and militants, she said. She affirmed that the perpetrators of the torture on minorities, political opponents and tribal people in 2001 would be brought to the court of law as perdirectives of the High Court. BNP terrorists and anti-liberation force knotted tie to dislodge social peace again when the nation is united for trial of the war criminals, she said adding "BNP don't want to allow people to live in peace."