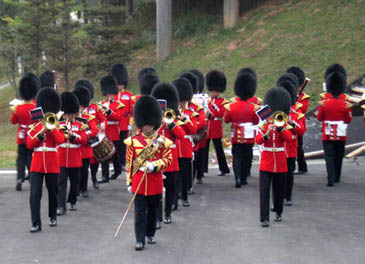 The Scots Guards perform in front of a crowd of over 150 VIPs.
On the heel of the International Wonju Tattoo festival, the Scots Guards marched to the sound of the beating drum to a crowd of about 150 dignitaries, VIPs and military leaders. The evening was hosted by the British Chamber of Commerce in Korea and the British Embassy on Saturday Oct. 16, 2004 in the United Nations Compound in Seoul. The crowd was curious and excited watching every step of The Band of the Scots Guards during a beautiful sunset ceremony of Beating Retreat outside the mess hall at the UN Command compound. Among some of the guests at the ceremony were British Ambassador Warwick & Pamela Morris, Brigadier General Harry & Lissa O'Hare, BCCK President Colin & Liz McClune, BCCK member Gavin & Maria Mackay, and BCCK member Peter & Birgitta Thewlis.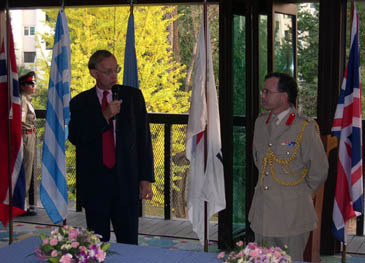 British Amb. Warwick and Brigadier General Harry O'Hare welcome guests who came to see the Band of the Scots Guards ceremony of Beating Retreat.
Beating Retreat originated in the early years of organized warfare when the sound of beating drums and the parading of guards heralded the closing of camp gates and lowering of flags at the end of the day or when the head of the castles were away. Today it has become a familiar twilight ceremony reserved for special occasions and preceded by a display of music and marching. The band played on the grounds in front of the UN Command mess hall while soldiers from 16 nations lowered the flags from their respective countries during the nightly Beating Retreat ceremony. For the past week, the Band of the Scots Guards have been performing in Wonju along with nine other nations from all over the world.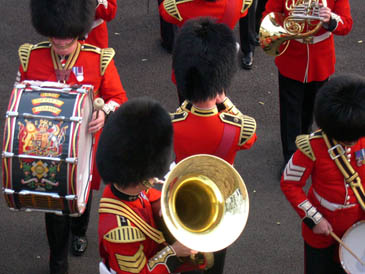 The Band of the Scots Guards were formed by King Charles I in 1642. The musicians wear the traditional uniform of the Household Division with the buttons on the scarlet tunic being arranged in groups of three signifying that the Scots Guards is the Third Regiment of the Foot Guards. The famous black "Bearskin" headgear worn on parade was copied as a battle trophy from Napoleon's Imperial Guard. In 1990, the Scots Guards were the only Foot Guards Band deployed on active service during the Gulf War. Their work there involved many different aspects of hospital duties attached to the various departments of the 33 general hospitals based in Al Jubail, Saudi Arabia. The band heads back to England where they will perform for South Korean President Roh Moo-Hyun and first lady Roh Kwonyang-Sook's visit to Buckingham Palace in December. This will be the first State Visit paid to the United Kingdom by a President of the Republic of Korea. The last time the Queen and the Duke of Edinburgh paid a State Visit to the Republic of Korea was back in April 1999.
Related Photos