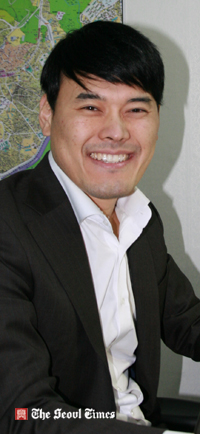 Peter Oh, real estate columnist
In recent years, a number of foreigners come to Korea for some reasons such as business, study and travelling. According to the Department of Justice, there were
120,000 expatriates living in Seoul, the capital of Korea, in 2011. When foreigners come to Korea, they need to find a suitable place to stay regardless of the length of residence. Then, where are appropriate areas for them? There are 25 administrative districts in Seoul called "Gu," and "Gu" consists of "Dong," the smallest administrative district in Seoul.
There are some well-known areas for expatriates such as Itaewon-dong, Hannam-dong, and Ichon-dong in Yongsan-gu, northern part of Seoul in terms of the Han River, a major river that divides Seoul into two parts. Since there are several foreign embassies and the American army base in Yongsan-gu expatriates usually stay in those areas in the past. The hallmark of Yongsan-gu is that foreigners can easily access to international schools and their communities. In other words, the educational environment is the vital consideration when expatriates choose the residence because they largely have children. Virtually, there are various international schools from kindergartens to secondary schools in Yongsan-gu such as Rainbow Children Center, Deutsche Schule Seoul International, Global Christian School and Yongsan International School of Seoul. In addition, there are some international communities in Yongsan-gu. For example, we may regard U.S. military base near Itaewon-dong as an American community. Indeed, there are schools, houses, restaurants and amusement facilities in the base, so American people might feel home using their languages and currencies in Itaewon-dong. Besides, there is a Japanese community in Ichon-dong called "Little Tokyo". It has been more than 40 years since 1965, and there are more than 1500 Japanese in Ichon-dong. They tend to stay in High-rise apartment, and may have a nice view of Han River. Therefore, Yongsan-gu is a continuously preferable district for expatriates. As the international companies enter the Korean market, a variety of multinational companies have been emerging in Gangnam-gu, especially in Teheran-Ro, international finance and trade area, starting from the Gangnam Subway Station to Samsung Subway Station. Naturally, those who work for the companies have continuously been increasing in Gangnam-gu. Since the distance to work is an important factor as well, business men and women tend to stay near work. If they stay in a long-distance away from the work, it will be a hassle for them to commute to work owing to a traffic jam in rush hours. Besides, there are many popular Korean restaurants, clubs, hotels and department stores around Gangnam area, so people may easily access to these facilities.Interestingly, Songpa-gu, located right next to Gangnam-gu in the southern part of Seoul, became popular district among foreigners lately because of well-socialized amenities and natural environment. There are amusement park such as Lotte World and natural environment such as Seokchon Lake in Songpa-gu, and those brought about the increase of the number of expatriates. From the Songpa-gu office, the percentage of the lands possessed by foreigners has been growing around 10 percent compared to last year, 2010, that is, expatriates hold 62,077 square memters of residential areas in Songpa-gu. This is astounding figures for the reason that the real estate transaction between the locals decreased significantly in 2011. Consequently, Songpa-gu is the good choice as well for settling down in Seoul. When it comes to VIPs such as executives and ambassadors, they prefer single family houses to other types of housing. They hold a party from time to time in their houses, and need gardens or some private spaces. There is a suitable area for them called Seongbuk-gu, located above to Yongsan-gu in the northern part of Seoul. Indeed, there are numerous large-scale single family houses used by the residence of ambassadors in Seongbuk-gu, so we called it "Korean Beverly Hills". For instance, there are the official residences of ambassadors of such foreign countries as Japan,
Venezuela, Germany, Canada in Seongbuk district. Therefore, those expatriates live there because they may enjoy their private life, spaces and peaceful ambience. All in all, each area that I mentioned above has its unique features. To sum up: Yongsan-gu has multinational communities, so expatriates can feel home and easily access to their own culture, and people can experience vigorous the newest Korean culture. Foreigners may enjoy modern Korean life in Gangnam-gu because there are a lot of high-rise buildings and amusement facilities on the main street and every day thousands of people commute to the area. It just looks like a small New York City in Korea. In Songpa-gu, you may have both nature and amusement facilities. From my experience, expatriates have their own preferences or criteria when they consider the district to stay. Some want to live near the workplace or international community, and the others tend to have private spaces and gardens or tranquil atmosphere. Hence, consider those districts for both rent and investment.
If you need more information, just contact me: petersrent@yahoo.com