Nicolas Sarkozy, the French president, came short of declaring his reelection bid while announcing the latest tax reforms to reduce the national budget deficit. President Sarkozy wants to increase the basic consumption tax to 21.2 percent and impose a 0.1 percent levy on financial transactions. These are his so-called "shock measures" meant to show that he has the audacity to turn around the faltering economy just before the presidential elections. Donning the hat of a "reformer" and having won the support of German Chancellor Angela Merkel, President Sarkozy proudly declared that the financial crisis is "calming down" and that Europe is no longer on the edge of the abyss. In an interview with French journalists President Sarkozy said that he wants to set an example that those who helped bring about the crisis will be held accountable. However, his tax reforms only target the shares and not the bonds. Sarkozy appearing somber in his television appearance reversed his opposition and agreed to introduce the bold reforms. The president will also introduce more free labor laws to benefit the companies and the unions. President Sarkozy said that such measures would bring an end to France's often criticized 35-hour working week.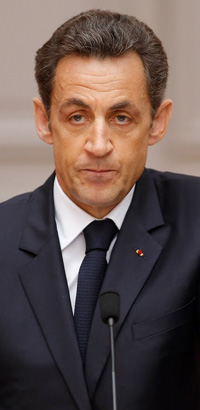 French President Nicolas Sarkozy
Lagging behind his Socialist Party rival Francois Hollande by 6 points in first round and by 20 points in second round of elections, President Sarkozy is hoping to push his measure through the parliament before the presidential elections in April. It is yet to be seen whether his proposals will see the light of the day. Yet to formally declare his candidacy, President Sarkozy said "I have a rendezvous with the French people". This election is a do-or-die battle for him. Within his inner circles Sarkozy has made clear that this election would define his legacy. A defeat in this election, he says, will lead to his retirement from politics. President Sarkozy has come a long way since his opposition to sales-tax increase which he dubbed unfair three months ago. Eager to project himself as the savior of French economy, President Sarkozy was hit hard by stripping of AAA credit rating by Standard & Poor last month. Adding to his woes is the unemployment that has reached a 12-year high. It looks like President Sarkozy's strategy is to show that he is a "doer", fully in command to solve nation's economic problems and that he will not be tied down by election campaigning. President Sarkozy's desire to look presidential until he announces his candidacy is not going down well with his Socialist Party rival. Socialist Party claims that all his rendezvous, a form of election campaigning, are paid by taxpayers and not by his Union for a Popular Movement (UMP) party. Following the footsteps of his illustrious predecessors Jacques Chirac and Francois Mitterrand, President Sarkozy is not declaring his candidacy hastily. However, one wonders whether such a move will pay off when Sarkozy is already trailing his rival. Presidents Chirac and Mitterrand never faced such calamitous economy. As of now, Francois Hollande is reaping the blessings of this economic turmoil. His solid performance in the debate in front of journalists a few nights ago shows his readiness to occupy the Elysee Palace. For the time being we all wait in anticipation for President Sarkozy to officially launch his campaign for a second five-year term.