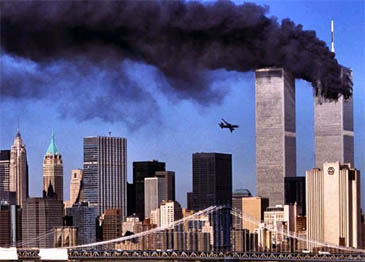 An airplane is about to hit a World Trade Center building while another one is already in smoke in a terrorist attack in New York City Sept. 11, 2001.
Although George W. Bush was elected in very unusual circumstances, the tragedy of 9/11 gave him an opportunity to unite the country. Sadly, he has not done so. The Iraqi war and his handling of the economy have set the country back many years.Right after 9/11 everyone was supporting Bush and his efforts of dealing with terrorism. The country gave its blessings to the war in Afghanistan and the attacks on the Taliban and Al Quaeda. Unfortunately, before finishing the job in Afghanistan, Bush began another war, which events clearly demonstrated was totally unnecessary.The rationale for going to Iraq was the famous weapons of mass destruction which Saddam Hussein was said to possess. It is now evident that the Iraqi dictator did not have any weapons. It's also become evident that as bad as Saddam Hussein was, he had no connection with the terrorists who attacked us on 9/11.To justify the war in Iraq, Bush used the fear created by terrorism. By taking advantage of the country's fear, he misdirected the country's resources. More than 1, 067 Americans and thousands of Iraqis have lost their lives. The financial cost has also been huge. Nearly 200 billion dollars has been spent in an unnecessary war.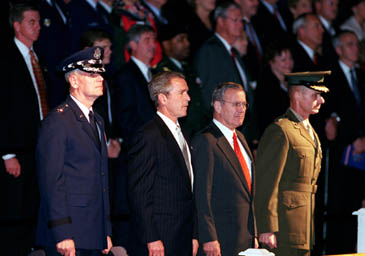 US President George W. Bush (second from left), Secretary of Defense Donald H. Rumsfeld (third from left) and other brass hats in a military review ceremony in Fort Myer, Va. Oct. 15, 2001. Courtesy DOD
Unfortunately, Bush does not seem to be able to understand that the war was a huge mistake and continues to insist it was worth the effort. Does he really believe that or is he just playing politics?Bush's handling of the economy has also been a disaster. Having inherited a budget surplus, Bush turned it into a huge deficit. In part, he did that with the significant tax cuts which to a large extent benefited people at the top of the economic ladder who did not need the extra money.The tax cuts were supposed to stimulate the economy and create jobs. Although a small number of jobs have been created in the past year, the fact is that at the end of his four years as president, Bush will have generated a net job loss.Unable to stress his record and his accomplishments, Bush has engaged in negative attacks against his Democratic opponent. He and his surrogates have described John Kerry as wishy-washy and unfit to be commander in chief.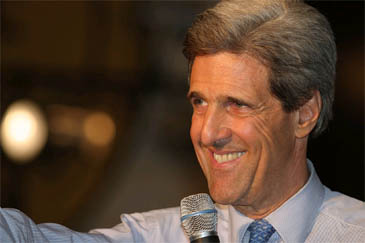 US Senator John F. Kerry waves to his supporters.
Although it's true that Kerry has taken some positions which seem contradictory, he has also shown character and determination. Unlike Bush who "sat out" the Vietnam War in Texas and Alabama, Kerry volunteered and earned medals for heroism. But even his military record has been the subject of negative attacks by Bush's "surrogates" including former Republican Presidential candidate Bob Dole. Many newspapers have investigated and found no truth to the Republicans' charges against Kerry.The presidential debates, which gave voters an opportunity to see the two candidates standing face to face, clearly showed that Kerry is not just presidential, but has a command of the issues, which Bush clearly lacks.In the rush to declare winners of the debate, people forgot to focus on the issues. Bush did not simply show he could not communicate, but he had little substance to provide on either the Iraqi war or the economy.Kerry, on the other hand, came across as knowledgeable of issues and to the surprise of many, was even able to explain his points in simple and concise language.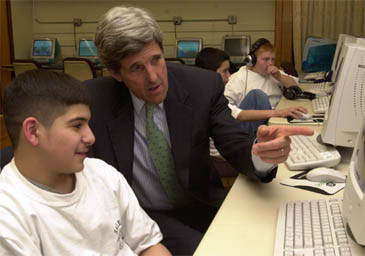 Sen. John F. Kerry with one of his young fans.
In the final days of the campaign, you can expect more lies and dirty tricks. Without a record to run on, all Bush can do is attack his opponent.Kerry will not be the perfect president. And if elected, he'll have to clean up the mess left by Bush. It's not going to be easy, but he is the best we've got. Four more years of Bush would mean more countries invaded, bigger deficits, skyrocketing healthcare, and the likelihood of Supreme Court justices resembling Scalia and Thomas.The country and the world cannot afford four more years of George Bush.