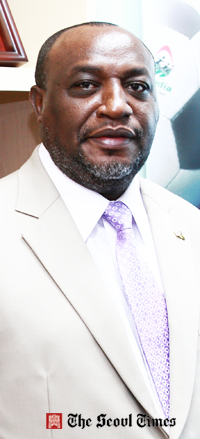 Ngovi Kitau, the ambassador of the Republic of Kenya
Diplomatic relations between Kenya and South Korea which started on February 7, 1964 has been growing in diversity over the past year particularly in the recent years. Kenya and Korea continue to open up more trading opportunities. Recently KCCI (Korea Chamber of Commerce and Industry) and Kenyan Vice President Kalonzo Musyoka had discussions on Korea sending trade delegations to scout for investment opportunities in Kenya. This year Kenya plans to use the EXPO 2012 in Yeosu as a platform to learn and engage with other participating countries and institutions in finding solutions to challenges posed by management of the oceans and coastline environment, its potential contribution to economic growth, and a stimulus to increased trade, investment and tourism. With the increased rapport and the 2112 EXPO both countries stand to benefit as they will get to establish a platform for increased trade, investment and tourism between the two countries, establish the Kenya-Korea Comprehensive Economic Partnership Agreement (CEPA) to address tariff barriers limiting Kenya's exports to Korea and boost trade and employment for Kenyans in Korea. More so, Kenya-Korea Joint Economic Mission is to create rapport between public/private sector partnerships and also get a chance to negotiate and conclude draft agreements on: Promotion and protection of investments and Avoidance of Double taxation to further boost business confidence. The Expo will be one of Kenya's efforts to promote the Kenyan Brand image in the Asian community, having attended the 2010 Shanghai EXPO.Korea's boom in industrialization will also offer Kenya an opportunity to learn what it takes to be an industrialized nation.The Cultural exchanges programs have been re-emphasized by Korean International Cooperation Agency (KOICA) which awarded a total of 71 scholarships to Kenyan students in 2010. This initiative is further strengthened by an ongoing initiative to sign an MOU between a Korean and Kenyan universities.
Ngovi Kitau, the ambassador of the Republic of Kenya, recently took time out of his schedule to speak with The Seoul Times to expound on Kenya-Korea relations and its significance.
Q1: Thank Your Excellency for this interview opportunity. I believe that you were active in helping the Kenyan athletes during the IAAF (Int'l Association of Athletics Federations) World Championships held in South Korea's Daegu from Aug. 27 to Sept. 4, 2011. What was your specific role and how do you feel about the performance of Kenyan athletes?
A1:
My role was to provide logistical support and to ensure the athletes were comfortable throughout their stay in Daegu. That is why I moved my office from Seoul to Daegu for two weeks. With 17 medals, the Kenyan athlete's performance was the best ever. The last time they competed in Korea was in 1988 and they scooped 9 medals. The IAAF World Championships Daegu 2011 performance was very important because our athletes are also training for 2012 London Olympics, 2013 Moscow IAAF World Championships, and 2014 Glasgow Commonwealth Games.
Q2: Last month, you hosted a reception at a Seoul hotel on Dec. 15, 2010 on the occasion of the 48th anniversary of Kenya's independence. What significance does your national day of "Jamuhuri Day" have on your nation and the people? How would you observe this year's "Jamuhuri Day"?
A2:
Jamuhuri Day actually falls on December 12 each year. This is the day Kenya attained full independence from Britain and also became a republic. It is the most important national holiday in Kenya. We will celebrate this year's Jamuhuri Day in style because we will have special guests from Kenya and Korea.
Q3: Would you specify on the overall improvement in the bilateral relations between Kenya and South Korea? What are the pending issues between the two countries now? What needs to be done for further collaboration between Korea and Kenya?
A3:
Kenya and Korea established a diplomatic relationship on February 7, 1964. The bilateral relationship has been growing stronger and stronger since Kenya established an embassy in Seoul in July 2007. In 2010, bilateral trade grew by 70 percent and tourism by 55 percent. In the first half of this year, Korea ranked fourth in Foreign Direct Investments to Kenya after China, India, and South Africa. Kenya has adopted the Korean model of industrialization and will require more support in science and technology as well as Knowledge Sharing Program.
Q4: What are the major achievements you have made since you came to Seoul as the new ambassador? For the remainder of your tenure in Seoul what would you like to do for the development of the bilateral ties? Are there any special tasks you would like to tackle?
A4:
The major achievements have been the increase in trade, tourism and investments. This year, we have signed key MOU's with Korea Airports Corporation and also with POSCO. A Korean school and a Korean TV station started operations in Nairobi at the beginning of this year. We also staged our first Kenya Cultural Day in Korea and the Kenya Community in Korea started a publication of a quarterly newsletter called "Jambo Kenya Korea". For the reminder of my tenure in Seoul, I would like to see a more balanced bilateral trade and more cultural exchange programs. In particular I would like more interaction in education, science, and technology.
Q5: Could you explain about the economic cooperation between the two nations? Would you elaborate on Korean investments to your country or vice versa?
A5:
Kenya and Korea signed a joint economic commission in 1977. We also have a Bilateral Air Service Agreement with code sharing between Kenya Airways and Korean Air where Korean Air operates between Seoul and Bangkok while Kenya Airways covers the route Bangkok Nairobi. Many Korean companies including Samsung, LG, Hyundai, KIA, and Paradise Group have invested heavily in Kenya. KOICA and KOTRA also have offices in Nairobi. We also have one Kenyan entrepreneur operating under the name Kenya Enterprises who is based in Seoul.
Q6: Are there many Koreans working or visiting Kenya? What are the main jobs the Koreans in your country have?
A6:
The number of Koreans visiting Kenya is rising. 6,700 Koreans visited Kenya last year compared to 5,200 the previous year. In terms of visitors from Asia, this figure put Korea in position four after India (48,000), China (28,000), and Japan (10,000). There are about 800 Koreans living in Kenya. Most of them are businessmen or missionaries.
Q7: Roughly how many Kenyans are staying in South Korea? What occupation are they in?
A7:
We have about 200 Kenyans living in Korea and about 80 percent are students. KOICA and EXIM Bank have been very supportive in awarding scholarships.
Q8: What would be the ideal role South Korean government and the Korean people can play for your country or for your people?
A8:
The Korean government can increase grants and concessionary loans in science and technology, agriculture, education, and health. We need more Korean people to visit Kenya as investors and tourists, as well as for volunteer work.
Q9: What was the most cherished memory of your stay in Korea so far? What are the cultural differences between Kenya and Korea? Are there any similarities between the two people?
A9:
I got my the first and lasting memory of Korea when I stepped out of the airport. The country is modern and well managed. The culture is excellent and the people are disciplined. There are also many similarities between Kenyans and Koreans. On top of the list is respect accorded to the elderly. Kenyans have a lot of respect for older people.
Q10: Please tell us about personal hobbies? Do you have many local Korean friends? Also would you tell us about your family? Are they all living in Seoul with you? Are they students or do they have jobs?
A10:
My hobby has been sports, mainly squash and chess; then traveling, I have been to more than 300 cities; and finally writing opinion articles. I have published more than 500 articles with various international newspapers and magazines. I have a spouse and three children. The first born is a son and second is a daughter. They are both in Nairobi for their university undergraduate studies. The third born is a son and is in grade 5 here in Seoul. For inquiries, contact the Embassy of the Republic of Kenya, by telephone at 3785-2903-4 or email at kenyaemb@kor.net . To contact the Kenya Community in Korea email kenyakorea@gmail.com or visit kenyansinsouthkorea.wordpress.com