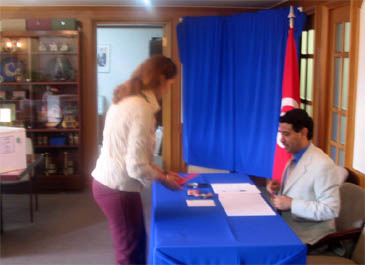 A polling center set up at Tunisian Embassy in Seoul
A polling center for the presidential elections was opened from Oct. 16 until Oct. 23, 2004 at the Tunisian Embassy in Seoul, to enable the small Tunisian community in South Korea to cast their votes. a spokesman for Tunisian Embassy in Seoul said.Voters will choose between four candidates: the incumbent President Zine El Abidine Ben Ali, Mr. Mohamed Bouchiha, Secretary general of the Popular Unity Party (PUP), Mr. Mounir Beji, chairman of the Social Liberal Party (PSL), and Mr. Mohamed Ali Halouani chairman of "Ettajdid Movement,"The Tunisian government provided all conditions to ensure the transparency of the elections and to facilitate foreign observers to attend the elections and follow the electoral process.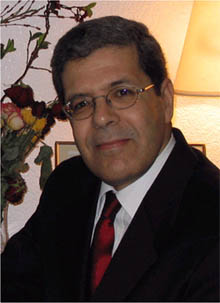 His Excellency Othman Jerandi
Before these elections, the incumbent President Ben Ali has been nominated by the Democratic Constitutional Rally (RCD). His candidacy was also endorsed by two other opposition parties — the Democratic Unionist Union (UDU) and the Social Democratic Movement Party (MDS) — and has received the support of major national organizations and unions in the country.According to observers, these elections reflect the maturity and progress achieved in the Tunisian political life, especially following the constitutional reform adopted by a referendum June 1, 2002.The referendum consolidated the institutions of the republic and reinforced their representation by widening popular representation through the establishment of a second legislative chamber in addition to the Chamber of Deputies, by establishing new mechanisms for the Parliament's control over the Government's work, by fostering plurality in presidential candidacies, through the establishment of the system of two-round elections, and by consecrating the people's right to choose their country's leader.Furthermore, a constitutional law was enacted to further relax the requirements for candidacy to the presidency of the Republic.Moreover, the Electoral Code, which has been amended, ensures further neutrality on the part of the administration and reinforces the transparency of the election process. The role of observers at all stages of this process, during the voting operation and during the counting of votes, has been fostered.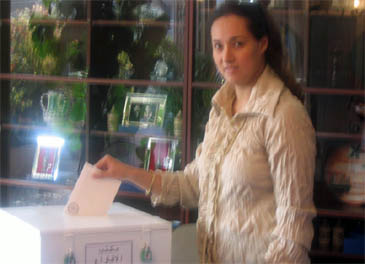 A Urnisian woman casts her vote at Tunisian Embassy.
At a time when many countries are reviewing their policies and approaches, Tunisia can pride itself on the soundness of its choices which allow it to look to the future with great optimism and ambition. Seven political parties are represented at the Tunisian Parliament while women hold 11.5 percent of the seats.Democracy has been consecrated also in municipal councils, with the presence of Opposition and independent parties, and with of over 20 percent. The associative fabric has been reinforced, and civil society organizations have considerably increased in number and influence.Out of a total population of 10 millions, the total number of Tunisian voters of both genders currently amounts to 4.7 millions. The results of these elections will appear October 25, 2004.