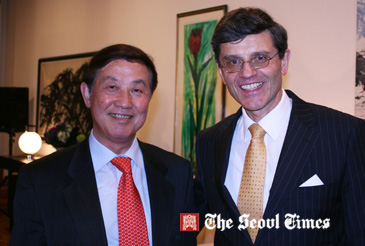 Press Officer Doe Phil-Young (left) of the German Embassy in Seoul poses with German Ambassador Hans-Ulrich Seidt.
German Ambassador to Seoul Hans-Ulrich Seidt and his spouse, Madam Marita Seidt invited a group of high-profile journalists for a dinner on March 5, 2012 at his residence in Seoul's Seongbuk-dong to honor a senior press officer, Mr. Doe Phil-Young, who has been serving in that capacity at the German Embassy in Seoul for the last 40 consecutive years.Among the invitees were President Lee Sang-Seok of Hankook Ilbo; a major local daily; Editorial Page Editor Choi Nam-Hyun of the Korea Herald ; Managing Editor Chon Shi-Yong of the Korea Herald; Managing Editor Joseph Joh of The Seoul Times; and Spokesman Shin Kyoung-Min of the main opposition Democratic United Party, former news anchor of the local MBC network TV.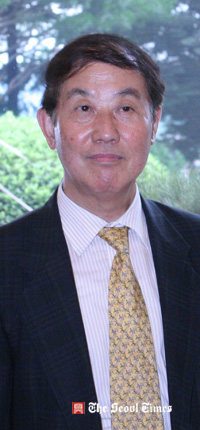 Mr. Doe Phil-Young
They were some of the local journalists Mr. Doe has befriended over the last several decades.Looking back over 40 years of his service at the Germany Embassy in Seoul's Dongbinggo-dong Mr. Doe recalls March of 1993 when then Chancellor Helmut Kohl visited Seoul."When in Seoul Chancellor Kohl refused to use the nice limousine service provided by South Korean government, instead he used a bus with the delegation members," Mr. Doe recollected. "He was speaking on the Bridge of No Return in DMZ area and I was deeply touched by his speech wishing the reunification of the divided North and South Korea"At 65 Mr. Doe is the embassy staff who is the longest serving in the area of Seoul's diplomatic community.It was in 1972 when he started working at the German Embassy in Seoul."Over the last 40 years the bilateral ties between Germany and South Korea has developed remarkably," he reminisced. "Back then the bilateral trade between South Korea and then West Germany was only 118 million US dollars, but last year it was 26.5 billion US dollars"He said that until 1980s South Koreans learned a lot from the examples of so-called "Miracle on Rhine," which referred to the fast economic development of West Germany after the destruction of World War Two.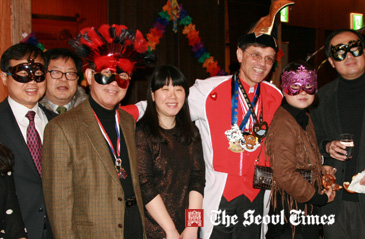 Mr. Doe Phil-Young (3rd from left) poses with German Ambassador Hans-Ulrich Seidt.(3rd from right) and other friends.
"But, German politicians and businesspeople were surprised at the economic development and success of South Korea, which is called "Miracle on Han River," he said.Mr. Doe recalls the reunification of East and West Germany in 1990 after the fall of Berlin Walls in 1989 as the most memorable event."All the eyes and ears of entire Korean people were focused on the Germany back then," he remembered. "I helped an army of South Korean journalists for their coverage of the reunification process of the Germany"As a press officer of the German Embassy Mr. Doe has become eyes and ears of the local Korean journalists for their coverage of anything about Germany over the last four decades.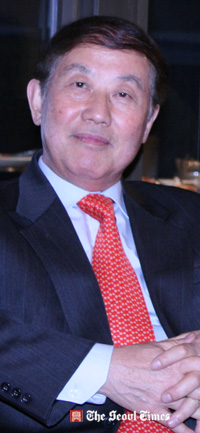 Mr. Doe Phil-Young
Mr. Doe has taken care of the politicians from both nations at the time of their visit to each other's nation.He has helped South Korean politicians and business leaders with their visit to Germany.Equally, he also was highly helpful in assisting seven German heads of states for their visit to Seoul. They included former German Chancellor Helmut Schmidt and ex-President Richard von Weizsäcker."Over 30 years ago South Korans were not able to watch soccer games on TV when Korea's Cha Bum-Kun was a star soccer player in the Bundesliga, a professional football league in Germany," he said."Finally the local MBC TV managed to buy the rights for the coverage of the German league," he said. "I mediated between MBC and the league for the coverage rights"Asked about the merits of German culture he praised the ripened political culture of German."Germans respect the reasonable decisions made by the majority and I think that's part of the German political culture," he added. "We need to learn that aspect of the political culture"Mr. Doe was supposed to retire in March this year after 40 years of his service at the embassy, but he has extension for one more year."After retirement I would like to serve for the need folks and the society for the remainder of my life," he said about his future plan.Mr. Doe graduated from Hanyang University's Engineering College. He attended Gyeongdong High School in Seoul.Mr. Doe worked for Union Steel Co. briefly prior to his service at the German Embassy.He is married. He has one daughter and one son between him and his wife.