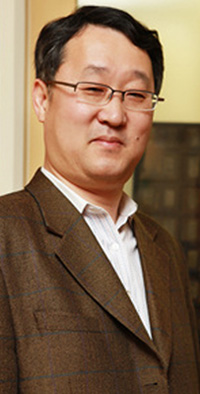 Prof. Kim Nam-Il of
Kyung Hee University College of Oriental Medicine

Globalizing Korean Oriental Medicine Special report of Korea's oriental medicine getting globalized has been made by Arirang TV recently. The English-language local TV quoted several experts and patients for this topic.The following is the text of the full story."Donguibogam" is a Korean medical text compiled by Heo Jun, a renowned doctor in the 17th century. At the time, it had a profound influence on medicine across East Asia, and today, its value is being recognized anew.
In 2009, the 400-year-old treaties became the first medical text to be registered into the UNESCO Memory of the World Programme.
Interview : Kim Nam-il, Professor
Kyung Hee University College of Oriental Medicine

"The registration of "Donguibogam" into the UNESCO Memory of the World Programme is a milestone achievement in laying the groundwork for Korean Oriental medicine to take off in the world market. It is a critical starting point in globalizing Korean Oriental medicine."UNESCO even went so far as to designate 2013 as the "Donguibogam Year" to commemorate its 400th anniversary. At the inauguration ceremony of the 2013 Sancheong World Traditional Medicine EXPO, oriental medical doctors and other important figures in Korea gathered to discuss the future of "Donguibogam.""Donguibogam" was written in Sancheong, located in Mt. Jiri's Cheongjeong[청정] Valley.This place represents the past, present, and future of Korean Oriental medicine.The 2013 EXPO is sure to take Korean medicine a step further toward greater publicity and recognition.
Interview : Park Tae-gap, Planning director
2013 Sancheong World Traditional Medicine Expo
"Practitioners of oriental medicine from over 50 countries will gather here in Sancheong to learn about the developments in the world's traditional medicine. They will also get to learn about the excellence of Korean Oriental medicine and the culture of "Donguibogam." It will be an invaluable opportunity to assess the future prospects of Korean traditional medicine and the business of oriental medical tourism in Korea."The Jaseng Hospital of Oriental Medicine is renowned for its non-invasive procedures on spinal disorders.
Patients flock to Dr. Raimund[라이문트] Royer, who is the first Westerner to take on Korean medicine.
Interview : Raimund Royer, Head of the International Clinic
Jaseng Hospital of Oriental Medicine
"I see actually a bright future for Korean traditional medicine. I've practiced it myself for more than 10 years, and I see the effects and benefits. And I think if people in other countries also see, recognize, and feel its benefits, I think more and more people will decide to get this kind of treatment."In fact, their number of foreign patients increased 3.6-fold in the last four years.An international clinic was opened to accomodate the growing number of foreign patients in this hospital. Bilingual doctors and coordinators are in staff to assist them, and instructions on how to consume each medicine are available in many different languages. Patients may also receive their prescription medications by mail, even after they've returned to their home countries.
Interview : Alan Dialon, Recipient of non-invasive spinal treatment Italy
"With each treatment, I always feel much better. As I've told the doctor, sometimes the relief lasts through the day, other times, it lasts well into the week. But generally with each visit, in my mind, it gets progressively better."Korean Oriental medicine will continue to evolve. Ampoules and capsules, for instance, are being developed to make consumption of herbal medicines easier.
They are also being packed into portable sizes without compromising their effectiveness.
Interview : Park Dong-su, Director
Micheum Oriental Medical Clinic
"Herbal medicine usually comes in a 150cc vial, and it's consumed three times a day for a total amount of 450cc. We've concentrated it to 10cc, or 1/45 of the original volume. Since it has the same effects, a lot of women love it for its convenient size."A pill a day containing medicinal herbs is enough to do the trick for women who are looking to slim down.
The cinnamon in this belly-button patch is also known to help weight loss by stimulating metabolism and removing toxin from the body.
These inventions are free of side effects and are catered to all women regardless of their body constitution.Today, multi-cultural families are taking part in a badminton tournament in Seoul. Here, oriental medical doctors have volunteered to provide free consultation to foreign residents in Korea.Korean Oriental medicine works well for everyone regardless of ethnicity. So medical volunteering is a great opportunity to spread the word about its effectiveness.Waist, ankle, and shoulder injuries are immediately taken under control with acupuncture and moxibustion.Interview: "I like it. It feels good."Honorary ambassadors Cristina and Eva are also getting their check-ups, and they can't hide their amazement in the doctors' insight.
Interview : Cristina Confalonieri, TV personality
Italy
"I'm very satisfied. I think the doctors are very well-prepared. They just got into my problems. So I hope that many Koreans and many multi-cultural families can enjoy the benefits of the Korean Oriental medicine."Korean Oriental medicine has a promising future ahead. It is sure to bring about greater medical inventions that will improve everyone's health around the world.MAR 02, 2012
Reporter : minju@arirangtv.com