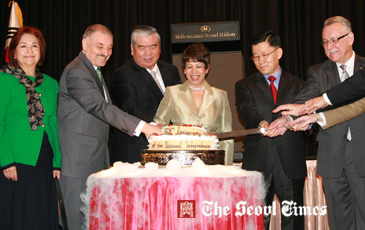 Dominican Republic Ambassador to Seoul Grecia S. Pichardo (center) cuts the cake on the occasion of its 168th Independence.
Dominican Republic Ambassador to Seoul Grecia S. Pichardo and her spouse, Mr. Victor Decamps hosted a reception at a Seoul hotel on Feb. 27, 2012 on the occasion of the 168th national day.The Dominican Republic gained its independence from Hatian rule in 1844.In its capital of Santo Domingo Dominicans celebrated their 168th anniversary of becoming independent republic.The dinner reception held by the Dominican ambassadorial couple attracted a number of high-profile guests including socres of top foreign envoys serving in Seoul's diplomatic community.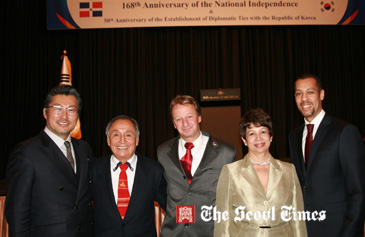 Dominican Republic Ambassador to Seoul Grecia S. Pichardo poses with Minister Counsellor Ernesto Torres Pereyra (right) and with other guests. At center is Counsellor Raoul Imbach of Swiss Embassy in Seoul and at left is Mr. James K Jeong of Brimen Partners Group.
From the South Korean government, Director General Jang Keung-Ho of Latin America & the Caribbean section of the Ministry of Foreign Affairs and Trade (MOFAT) was invited to the reception.Mr. Jang delivered a congratulatory speech.
In a welcoming speech Amb. Pichardo said that this year of 2012 marks the 50th anniversary of the establishment of diplomatic ties between Dominican Republic and South Korea.She also stressed the need for even greater cooperations of the two countries in such fields as E-learning, publich administration, and telecommunications.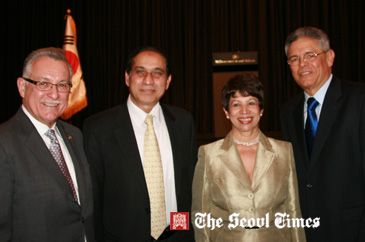 Dominican Republic Ambassador to Seoul Grecia S. Pichardo (2nd from right) poses with her spouse, Mr. Victor Decamps (right), Guatmalan Ambassador Rafael A. Salazar (left), and with Pakstani Ambassador Shaukat Ali Mukadam.
The reception attracted some 200 guests including scores of foreign envoys serving in Seoul.Dominican Republic sanctioned the Republic of Korea in December of 1948. During the Korean War (1950-53) in which Communist North Korea attacked South Korea, Dominican government donated 10,000 US dollars to South Korea.The two countries formally established diplomatic ties on June 6, 1962. And on Sept. 27, 2007, Dominican Republic formed official diplomatic relations with North Korea as well.Thus Dominican Republic has become the country which has diplomatic ties with both Koreas.In 2006 Dominican President Leonel Fernández visited Seoul after a number of exchanges between high-level officials of both countries were made.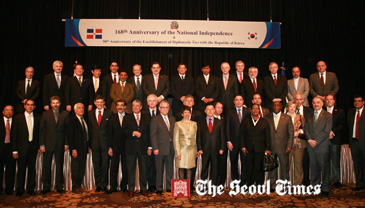 Dominican Republic Ambassador to Seoul Grecia S. Pichardo (center) poses with other top foreign envoys in Seoul.
The Dominican Republic
The Dominican Republic was explored by Columbus on his first voyage in 1492. He named it La Española, and his son, Diego, was its first viceroy. The capital, Santo Domingo, founded in 1496, is the oldest European settlement in the Western Hemisphere.Spain ceded the colony to France in 1795, and Haitian blacks under Toussaint L'Ouverture conquered it in 1801. In 1808, the people revolted and captured Santo Domingo the next year, setting up the first republic. Spain regained title to the colony in 1814.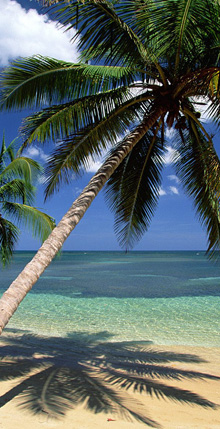 Beach in Dominican Republic
In 1821 Spanish rule was overthrown, but in 1822 the colony was reconquered by the Haitians. In 1844, the Haitians were thrown out and the Dominican Republic was established, headed by Pedro Santana. Uprisings and Haitian attacks led Santana to make the country a province of Spain from 1861 to 1865.President Buenaventura Báez, faced with an economy in shambles, attempted to have the country annexed to the U.S. in 1870, but the U.S. Senate refused to ratify a treaty of annexation. Disorder continued until the dictatorship of Ulíses Heureaux; in 1916, when chaos broke out again, the U.S. sent in a contingent of marines, who remained until 1924.A sergeant in the Dominican army trained by the marines, Rafaél Leonides Trujillo Molina, overthrew Horacio Vásquez in 1930 and established a dictatorship that lasted until his assassination in 1961, 31 years later. In 1962, Juan Bosch of the leftist Dominican Revolutionary Party, became the first democratically elected president in four decades.For details or inquiries please contact the Dominican Republic Embassy in Seoul at 02-756-3513.
Celebration Speech
27th of February, 2012His Excellency Jang Keung-HoDirector General for Latin America & the CaribbeanMinister of Foreign Affairs of the Republic of KoreaExcellencies and colleagues from the Diplomatic CorpsDistinguished GuestsLadies and GentlemenGood afternoon1. First of all, allow me to express to each and everyone of you my sincere gratitude for accompanying us in the celebration of 168th Anniversary of our National Independence.The Dominican Republic is located on the Island of Hispaniola, in the heart of the Caribbean. We are proud to say that our country, as described by Christopher Columbus when he first set foot in the Americas in 1492, is "one of the most magnificent and breathtaking places on earth". And it's precisely this outstanding beauty combined with our rich history and vibrant culture that brings more than four million tourists to our shores every year.2012 is particularly significant year for us, since it marks the 50th Anniversary of the Establishment of Diplomatic Relations between the Dominican Republic and the Republic of Korea.On behalf of the Government of Dominican Republic, it is indeed a great honor and pleasure for me to extend my warmest congratulations and best wishes to the Government and people of Republic of Korea on this auspicious occasion.2. I also wish to take this opportunity to convey my deep appreciation and gratitude to the Korean government, for all of the assistance and support offered to our Embassy in the tireless effort of enhancing the bilateral relations. The enthusiasm and dynamism of all of the different agencies in the Korean Government have been key elements in the effective promotion and consolidation of our ties.ExcellenciesLadies and Gentlemen,Fifty years is an important milestone, and today we embrace the history that was created on June 6th of 1962 in a moment of transcendental social and political change in both of our countries, with the formalization of our diplomatic ties, to establish a closer relationship of solidarity and cooperation which has steadily grown and fortified through the years. Our bilateral relationship was greatly heightened with the official visit of President Leonel Fernandez, in 2006. Both countries then expanded their partnership to many areas beyond trade and investment, and we feel very pleased to say that we have been progressively emulating Korea's development experience in our own process of development as undisputed leaders in the Caribbean region.One of the most successful initiatives of this dynamic exchange is our Knowledge Sharing Program with the KDI, intended to expand and strengthen our country's export capacity following the Korean paradigm. It's the first of its kind in our continent and is considered a benchmark due to its impeccable implementation.We can also refer to the Customs Modernization Project, carried out with Korean technology and know-how, which has turned our Customs into one of the most efficient and professional in the region.E-Learning, Public Administration, Telecommunications, Power Generation, Food Research, Biotechnology, among other; are areas where intense cooperation is being developed.The potential for cooperation and mutual growth seems unlimited; however, economic progress has to go hand in hand with individual development. We would like to emphasize the importance of the formation and preparation of human resources and capacity building, areas where we wish to enhance our collaboration to a new and greater level in the near future.3. In looking at the current state of bilateral relations between Dominican Republic and Republic of Korea, we can conclude that it is on a firm foundation. However, there are certainly prospects to further strengthen and expand our relations.Thank you!
For details or inquiries please contact the Dominican Republic Embassy in Seoul at 756-3513.