National
Thierry Mariani Calls for More Use of Its Ports
French Transport Minister Visits Incheon, Busan
By Yoon Seung-Won
Staff Writer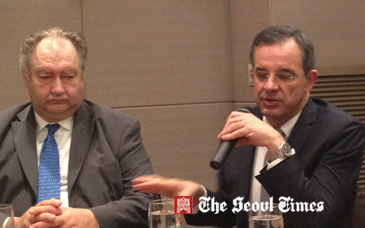 French Transport Minister Thierry Mariani talks to the local Korean journalists at a Seoul hotel on March 17, 2012. At left is Mr. Francois Soulet de Brugiere, chairman of Union des Ports de France. They visited S. Korea from March 17 to March 18, 2012.
French Transport Minister Thierry Mariani met with local journalists to brief about the "excellence and know-how of the French ports" at the press conference held at the Novotel Ambassador Gangnam in Seoul on March 17, 2012.Minister Mariani showed up with Mr. Francois Soulet de Brugiere, chairman of Union des Ports de France, in the press conference.In a short address The French minister stressed that French ports are ready to give services for Asian export and import companies.The chairman talked about "excellence and know-how of the French ports."He said that the union manages 41 ports in France and abroad. Among them seven ports are in France. He has a big interest in freight of containers travelling the route between Asian and European countries. He cited a unique geographical location and multiple transport networks between France and the rest of Europe as French ports' good points.France is at the crossroads between Northern Europe and the Mediterranean, on the edge of the Atlantic Ocean and with easy access to continental Europe. So it could be a natural gate way to the European market. Especially, France's No.1 port, Le Havre, has served as a gateway to Europe.Beyond its gifted geographical location, France has a strong connection between waterways and roadways. The strong connection has led to reduced congestion problems which other ports still have.With simplifying and digitalizing the tariff process, the French government could see the increase in productivity.He added that ports in France are connected to docks directly, and have large areas for building new infrastructure. And in order to accommodate big containers, French ports made their docks longer.He said they aim at unifying the whole European continent and transporting in a more sophisticated and intelligent way by intensifying the connection between waterway and roadway.Also their strategy is to take control of home market and to pioneer a new market in Europe when it comes to transporting.The minister visited South Korea from March 17 to March 18, 2012.The 15-member delegation including the chairman accompanied him on his trip to Seoul.During their two-day stay in South Korea the French minister and the delegates visited South Korea's major ports: Incheon and Busan.Also they met with the local professionals of the sea transport, and with businesspeople as well as port authorities.The French business delegation included Senator Yves Pozzo Di Borgo and high level professionals such as Christine Cabau, chairwoman of the Dunkerque's port managing board, Jean-Pierre Chalus, chairman of Nantes-Saint Nazaire's port managing board, Jean-Claude Terrier, chairman of Marseilles' port managing board, Hervé Martel, chairman of Paris's port managing board, François Soulet de Brugière, president of France's Ports Association (Union des Ports de France) etc.The French minister and his delegation members visited such other Asian ports as Shenzhen, Hong Kong, and Tokyo during their Asia trip scheduled from March 14 through March 20, 2012.One year ago, the French government initiated a reform project for their ports.Since then the reform has had a tremendous impact on the organization and the running of French ports.As a result, the French ports are considered to be more efficient, more reliable, and more modernized, according to the experts.Finally, the competitiveness of the seven major ports in France has been sharpened.They are comparable now to their main rivals including Rotterdam and Anvers in Europe.The 54-year-old French minister majored in international law. He has been serving as transport minister since September of 2010.Mariani started a career in politics in 1976 around the same as Nicolas Sarkozy.He was a member of the Parliament between 1993 and 2010.From 1989 to 2005 he held such local positions as mayor of Valréas (Vaucluse).For details or inquiries please contact the French Embassy in Seoul at 011-9701-7093.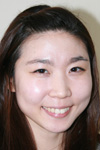 Ms. Yoon Seung-Won serves as a staff writer for The Seoul Times. She graduated from Ewha Woman's University with a fine art major. Previously she attended both Sunhwa Arts School and Sunhwa Arts High School. She covers Seoul's diplomatic community, medical tourism areas, and cultural affairs.