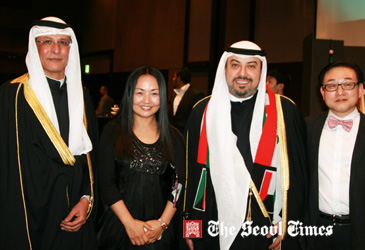 Kuwaiti Ambassador to Seoul Muteb Al Mutoteh (left) poses with guests at the reception of its 51st National Day held in Seoul.
Kuwaiti Ambassador to Seoul Muteb Al Mutoteh hosted a reception on Feb. 27, 2012 at Shilla Hotel in Seoul to celebrate its 51st National Day and the 21th anniversary of liberation of the state of Kuwait.Hundreds of high-profile guests from all walks of life were invited to the reception. Among the guests were scores of top foreign envoys accredited to Seoul.South Korea and Kuwait have had long-standing and truly fraternal relations since the two nations established diplomatic ties on June 11, 1972.Earlier in 1972, South Korea opened a trade representative in Kuwait. A South Korean consul general was sent to the oil-rich Middle Eastern nation.It was on July 17, 1979 that South Korean opened its embassy in Kuwait. Kuwait established its embassy in Seoul on Oct. 5, 1992.An aviation agreement was signed between Kuwait and South Korea in 1981.In 1983, a series of agreements were signed to promote trade and sports exchanges.In 1987 the two nations agreed to promote information technology.During the 1988 Seoul Summer Olympics Kuwait dispatched athletes and the staff to Seoul.On two occasions South Korea dispatched its troops to Kuwait at the suggestion of the United States.It was during the Gulf War (Aug 2, 1990 to Feb. 28, 1991) that South Korea dispatched its troops — medical and transportation delegations — to Kuwait as part of the multinational peacekeeping troops led by the United States. They contributed to the reconstruction of the Middle East country.When the Second Gulf War broke out in 2003 Seoul sent Zaytun Division to Kuwait for peace and reconstruction of the nation. The division stayed there from 2004 to 2008.Kuwait maintains diplomatic relations with North Korea. In 2003 North Korea opened its embassy in Kuwait.Earlier than that North Korea opened a trade representative in Kuwait in 1970 based on the bilateral trade agreement.In 1970s Kuwait served as a huge market for South Korean construction companies. The oil-rich nation attracted scores of construction corporations and other related businesses from South Korea.South Korea suffers from serious trade imbalance with Kuwait.In 1991 South Korea imported 294 million US dollars worth of goods including oil from Kuwait. In the year South Korea stopped short of exporting 1.3 million US dollars worth of goods to Kuwait.In 2007 Kuwait exported to South Korea 10 billion US dollars worth of mostly oil whereas South Korea exported to Kuwait 1.3 billion US dollars worth of goods including automobiles and electronic goods.In 2010 the trade volume between the two countries reached to $11.9 billion.In 2011 the bilateral trade volume jumped to 18.3 billion US dollars. Kuwait imported from South Korea 1.4 billion worth of goods whereas Kuwait exported 16.9 billion US dollars worth of oil to South Korea.
As of now, such South Korean business giants as Hyundai Construction, SK Construction, Daelim Engineering, and Samsung Construction are operating in Kuwait.The ethnic Korean community in Kuwait was built in 1975.In its hay day the total population of it grew to 2,000. The full-day Korean schools were operating until the Korean community was rapidly shrank after the outbreak of the two Gulf Wars.It was reduced to less than 100 at the height of the war in 2003. But, the number was recovered to 500 in 2004.As of 2011 up to 1,000 Koreans live in Kuwait. Among them are 800 Korean workers sent to the local offices there and their families. The other 200 are permanent residents who immigrated to the Middle Eastern nation.
For details or inquiries contact the Kuwaiti Embassy in Seoul at 749-3688/9.