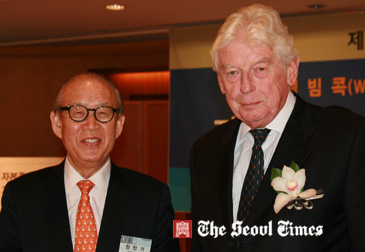 Dutch ex-Prime Minister Wim Kok (right) poses with KHDI Chairman Chang Man-Key after his speech at KDHI forum.
"Capitalist system is in crisis nowadays and they have to find out a way out and a way forward," warned the Dutch ex-Prime Minister Wim Kok at a recent gathering in Seoul.At the breakfast forum held at Lotte Hotel in downtown Seoul on March 8, 2012 Mr. Kok blamed the capitalist system, arguing that the current debt crisis in the US and Europe was caused by excessive greed in the banking sector.He said that major social players — management, labor, government officials, and politicians — should take more responsibility in order to save the capitalism.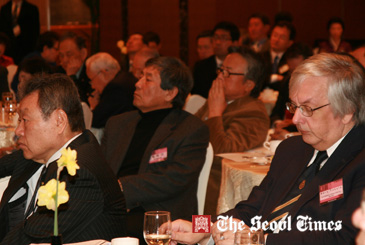 "Anglo-Saxon capitalism needs to be reformed," Mr. Kok said. "It has to be capitalism with human face"He stressed the necessity of a paradigm shift from "Cool Capitalism to Warm Capitalism" in his speech at the breakfast forum.The forum was arranged by Chairman Chang Man-Key of the Korean Human Development Institute (KHDI).Amid the worldwide financial crisis he praised South Korea and Asia's other economic powers for preventing the world from entering into a global recession.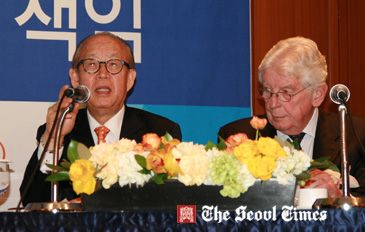 KHDI Chairman Chang Man-Key (left) introduces Dutch ex-Prime Minister Wim Kok to the audience at KDHI forum.
He argued that too much government control does not work but the "wisdom of market" does not work either.He emphasized "fairness and inclusiveness" as the core values in the society.Mr. Kok also put the emphasis on the government's role in and responsibility for keeping the right balance between economic growth and social cohesion.At the end of his speech Mr. Kok said that "mutual respect and understanding and dialogue" are the key to sustain the capitalism.Some foreign envoys — Guatemalan Ambassador Rafael A. Salazar, Dutch Ambassador Paul Menkveld, and Mr. Mark Tokola, deputy head of mission of the US Embassy in Seoul — were invited to the forum, which was filled hundreds of high-profile guests.
Wim Kok's Frequent Visit to Seoul
Dutch ex-Prime Minister Wim Kok
The former Dutch Prime Minister Wim Kok is arguably the most favored European politicians by the South Korean government, politicians, business leaders and labor circles as well.Kok has been one of the most popular foreign leaders invited so frequently to South Korea. Nearly every year or sometimes several times a year he gets invited to the nation on a number of occasions.Here are some of the examples of his visit to Korea.From June 9 to June 12, 1996 Kok visited South Korea via Kimpo Airport at the invitation of then President Kim Young-Sam. He had summit with Kim at Cheongwadae on June 10, 2012.In late May of 2005 Kok visited South Korea to speak at a gathering in Seoul on "Labor Reforms of the Netherlands and Social Dialogue." He met with leaders of both labor and management circles during his stay of several days in Seoul. He came to Seoul at the invitation of the Korea Labor Institute.In early November 2009 Kok visited Seoul to give advice to the construction of the 33-km-long Saemangeum Seawall, the world's longest man-made dyke on the southwest coast of the Korean Peninsula.He was appointed by the South Korean government as honorary advisor for the Saemangeum Reclamation Project, which was under attack from the conservationists and environmentalists. Saemangeum is the world's largest ongoing tidal-flat reclamation project.On Nov. 4, 2009 Kok met with then Prime Minister Chung Woon-Chan at his Seoul office.He took part in the "2009 Samangeum International Conference" held on Nov. 5, 2009. At the conference Kok praised that the Samangeum project can serve as the center of Northeast Asian economy.In early September of 2010 Kok visited South Korea to attend the pre-G20 gathering held in Seoul. He brought a dozen of his Madrid Club members with him on his trip to Seoul.In mid-July of 2011 Kok came to Korea to attend a conference on labor, management, and government, held in Seoul on July 13, 2011. Kok met with then Labor Minister Lee Phil-Jae on the day.As recently as February of 2012, Kok visited Seoul again. He was invited to "Global Korea 2012" conference held at Lotte Hotel in Seoul on Feb. 23, 2012.The former Dutch premiere spoke on the need for the attainment of more inclusive and fairer society in the conference.
Who Is Wim Kok?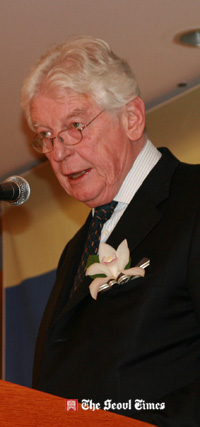 Dutch ex-Prime Minister Wim Kok
Willem "Wim" Kok was born on Sept. 29, 1938. He is a retired Dutch politician of the social democratic Labor Party (PvdA). He served as prime minister of the Netherlands from August 22, 1994 until July 22, 2002.He previously served as a member of the House of Representatives from June 3, 1986 until November 6, 1989.Kok succeeded Joop den Uyl as the Labor Party leader and Parliamentary leader in the House of Representatives in 1986 when the leader retired. Kok served as the parliamentary leader for three years.After that, Kok became minister of finance and deputy prime minister in the Cabinet Lubbers III and served in two positions from Nov.7, 1989 until August 22, 1994.In 1994 Kok won the Dutch general election, becoming prime minister of the Netherlands.Serving as Dutch premiere twice from 1994 till 2002 Kok earned the status of statesman by his fellow European leaders.When his premiership ended Kok retired from active politics.Even if he left politics that does not mean that his political influence ended as well. He still enjoys international popularity, wielding high influence on the politics of many countries. Kok is one of the most favored global personalities most frequently invited to South Korea.He became a lobbyist for the European Union. Currently he is the president of the Club of Madrid, which is an independent non-profit organization created in 2001 to promote global democracy.The largest forum of former heads of state and government has currently 80 ex-presidents or prime ministers from 56 countries.On April 11, 2003, he was granted the honorary title of Minister of State. Only seven politicians have been given the title in the history of the Netherlands.