Europe
French Election Saga
Left Moves to Far-Left, Right Moves to Far-Right
By Abhishek Joshi
Associate Editor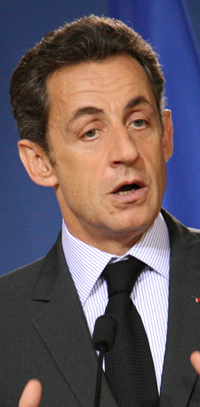 French President Nicolas Sarkozy
The French Presidential election will see ten politicians battling it out on 22 April to stake claim to Élysée Palace for the next five years. While Francois Hollande, the Socialist candidate, remains favorite to win the polls, Nicolas Sarkozy, the incumbent, is not far behind. The run-off on 6 May is inevitable, and Messrs. Sarkozy and Hollande understand this reality. The surge of Jean-Luc Mélenchon, who belongs to Front de Gauche, also known as FdG, adds a new twist to the elections. Messrs. Mélenchon and Hollande are competing for the leftist and socialist votes in France. Mr. Mélenchon has gained much prominence in last few weeks with his incessant demand to reject the austerity measures through an uprising or a revolution, as he likes to think.Jean-Luc Mélenchon's sudden rise has made Francois Hollande worry so much about his far-left base that Mr. Hollande's move to further left do not come as a surprise. Recently, Mr. Hollande proposed increasing the top income-tax tariff to 75% for people earning more than 1 Million Euros. Mr. Mélenchon's charisma was visible on March 18 when he thundered "people of rebellions" while marching with tens of thousands of people before gathering at Bastille Square. Among his many demands is asking the European Central Bank to lend cash to euro-zone, overturning the central bank's policy, incentivizing local production and industries, and halting the outsourcing and relocation of companies abroad.Worried that Mr. Mélenchon will eat away his left base, Mr. Hollande is leaving no stone unturned to move to left thus hurting his centrist base. Elsewhere in Europe the recent financial mess by euro-zone members has driven out leftist governments. Mr. Mélenchon's meteoric rise has been surprising.Among his close aides Mr. Hollande says that he would be a centrist leader than a leftist leader as his campaign pledges insist. Mr. Hollande is quick to point out that his income-tax raise would affect very few people – and only very wealthy, and that his policies will lead to wage rise. On the right, President Sarkozy has donned the hat of a nationalist. He is trying to woo Marine Le Pen's voters. President Sarkozy has been calling to limit immigration, and threatening to take France out of Schengen Convention, which permits Europeans of all nationalities to travel anywhere in Europe without a passport, reeks of political opportunism, but it conflicts with his efforts to project himself as a statesman. Among his many pledges are imposing minimum taxes and compulsory labeling of Halal meat. Experts doubt that President Sarkozy would implement his anti-immigration rhetoric once elected. There is no doubt that Sarkozy's pledges are dooming his campaign. Public anger with the economic crisis in France and Sarkozy's inability to readily solve the problems had sunk his popularity to an all-time low.Euro-zone diplomats say that President Sarkozy's threat to pull out of Schengen Convention is nothing but moonlighting his sinking campaign. Reuters quoted Mats Persson, director of the London-based Euro skeptical think-tank Open Euro, saying, "It's very unlikely that he would go ahead and suspend Schengen membership because that would mean major disruption". Mats Persson opined that both of President Sarkozy's promises would be difficult to deliver on.Reuters quoted Eurasia analyst Antonio Barroso saying that imposing unilateral trade protectionist measures would violate EU treaties and could land Paris in court. "(It) would entail a violation of treaties and would bring about infringement procedures by the Commission".Many of his opponents think that Sarkozy cannot pull this off. "You'd have to be crazy to think we are going to rehire customs agents and re-establish frontier posts in France," said centrist presidential rival Francois Bayrou. "Everyone knows that won't happen. We will not take that big a step backwards."Mr. Hollande's moves to far-left and President Sarkozy's drift to right have left a wide center ground that any of the frontrunners can occupy to win the French elections. The aides close to Sarkozy say that the President has got an opening and he should now tone down his rhetoric to woo the disgruntled centrists and moderates on the right.

Related Articles
Crimea Crisis
Sarkozy's Financial Transaction Tax, ...
NRI's Dandi 2.0
Blame the Pitches, Mate!!
"S. Korea Can Learn from Australian Experience ...
Midterm -- Democrats' Curse for Obama's 2012?
Yet Another Apology, Eh?
Liberal Democrats Should Support Conservatives
Is it the End of European Dream?
Can Park Stall Chung and Lee's Sejong City?
What Effect Will Dalai Lama Have on Chimerica?
"President Should Not Confuse People for ...
"Pakistan Also Hub to Middle East, Central ...
Model Six-Party Talks
Yukio Hatoyama: 100 Days, East Asia and U.S.
Pakistani Envoy Talks with Local Journalists
Whom to Blame: Law or Men?
A Different Korea Sparkling
Is Corruption Cool and Acceptable?
Who Else Has the Right to Vote?
Indian Embassy Celebrates the Republic Day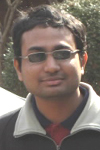 Mr. Abhishek Joshi serves as associate editor of The Seoul Times. He graduated from the School of Electrical Engineering of Seoul National University. He was also a member of SNU Quill, first English magazine from Seoul National University, as a writer.