Business
Yawning Trade Imbalances Are Driving the Current Global Economic Situation
By Clem Chambers
Senior Markets Correspondent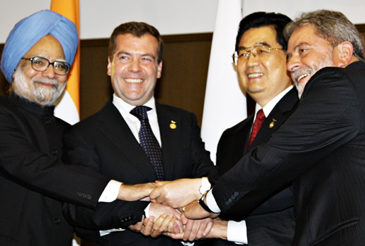 Heads of state from BRICs (Brazil, Russia, India, and China)
The developed world runs trade deficits and the developing world runs surpluses. This one-way economic flow is behind the BRICs phenomenon; Brazil, Russia, India and China have flourished dramatically, while Europe and the US have withered.When (an already disadvantaged) Europe hit the limits of economic and fiscal mismanagement, a crisis affecting the entire global system was created.For now, this emergency appears to be over. A trillion euros worth of European Central Bank (ECB) intervention later, government bonds and European banks have now been stabilised.This year will see a more integrated" United States of Europe" take a further step towards federalisation.The three "bellwethers" of crisis are Spanish and Italian bond yields, and the Yen. The lower the bond yields of these endangered countries and the weaker the Yen - a haven in volatile times - the more certain you can be that the European crisis is under control.Across the Atlantic, America stands on the edge of its own credit crisis. It's not likely to happen this (election) year, but it's likely a government credit crunch will occur in 2013. Finances in the US continue to spin out of control – the country simply cannot indefinitely maintain a half a trillion dollar trade deficit and a trillion dollar budget deficit.The inevitable never arrives early, however. Modern governments will go to huge lengths to maintain the status quo, even if it means creating greater troubles further down the road. America must apply the economic brakes or the market will do so on its behalf. It's unlikely economic growth will catch up with the nation's runaway deficits - a moment of crisis will come at some point, even if it's through the stealth of inflation.When the US either calls time on profligacy or is forced to rein back by markets, money flow to the developing world will be drastically curtailed.Already, Europe's difficulties have meant China's balance of payments have been up-ended for the first time in over twenty years.Future deleveraging in the US is thus set to create a slump in China and the other BRIC nations.This realignment will not necessarily be bad for the developed world if it results in the return to more sensible levels of fiscal and trade balances. However, the retrenchment is unlikely to happen quickly, so as to enable a quick comeback.As such, the BRICs "miracle" is set for a difficult and drawn-out economic time ahead, as the developed world begins to pull back on capital flow as it retreats from debt-fuelled expenditure. If Europe has indeed overcome its acute debt problems, then it will hopefully be able to realign itself economically without causing a financial and economic freeze like the one that chilled world markets this winter. Hopefully, the Greek default and the refinancing of the European financial sector with the 1,000 billion euros the ECB has created will be decisive in bringing the end to this saga. However, If the crisis comes to life again and hits Italy, Spain and France then the consequences for the US would be dire.Today, all the signals say this will not happen. In which case the US realignment of 2013 will be delayed, and potentially less traumatic. Japan's projected crisis of overextended public finances may also be resolved, without the uproar we have seen with Europe's problems. These sovereign economic issues will drive the world for the next five years.Europe and the US continue to regulate - lowering competitiveness and decreasing efficiency. The consequent financial gap is bridged via debt. BRIC countries on the other hand, continue to deregulate. Deregulation combined with capital from their trade surpluses drive their ascent. Developed 'high tax to GDP' countries are in trouble, while the developing 'low tax to GDP' countries are blooming.Until something changes, the yawning imbalances which have driven the current economic turbulence will remain. Even if the US and Europe manage to get fiscal budgets in order, unless they can reorganise their economies to be competitive again - as Germany has done - then their economies will only get poorer. Meanwhile, as central banks print oceans of money, that kind of thinking seems nowhere on the horizon.

Related Articles
"A Falling Euro Means Serious Reflation"
4 Trillion Needed to Fix Europe Crisis
Solutions to Europe's On-going Debt Crisis
If Japan Can Survive for Generation on 200% ...
Finger of "Euro Doom" Is Now Pointing at Spain
Money Flows Like Water
Policy, Money Flow Are Driving the Market
Resetting the Debt Mountian
Three Questions Facing Capitalism
New Year Will Bring More Volatility in Market
Markets Remain Volatile as Europe Seesaws ...
If Germany Is to Avoid Financial Collapse, ...
World's Economy on Course for a Crash
With Italy Now Teetering on Cliff Edge, ...
Last Week's Episode of Saga That Is Euro ...
As Euro Crisis Rises to Finale, Economic and ...
EU Must Follow UK's Lead for Credit Crisis
Political Inertia Edging Europe to Economic ...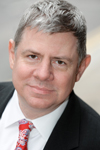 Clem Chambers serves as Senior Market Correspondent for The Seoul Times. He has been writing investment columns for a number of international media including Wired Magazine, the Daily Mail, the Daily Telegraph, the Daily Express, the Scotsman, and Forbes. He can be reached at aliceh@advfn.com His website is advfn.com