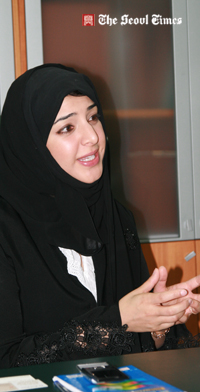 UAE State Minister
Reem Al Hashimy
UAE State Minister Reem Al Hashimy stressed the role of South Korean companies in achieving the grand project of "Vision 2030" in her recent interview at National Media Council in Abu Dhabi."Vision 2030 is to satisfy the needs of non-oil sectors," Minister Al Hashimy said.She also emphasized the importance of the clean energy needed for UAE economy to grow."Our main objective with Vision 2030 is to diversify our economy," she said. "In this course South Korea's knowledge-based economy can play a good role"We have "Vision 2030," 25-year program for the balanced economic development."Strategic development is important and we are looking for non-oil sectors," She said. "We want to establish sustainable growth"She also stressed the need for balanced development in many sectors including oil and gas, transportation, logistics, and tourism.Ms. Al Hashimy said that UAE government is focusing on economic cooperation with many countries.She stressed the economic ties with South Korea in particular."We have special and strong ties with South Korea between governments, companies and people as well," she said. "South Korea is the leader in areas of education, innovation, and technology"She said that she visited South Korea once in 2007."As you know UAE has signed many agreements with Korea recently," she said.Korean companies are flocking to UAE in recent years particularly after the 20 billion US dollar UAE nuclear power projects deal.Oil and gas, petrochemicals, construction, and heavy industry projects have been obtained by major South Korean companies.Among them are the govern-owned Korea Power Engineering Co. Inc (KEPCO), Hyundai, Samsung, Doosan Heavy Industries, Korea Nuclear Fuel Co Ltd (KNF), and Korea Plant Service and Engineering Co. Ltd (KPS).As the state minister in UAE cabinet Ms. Al Hashimy said that she is in charge of UAE's bid for "Expo 2020.""Dubai wants to host the exposition," she said. "Our rivals are Brazil, Russia, Turkey, and Thailand"She said that she will visit South Korea June 14, 2012 to attend "Expo 2012 Yeosu Korea" scheduled from May 12 to August 12, 2012.She will visit UAE Pavilion at Expo 2012 being held in South Korea port city under the theme of "Living Ocean and Coast."Sworn in as minister of state in the UAE Cabinet in February 2008 Ms. Al Hashimy is the youngest female minister. She is now 34.She said that four out of 20 UAE ministers are women including minister of foreign trade.Ms. Al Hashimy said that UAE is a very open country. "We have over 200 nationalities working in our country and we respect diversity," she said. "We have churches, temples, as well as mosques and we have religious diversity"Out of its 7.5 million populations only 15 percent are UAE citizens. They come from 207 nationalities including Egyptians, Palestinians, Yemenis, Jordanians, Omani, Pakistanis, Indians, Afghans, Iranians, Europeans, Filipinos, Chinese, and Koreans.
Profile of Reem Al Hashimy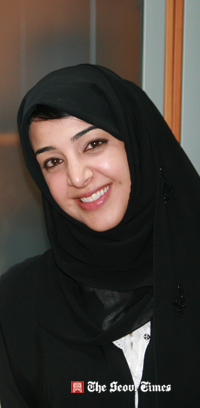 UAE State Minister
Reem Al Hashimy
Her Excellency, Reem Al Hashimy took over command as Minister of State in the Cabinet of the United Arab Emirates in February 2008. She is a force to reckon with and a household name when it comes to the UAE.Her fame began during her career as Commercial Attaché, followed by her appointment as the Deputy Chief of Missions at the Embassy of the United Arab Emirates (UAE) in Washington, D.C. Reem Al Hashimy used her high office to intensify UAE-US bilateral relationship, including security, trade as well as economic and social issues. She occupies several posts of responsibility in the UAE. Her Excellency Reem Al Hashimy, manages the International Affairs Unit of the Executive Office of His Highness Scheikh Mohammed Bin Rashid Al Maktoum, Vice President and Prime Minister of the UAE and Ruler of Dubai.Ms. Al Hashimy is the chairperson of Emirates Competitiveness Council. The Council is working on a platform of partnership with public and private entities. Such cooperation is expected to endorse policies that will drive the UAE's competitiveness agenda to achieve sustainable growth and prosperity within and out of the region.She is Chair of Dubai Cares, a UAE-based philanthropic establishment that works to improve children's access to primary education in developing nations. Dubai Cares is the world's largest NGO dedicated to primary education. Dubai Cares has moved to higher heights extending partnership with outstanding NGOs like Care International, Microsoft, the Bill and Melinda Gates Foundation, Oxfam, Room to Read, Save the Children, UNICEF and UNRWA. With programs in 20 countries, she has contributed to the influence of Dubai Cares in fighting poverty and sustainable development around the world. Her Excellency Al Hashimy is also taking the lead towards achieving the 2015, United Nations Millennium Development Goal 2.