The Korean government received a third terror warning on Tuesday Oct. 20, 2004 by a group claiming to be linked to Al-Qaida threatening to "burn Seoul and make it crumble" if Korean troops remain in Iraq."This is a second warning to the agent South Korean government — kneeling before the crusading Americans. You only have seven days or else we will burn Seoul and make it crumble," said the statement on a Web site used by terrorist organizations for such announcements.These threats have brought different reactions to many people shopping and enjoying life in one of Seoul's most widely visited tourist neighborhoods.A new arrival in Seoul, 22-year-old Judy Thomas from Australia said "I just started working here last month at a hagwon (private academy). I did a lot of research about the schools I was offered. I didn't think to do research about my own safety. I've always heard Korea was safe but this is making my adjustment period a little nerve racking."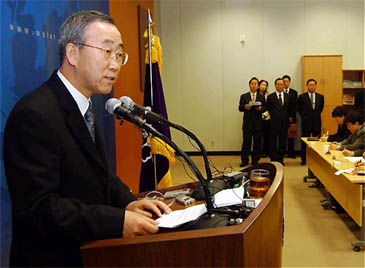 Minister Ban Wishes to Extend Troops in Iraq: Foreign Minister Ban Ki-Moon said "We need to extend for one more year the stay of Zaytun troops in Iraq" in a press briefing at the Ministry of Foreign Affairs and Trade (MOFAT) building in downtown Seoul Oct. 20, 2004.
Longtime expat Kevin Saunders said that he has never seen Itaewon so dead. "For weeks now Itaewon seems more and more quiet. Not only at nighttime but also in the daytime too. I know the soldiers have a curfew but where are all the other people."Even some of the store owners are wondering what is going on. Restaurants and bars have been recording a drop in sales because what some think the terror threats might happen in Itaewon because of the high amount of American military service personnel. "This is the today's reality. They threaten us and kill us so we have to fight back. We can't remain silent. So since we are fighting back they are using what they can to scare us," said an American soldier who wanted to remain nameless. "They are using terror. They are terrorists. Even if they do nothing they have succeeded in their attempts. That's what terrorists do, they create terror and fear even though they might not do anything," said 32-year-old English teacher Charlie Hass.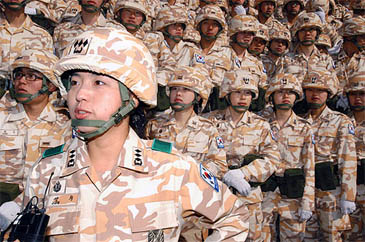 Female soldiers of S. Korea's Zaytun detachment in Iraq

The Korean government is downplaying the warnings saying that the validity of the message is "relatively low."Foreign Minister Ban Ki-Moon said that they are analyzing the warnings and keeping a tight guard on all points of entry into South Korea and diplomatic missions."With the Ramadan period beginning, terror threats have become frequent for many countries including Korea," Ban said in a weekly news briefing. "We are preparing for any kind of possible terror acts in the country but we are trying to keep from scaring the public."These warnings have been addressed to the Korean people to pressure the government into leaving Iraq. The message went on by saying "you will have only yourselves to blame when you are surrounded by a destroyed city."Ban believed it is important that the public does not become alarmed over the possibility of an attack. "It could create anxieties among the public and negatively affect the country's economy, and then we would be drawn in by their psychological warfare strategy."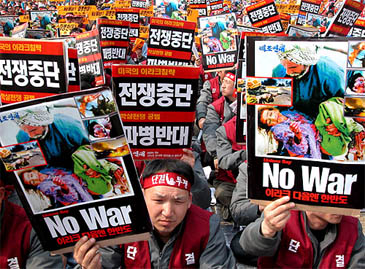 South Koreans stage sit-ins in protest against government's sending Zaytun troops to Iraq.
Another ministry official said, "It may be an empty threat, but we can't be sure yet, and until then, we will stay on high alert while keeping public order."South Korea has 2,800 troops in Iraq, which is the third-largest partner in the coalition after the United States and Britain. The detachment is called Zaytun — which means olive in Arabic — and are mostly helping to rebuild the nation.